Disclaimer: The HiBy Music R6 PRO was sent from the factory to us free of charge in exchange for this review. HiBy is not related to Headfonia in any way. It's important to know that our unit has the international software that you will be getting outside of China.
Hiby Music
HiBy does no longer need an introduction after having launched two super successful and budget friendly portable players with the award winning R3 and the excellent HiBy R6.
In case you completely missed that, I'll repeat what Berkhan had to say about Hiby when he reviewed the R6 DAP:
HiBy music specializes in research, development and sales of high quality portable audio products. They have professional R&D staff and they also have quite a good history in the portable audio field. They have partnerships with brands like Cayin, Shanling and Questyle. As far as I know they make the software of those devices or at least give software support to them.
HiBy Music's mottos are "Make Music More Musical" & "Ease of Use is not Optional"
Also, their HiBy Music application for smartphones has hundreds of thousand of users all over the world. I have to admit I never used it – or any other software – on my phone myself as I don't listen to music from it, but it's not hard to see they have a good reputation and know-how about audio processing and software integration.
The Hiby R6 and R3
The Hiby R6 was launched back in 2017 already and as I said, it received many positive comments and to many people it was the DAP of the year 2017. Our own Berkhan also loved it:
All I can do in the end, is simply congratulate the guys at HiBy Music for creating such a great Android player. It has tremendous build quality, a fantastic and eye catching design with a great screen. A very fast processor, a clean OS for efficiency and stable software are other crucial factors, especially with the DTA Architecture, which is maybe the most important thing.
The sound from the balanced output is wonderful to listen to. The single ended output, while still being very nice, is not an option for me after experiencing the balanced sound from the R6. I don't think I'll ever return to single ended mode.
I think it's one of the best Android players you can buy in terms of pure sound, and it's maybe the best in terms of speed and UI.
After that HiBy came back with the smaller sized, sexy looking R3 in a lower segment and that little DAP was so good it actually won our 2018 award for best value portable player.  The R3 is small, beautiful and well built. It is smooth sounding and it even feels that way. Design wise there really is nothing to complain about and the user Interface also scores big: it's easy to work with, offers a lot of options and it's perfectly pocketable in the sense that you can easily control it without looking at it.
Sound wise the R3 focus is on fun and musicality but not without mixing in a good level of detail as well. You get a full bass and thick lower mids while the upper mids and treble section have something more forward and energetic to them. The combination just works perfectly.
Now HiBy is back with the successor of their TOTL player, the R6 PRO. Seeing both of their first players were so good and successful, our hopes are up high for this new creation. This will be a long and comprehensive review as everything in a DAP is so important. It's not only about sound nowadays, though that for me still is most important.
The R6 PRO
Hiby describes it as "THE ANDROID 8.1 HI-FI MUSIC PLAYER With 4.4 BALANCED OUTPUT" and with that description they perfectly describe what the new R6 PRO is all about.
First of all the new R6 PRO sports Android Oreo 8.1 and so you get a lot of the typical Android navigation and settings we're used to already. The OS on the R6 PRO it's named as "Hiby OS" and if you've ever had the chance to play with the R6 or R6, then you know exactly how well it's implemented.
On the R6 PRO's inside we this time find the Muses8920 (x 4) low-pass filter and a double  ES9028Q2M DAC chips. From the product page: Adhering to the motto "Make Music More Musical", R6 Pro leverages four low-pass filter chips MUSES8920, two low-phase-noise, high-precision active crystal oscillators for a superior high-definition sound. Empowered by Panasonic Polymer Capacitor with Low-ESR and Elna SILMIC audio grade capacitors, R6 Pro runs the dual ES9028Q2M into current output mode resulting in a strong anti-interference ability. The comprehensive upgrade of R6 Pro wiring scheme will bring you the unmatched and high-quality sound, allows you to immerse yourself in lossless music. Still following?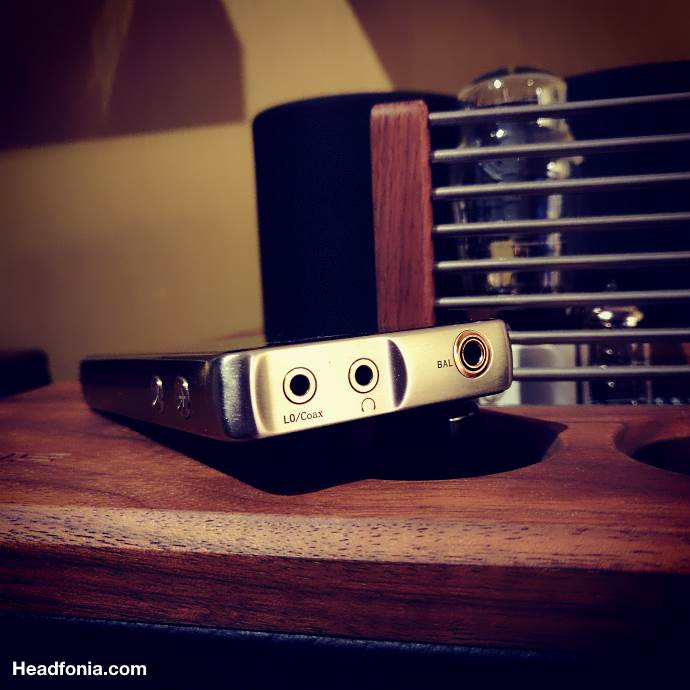 New is also that HiBy has replaced the 2.5mm balanced output by a 4.4mm one. Most of my cables are terminated in 2.5mm and I use an adapter with them, but more and more brands seem to be switching to the new standard. In all honesty, the 4.4mm connector is a lot more sturdy than the tiny 2.5mm one, so in the long run I feel the 4.4mm will probably become the balanced output standard. Until something new comes up that is.
Another feature HiBy is proud of is their MSEB. According to HiBy it is straightforward and easy to use and everyone can be a tuning expert. MSEB is a combination of multiple algorithms based on parametric equalizer (PEQ) and sound field adjustments to attune to your preferences. SO basically you can change the tonality with their MSEB, for me it's a nice feature but I never use it to be honest.
BlueTooth wise the R6 PRO comes with all the best goodies: BT 4.2 with Hiby Link , apt-X and LDAC! For those of you that don't know HiBy Link, it's a technology which lets you control and manage your music files wirelessly with your mobile phone. With Hiby Link, you can also play the Hi-Res music stored on the R6 PRO wirelessly right on your smartphone. Not thzt I see why you'd want to do that really, but you can.)
The R6 PRO looks and feels beautiful with its stainless steel body but more on that later. Screen-wise the R6 PRO brings a 16m true color 4.2" IPS screen to the party, together with a gorilla glass cover on both sides. As a modern player should be, the R6 PRO sports WiFi, QC3.0 quick charging (USB-C) and a whole series of "sound" adjustments. We have a 10 Band EQ, Tone Adjustment (Minimum Phase, Fast Rolloff, Slow RO) and a Tonality Setting (Default, Monitor, Warm Sound, Tube Amp)
The Firmware on this review sample is FW R6 PROInt_1.00G which is the official International version. This version is the one everyone will receive when buying outside of the domestic Chinese market. The big difference between both versions is the full functionality of Google Play services on the international version whereas Google will not function as it should on the domestic version.
It continues on Page Two after the click HERE or by using the jump below