Disclaimer: The HiBy R6 music player was sent us by Hiby Music and it doesn't have to be returned. The unit I received is the Stainless Steel version, which costs 529$ on Indiegogo. The MSRP will be higher: 649$ when they begin mass production.
  
While we are approaching the end of this year, I'm closing 2017 on Headfonia with a fresh digital audio player that could bring  a new breath to the market. I hope you guys will like this review, enjoy 2018.
INTRO
The reason behind the demand for Android music players is self evident: streaming. There are so many streaming services around (and I heard some rumors about YouTube joining the pack), and more and more people simply are into streaming now.
Certainly, we saw some very good Android DAPs before the HiBy R6. Our hardcore audiophile readers should remember the İbasso DX100. Yes, that was an Android player but long before any streaming service was around. It's maybe an obsolete item at this time, but it was a pioneer type of DAP, because it started the TOTL player niche all along, together with the Hifiman HM-801.
Sony released the ZX1 roughly 4 years ago, returning to high end digital audio player business with Android. And they released the ZX2 in 2015 (which I still have in my inventory). In the meantime, FiiO came up with their X7, an assertive DAP that can do it all. Pioneer released the XDP-100R (which is almost the same as the Onkyo DP-X1). İbasso was in a longtime silence before the launch of the DX200 (which we still haven't received for a review). FiiO renewed the X7 and made a Mk2 version and they also included the OS with the X5 Mk3.
My favorites of those are the ZX2 and DX200. I think they're the best Android players in terms of pure sound quality (the A&K DAPs don't count in my book because they're heavily customized). I wonder how far manufacturers can go in terms of merging the Android OS with high quality components and power distribution.
Seeing more Android DAP offerings is always a great thing. Since streaming is the perfect thing for a music lover, I would like to have even more options in the market.
HIBY MUSIC
So who are these guys? Let's give some background information and continue with the device:
HiBy music specializes in research, development and sales of high quality portable audio products. They have professional R&D staff and they also have quite a good history in the portable audio field. They have partnerships with brands like Cayin, Shanling and Questyle. As far as I know they make the software of those devices or at least give software support to them.
HiBy Music's mottos are "Make Music More Musical" & "Ease of Use is not Optional"
Also, their HiBy Music application for smartphones has more than 500K users around. I've never used it since I don't listen to music from my phone, but it's not hard to see they have a good reputation and know-how about audio processing and software integration.
THE HIBY R6
All those DAPs I mentioned above have ups and downs. The ZX1 didn't have a great sound in terms of naturalness. The ZX2 sounds great, but it has a slow processor so the UI experience is no way fluid and it has an ancient version of Android. The X7 had a serious hiss when the Wi-Fi was open (don't know the Mk2). X5III doesn't sound great to me, although being a very practical and easy to use DAP. Onkyo had the same Wi-Fi hiss problem, similar to X7 Mk1. DX200 is close to perfection in my opinion, as it sounds very very good and close to TOTL, but it also has some small dents when it comes to software and it's not blazing fast. Yet, I think it's one of the best sounding Android DAPs on the market.
The HiBy R6 on the other hand, is the new player in this market that aims to solve all these problems. Does it achieve that? No device is perfect of course, but I can say it performs really well in all aspects you expect of an Android DAP. I'll surely mention those qualities as much as I can, so let's get on with the "not sound" parts.
BUILD
This is easily one of the most solid DAPs around. Stainless steel is extremely good to hold and to shoot a glance. Together with the compact structure, HiBy R6 feels like a tank. In fact, the chassis is from a mono block steel which is really impressive. There's no point that feels uncomfortable or edgy, as the body has smooth transition on the corners, including the 2.5D glass.
But be aware of the weight of this SS version. It's 275g, which puts it the heaviest Android DAP as far as I know. Aluminum version weighs 190 grams (similar to X5III), which is very nice and that one should be very comfortable to hold.
According to Joe from HiBy, there's no difference other than looks and weight between the two different body versions. They just wanted to offer two chassis options for users. To me SS is incredibly solid and fancy!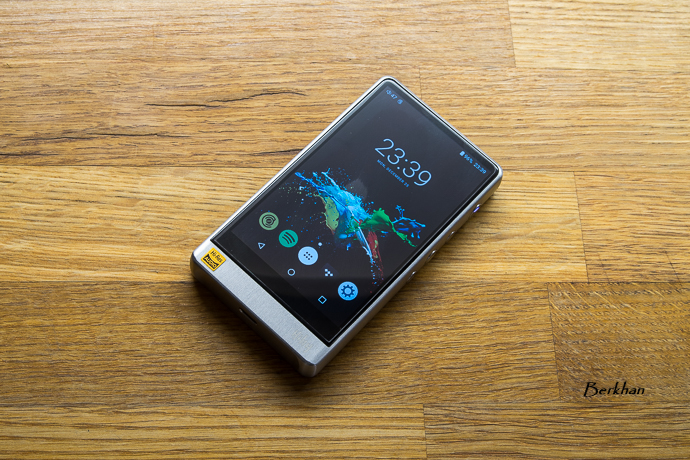 DESIGN
The design is very effective and cool as a whole, with very thin bezels on the sides and on the top. The bottom bezel is also quite thin, especially if you compare with other Android players. Also, there are 2 small bumps each on the top and the bottom. This is wise thinking from HiBy, to protect the headphone jacks and the USB Type C port. To me, this is not a "me too" device in terms of design, as it seems they really thought of every aspect for the user. And although it's not extremely original or distinctive, it still is a beauty to look at.
Physical dimensions are very nice too. It's shorter than almost all Android DAPs you can pick, narrower than nearly all of them except the X5 III. It's similar to the X5 III in size, so that could be a reference for you. All the others are either longer, wider or thicker so this one stands out from the crowd for compactness.
SCREEN & BUTTONS
Another praise goes to the screen. HiBy used a 4.2" LCD panel with an HD resolution. The colors are wonderful and you can look at the screen at any angle you want and you'll still have a perfectly clear picture. The screen has similar specs to DX200's screen so this is either better or at the same quality with all the Android DAPs you could find. Top stuff.
Side buttons serve you very well even though I don't like having the volume buttons on the left. On the right you have the power button, which is nice having that on the side and not the top position which I totally hate. Besides the power button you have playback buttons to control the songs. Once you get used to them they're very easy to reach and press, without checking with your eyes if it's the correct one.
Click here for PAGE 2, for user experience and DSP features