The Sennheiser IE 200 is Sennheiser's newest universal IEM/earphone, selling for only $149 USD.
Disclaimer: The Sennheiser IE 200 IEM was sent to us by Sennheiser's PR agency, in exchange for our honest review. Sennheiser is not related to Headfonia in any way.
Sennheiser
Everyone who is into headphones surely has heard of the German Sennheiser. Sennheiser has been active for over 75 years and they are one of the most respected companies in audio. Recently its headphone division was acquired by the Swiss Sonova group, and that's starting to show.
In the past years, Sennheiser has positively surprised us with a lot of top-quality products such as the HD 800 (S), the HD 660 S, the HD 560 and several other HD 5-series headphones. Sennheiser has also been active on the IEM and TWS market and the IE inear series and Momentum True Wireless headphones score very well there.
We've of course featured and reviewed many Sennheiser products here on HFN. My personal favorite Sennheiser headphones are the HD 800 S, the HD 650 (on tubes) and the HD 660S. My most used Sennheiser IEM is the IE 900.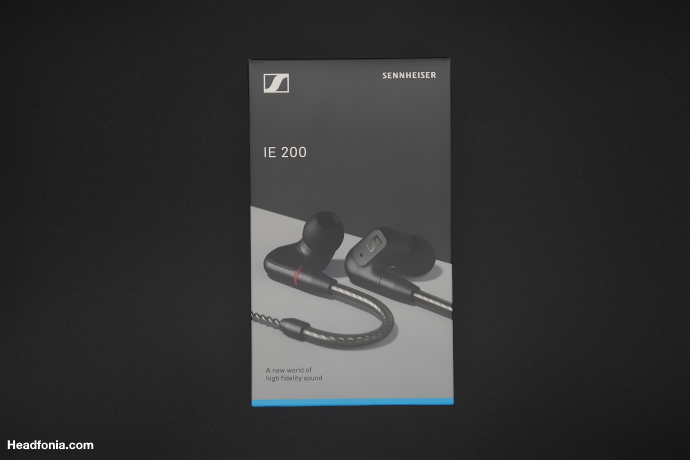 In today's review we'll be taking a close look at the new Sennheiser IE 200 IEM that was released last week at CES. The IE 200 is Sennheiser's newest single driver, audiophile budget earphone. It's positioned at the bottom of the ladder and selling for only $149 USD or Euro, making it more available to everyone. The IE 300 is discounted right now and it's selling for just $100 USD/Euro more, so that comparison (later in this article) will be interesting.
Before going into the Sennheiser IE 200 review, I suggest reading up on the IE 300, IE 600 and IE 900 IEMs first. You can do so here:
IE 200
Here's what Sennheiser has to say about their new closed type IEM:
Why not make balanced, high-fidelity sound available to everyone, no matter where they are? The IE 200 is Sennheiser's answer. Whether you're a lifelong audiophile — or you just want better sound on the road — these exceptionally neutral and precise earphones reveal an entire world of new detail.
Sennheiser – based on 15 years of TrueResponse Transducer technology – chose to use their single 7mm driver, which we have seen before. This 7mm XWB (extra wide band) driver is responsible for the extra-wide frequency range and ultra-low harmonic distortion of these earphones. The diffuse-field equalization delivers an amazingly balanced sound. The IE 200 was designed in Germany, but it's being built in China.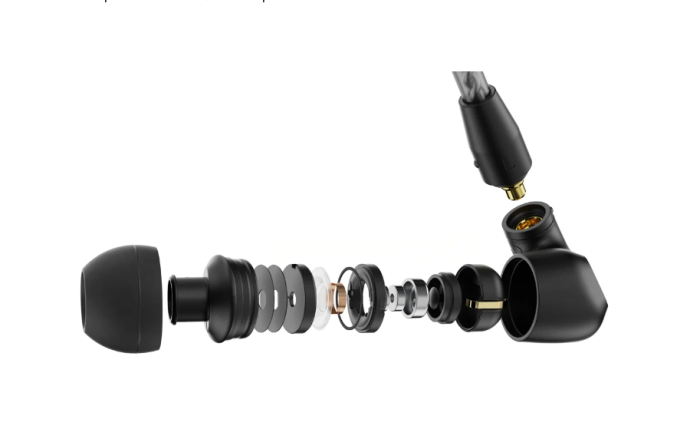 The IE 200 features gold-plated MMCX connectors which are recessed in its housing for greater stability and guidance (just like with the IE 300, IE 600 and IE 900). A 1.2 meter cable with a 3.5mm single ended termination is included with the IE 200. You get two different styles of ear tips — silicone and memory foam — and they are provided in three sizes. What is special with the IE 200 is the ear tip tuning option. Depending on how you place the ear tips, you can influence the bass presentation. While this system does work, I don't really find it very usable, but I'll get back to that later.
The IE 200's dedicated web site can be found here. As said, the IE 200 is selling for only $149 USD or €149 Euro. Sennheiser however stresses that this time, accessibility does not mean compromise. Sennheiser with the IE 200 is focusing on sound quality and while that does show in the packaging and accessories, I find it to be a good decision. Who doesn't like great sound at a low price?
The Sennheiser IE 200 will be available for pre-order globally on January 6, 2023, and will go on sale from January 31, 2023.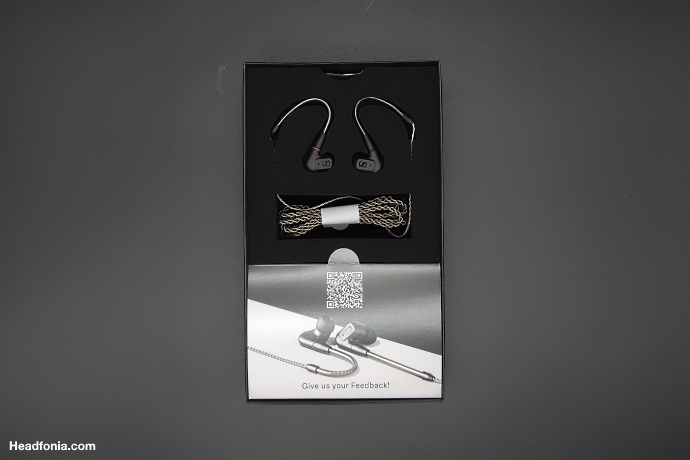 Technical Specifications
Ear coupling: Ear canal
Transducer principle: dynamic
Transducer size: 7mm
Acoustic principle: closed
Jack plug: 3.5 mm angled
Cable length: 1.2 m
Weight: 4 grams
Frequency response: 6 – 20,000Hz
Impedance: 18 Ω
Sound pressure level (SPL): 119dB (1kHz, 1Vrms)
Total harmonic distortion (THD): <0.08 %
Country of origin: Designed in Germany, assembled in China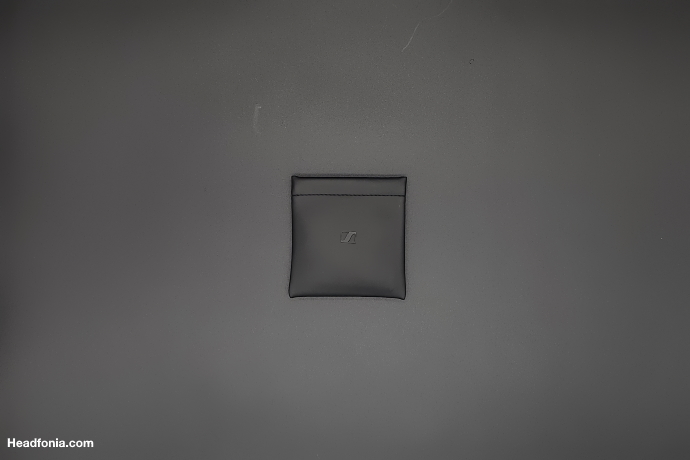 Box & Accessories
The earphones, as you can see in the pictures, come in a simple Sennheiser branded box. While it looks like the other IE series boxes, it is a simpler version of it. The box nicely displays the IE 200 and the cable, but it's actually a very simple box. Looking at the price the IE 200 is going for, this does make sense.
When you slide open the inner box, you will immediately see the 2 earpieces on top, embedded in foam. Below you have the cable placed in the middle and below that you fill find the IE 200 safety guide and a little carrying pouch which contains the tips (3 pairs of Viscoelastic foam and silicone tips (S/M/L)).
That's all you will find and get here. It's a simple package compared to Sennheiser's higher-end IEMs, but at this price level, it's acceptable.
The article continues on the second page. Click here or use the jumps below.
Page 1: Sennheiser, IE 200, Specifications, Box & Accessories
Page 2: Design, Build Quality, Cable, Fit, Comfort, Isolation, Tips, Sound Pt. 1
Page 3: Sound Pt. 2
Page 4: Sound Pt. 3, Comparison, Conclusion