The Sennheiser IE 300 IEM is Senn's newest earphone, selling for €299 / $299 USD.
Disclaimer: The Sennheiser IE 300 IEM was sent to us by Sennheiser directly, in exchange for our honest review. Sennheiser is not related to Headfonia in any way. 
Sennheiser
Everyone who is into headphones surely has heard of the German Sennheiser. Sennheiser has been active for 75 years and they recently celebrated that with a special Anniversary Edition of their modern classic headphone, the HD 800 S. Check it out here.
Sennheiser is one of the most respected companies in audio and in the past years, Sennheiser has positively surprised us with a lot of top quality products such as the HD 800 (S), the HD 820, the HD 660 S, the HD 560 S and several other HD 5-series headphones. Sennheiser has also been active on the TWS market and the Momentum True Wireless 2 scores pretty well there.
We've of course featured and reviewed many Sennheiser products here on HFN. My personal favorite Sennheiser headphones are the HD 800 S, the HD 650 (on tubes) and the HD 660S. I'm a Sennheiser fan and I'm not ashamed at all to tell you that.
In today's review we'll be taking a closer look at the IE 300 IEM: Sennheiser's newest single driver, closed earphones.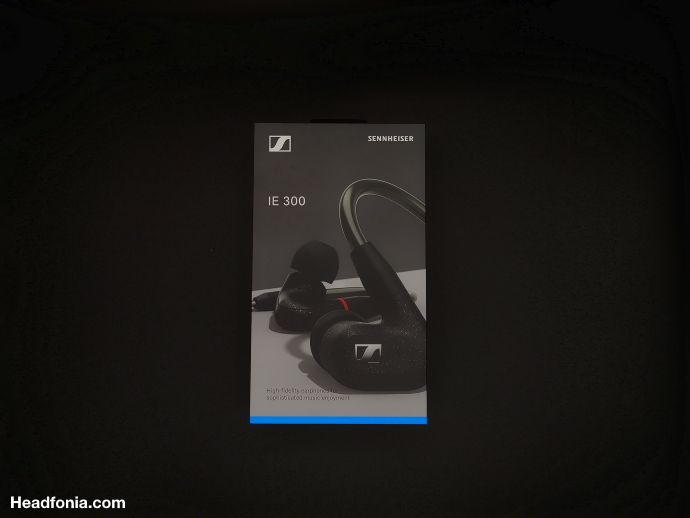 IE 300
The official launch of the IE 300 is foreseen in March though many units seem to be out in the wild already, especially in the East. The price is set at $299 USD and €299 Euro, so it's a tad cheaper in the US.
You can find out all about the IE 300 in this review, but you can of course always check out the dedicated web page on Sennheiser's website here: https://en-us.sennheiser.com/ie-300.
Another way to catch up on the IE 300 is by watching this video made by Sennheiser:
The IE 300 earphones are designed and engineered in Germany and they feature a special German made 7mm XWB (Extra Wide Band) transducer. The IE 300 is a single dynamic driven IEM, but its performance is exceptional. More on that later in this article.
Important to mention is the fact that the Sennheiser IE 300 sports gold plated Fidelity+ MMCX connectors. We're always a fan of MMCX connectors, but these have a recessed 4.8mm wide socket, take that into account.
The IE 300 also sports a newly developed membrane foil for minimized natural resonances and it has its proper resonator chamber to remove masking resonances. We quote Sennheiser:
"A key element of the IE 300's balanced acoustic performance is the back volume—a miniature chamber-within-a-chamber that helps manage the flow of air behind the transducer. The direction and overall volume of air is controlled with precision as it travels through and exits the transducer system, delivering a discernibly defined bass- and mid-range experience. We further observed a natural increase in the ear canal's resonant frequency when sealed by an ear tip adapter.
The reduced air volume produced a masking effect that obscured critical details within the source signal. A frequency absorbing resonator chamber was applied to reveal those subtle nuances once again. This collection of technologies works together in perfect harmony, establishing the IE 300 as a go-to benchmark earphone when sound quality matters."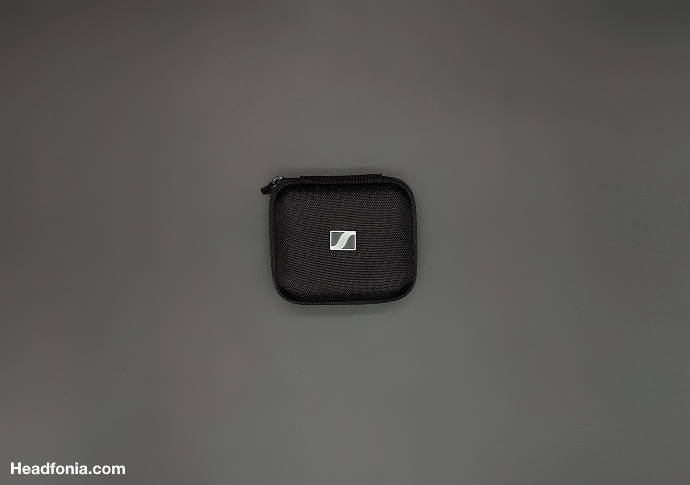 Technical Specifications
Impedance: 16 Ω
Transducer principle: Single Dynamic Driver, Pressure Chamber
Weight w/o cable: 4 g
Sound pressure level (SPL): 124 dB (1 kHz / 1 Vrms)
Ear coupling: In-Ear
Cable length: 125 cm
Frequency response: 6 Hz – 20 kHz
THD, total harmonic distortion: < 0,08 % (1 kHz, 94 dB SPL)

Box & Accessories
The IE 300 comes in a simple yet nice box with Sennheiser' s black and blue house colours. On the inside you will find:
Your IE 300 earphones
Cable with MMCX connectors and 3.5mm plug
Silicone & Memory Foam Tips (S, M, L) – With the grill design copied in the tips
A Sennheiser labelled carry Case
Cleaning Tool
User Manuals
Quite a simple package but all you really need. For the price this is a normal set of accessories and – while it's nothing special – the cleaning tool is a nice extra we don't often see at this price range for universal IEMs.
Design & Housing
When I first saw the IE 300 images I wasn't really a fan of the color scheme, but in reality they actually look really nice. The actually remind me of the HD600 headband for some reason. Design wise I feel the IE 300 is a hit. They are small, nicely rounded and very small. Admitted, it's all very plastic-like but it doesn't bother me at all.
The right earpiece has a red ring, and the left one a black ring. Connecting and disconnecting the cables is easy and you get a nice click feel and sound doing so.
Design wise there to me are 3 highlights. First, the tiny Sennheiser logo on the outside/face plate. Second the slightly tilted nozzle, supplying a perfect fit, and lastly the grill design at the end of the nozzle which is repeated in n-both the provided silicone and foam tips. It's all in the little details.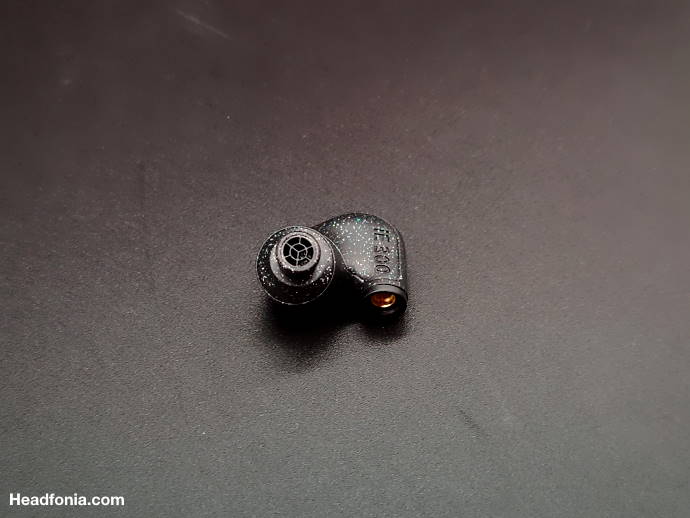 Build Quality & Cable
The build quality is excellent and with the soft, round edges the IE 300 looks comfy, high end and professional. As said, the Sennheiser IE 300 has a very plastic look at feel, but it's actually very well built.
The IE 300 cable according to Sennheiser is para-aramid reinforced and terminated with gold-plated Fidelity+ MMCX connectors, which are recessed with a 4.8mm-wide socket. We all know that MMCX is very durable, so that's always good. On the other end of the cable you'll find a 3.5mm plug.
Because of the special MMCX version you might have issues hooking up your aftermarket cable to the IE 300. A balanced 2.5mm and 4.4mm terminated cable will be available (sold separately) from Sennheiser, but at the moment the stock 3.5mm termination is the way to go if you want to stick to an original Sennheiser cable.
The article continues on the second page. Click here or use the jumps below.