In today's article, we review the new $299 USD Sennheiser Momentum True Wireless 2.
Sennheiser kindly sent the Momentum TW2 to Headfonia for this review. They only asked that we share our honest impressions with our readers, and we must thank them for the opportunity.
Sennheiser Momentum True Wireless 2
After the release of their first truly wireless IEMs in 2018, Sennheiser is back at it with a hotted-up sequel: the new $299 USD Momentum True Wireless 2. With a longer battery life, trimmed-down form-factor, and active noise cancellation squeezed-in, Sennheiser is bringing the fight straight to the competition from the likes of Sony and Apple with their new contender for the true wireless crown. We put the new Momentum True Wireless 2 through its paces to see if it really is the all-round package it promises to be on paper and to find out whether it's worthy of consideration as a convenient audio companion that caters to the discerning ear.
The wireless audio revolution is well and truly upon us – and it's not being driven by audio manufacturers, but very much by 'big tech'. What industry behemoths like Apple and Samsung are great at doing is being able to understand and predict consumer trends, and then have the scale and R&D to be able to build a complete tech 'ecosystem' around every facet of their lifestyle. And with the integration of voice technology and AI into the everyday connected ecosystem, consumer audio trends are being driven as much (if not more) by convenience, design, and features as they are by how good they actually sound. 
I've personally preferred to avoid wireless audio to-date, generally, because I don't find wires that cumbersome; but also due to the middling performance in the sound quality stakes that most wireless offerings have shown to-date. Don't get me wrong, I 'get' the benefits of cutting the cord in terms of the convenience and freedom it affords, but I've been happy to err on the side of higher fidelity whenever I can. However, having been wowed by products such as the Drop + THX Panda in recent times, you can say that I'm coming around to it and it's high time that I took a look to find out whether the true wireless earbud form-factor is 'there yet'.   
So, with the direction of audio inexorably moving towards a cord-free future, Sennheiser released the original Momentum True Wireless in 2018 as an audiophile-leaning alternative to the notoriously-omnipresent Airpods from Apple. While praised for their class-leading tuning, they were somewhat criticized for battery-drain issues and for lacking the overall user-experience and feature-set needed to put a dent in Apple's pace-setting offering. With the subsequent release of the Sony's WF-1000XM3 which included industry-leading noise-cancellation, a slew of more affordable offerings – most notably Samsung's Galaxy buds, and the new consumer benchmark in the form of the Apple Airpods Pro (reviewed here by Nanotechnos), Sennheiser looked to sway punters with the lure of an even more specced and intelligent offering: meet the Momentum True Wireless 2.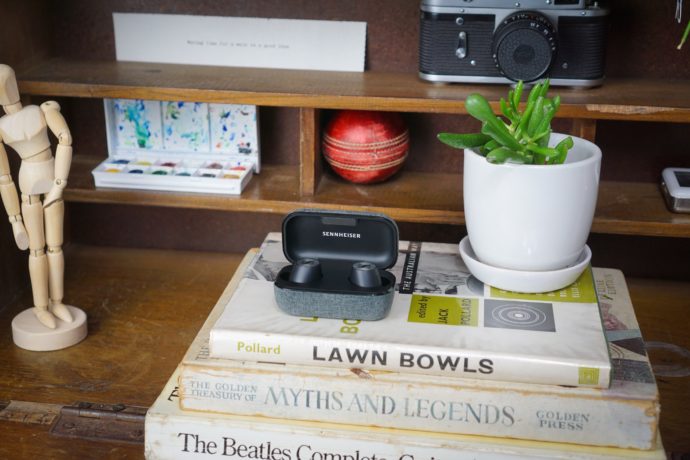 The Momentum True Wireless 2 supersedes the original Sennheiser model (which still remains on sale), and for its $299 USD price-tag it brings more to the party in terms of features, while at the same time trimming down its (admittedly already rather svelte) form-factor. This time around, Sennheiser has equipped the Momentum True Wireless 2 with active noise cancellation – a technology they have plenty of experience with from their range of commuter and lifestyle headphones, such as the PXC-550. On the design front, the size of the earbuds has been reduced by 2mm, whilst also managing to achieve an IXP4 splash-resistance rating. A full complement of smart device connectivity and customisable playback features are controllable via the touch-sensitive flat surfaces on either earbud, as well as via Sennheiser's 'Smart Control' companion-app, which also includes an equaliser to customise the tuning of the Momentum True Wireless 2. Battery life has been bumped up to a promised 7-hour playback experience from a full charge, which Sennheiser explain can be extended to 28 hours when you include the recharging ability of the companion hard-shell case, before needing to plug them back into a power source via their USB-connector. 
In terms of actual 'Wireless' capabilities, the Momentum is Bluetooth 5.1 compatible and supports SBC, AAC, and the higher-resolution aptX codecs. Users hoping to connect their wireless headphones to more than one device – for example both their phone and their laptop – must note that the Momentum True Wireless 2 can only manage one device at a time. Pairing and connection, however, are a breeze to use. In terms of signal integrity, I didn't experience any drop-outs within my small-ish apartment between rooms, but I did have the occasional 'stutter' between the left (slave) and right (master) earbuds.
But make no mistake – the star of the show here as far as Sennheiser is concerned lies rests in the abilities of the unchanged 7mm dynamic drivers housed within each shell – they believe that out-and-out sound quality is the reason why they have what it takes to lure customers over their competitors' offerings. 
So, with the basic acoustical system carried-over from the original Momentum True Wireless plus a fresh list of new tricks up its sleeve, can Sennheiser convert this plucky wired audiophile with the new Momentum True Wireless 2? Let's find out. 
Head over to Page Two to continue our review, just CLICK HERE.