Today we have the UM MEST review, a unit which is selling for between $1,259 and $1.899 USD.
[responsivevoice_button]
Disclaimer: The Unique Melody MEST custom monitor was sent to us free of charge in exchange for this review. UM is not related to Headfonia in any way.
Unique Melody
According to Unique Melody, they are one of the first and longest-established manufacturer of custom in-ear monitors in China. Since 2007, with over 10 years of research and experience in the industry, they've developed a wide range of products from multi-BA, hybrid dynamic and BA, to more recent units containing Bluetooth, planar magnetic, piezoelectric, and bone conducting technologies that also contain various patents.
Fast forward to 2020 and Unique Melody is everywhere, they are more structured, have a clear product line up, better communication, semi up-to-date website and Facebook Page and especially: good representation. MusicTeck in the US really have made it easy for everyone to get familiar with the brand and I want to praise them for the work they've done.
It's not always easy finding the right Unique Melody website via Google so here it is: https://www.uniquemelody.co/. If you use Facebook's search module you'll also find several FB Pages about Unique Melody, but the correct and official page can be found here: https://www.facebook.com/UniqueMelodyIEM/.
It's also not the first time we've reviewed Unique Melody monitors and we have full articles about the Maverick, Martian, Maestro, ME.1, Mason V3 and Mason V3+. This time we're looking at the newest UM creation, the MEST.
The MEST
We have already previewed the MEST on Headfonia, you can find that preview here. If you have read the preview already you will notice that some parts have already been published.
MEST has a dedicated web page but it's in Chinese, so we recommend to check out MusicTeck's pages here: https://shop.musicteck.com/collections/um-unique-melody/products/um-custom-mest?variant=32093352722494 and here https://shop.musicteck.com/collections/um-unique-melody/products/um-universal-mest?variant=31563592826942
The MEST , as you can see, comes in both a universal as well as a custom version.
Key Features of MEST:
The MEST is an 8-driver hybrid IEM with a 5-way crossover(!) and a very special one at that. It doesn't only combine Balanced Armature drivers with a Dynamic Driver, but also with EST and Bone Conduction drivers. How awesome is that! The full driver configuration is as follows: 1 dynamic driver for the lows, 2 Balanced Armatures for the high mids, 2 BA for the highs, 2 Electrostat drivers for the ultra highs and the bone conduction driver.
We've seen many IEMs in the meantime that features EST drivers like the Pola39 and the Elysium just to name two, but the super interesting thing for me here is the use of bone conduction. "But how does that work?" I hear you ask. Let's quickly explain.
The face plates of the headphones are specially designed according to the structure of the bone conduction drivers. Bone conduction driver delivers signals by vibrating the face plate. Then the signals are passed to the carbon fiber shell and finally delivered to your inner ear.
The bone conduction drivers are made by metal vibration pieces that are covered by piezoelectric ceramics. The ceramic layers will bend the metal vibration pieces to make micro-vibrations according to the changes of input alternating voltage.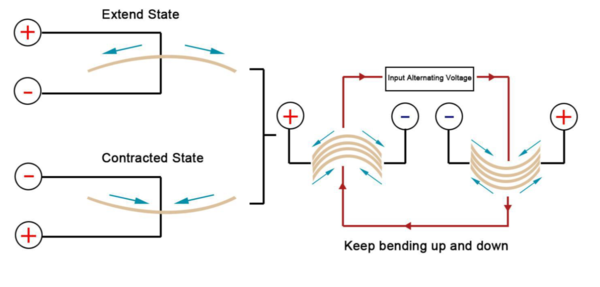 Technical specifications
Frequency response range: 20Hz-55KHz
Sensitivity: @1KHz 118dB
Impedance: 14Ω
Driver Count: 8
Crossover: 5-way crossover system
Driver Configuration: 1Dynamic low+2BA Mid high+2BA High+2EST Ultra high+1Bone Conduction
Breakdown
In contrary to a normal review I will use the same breakdown as I always do for my Custom Inear reviews:
Build quality & Comfort
Personalization
Cable
Price & Accessories
Customer Service
Sound
Competitors/Comparisons
Driveability & Sources
The article continues on the second page. Use the jumps below or simply click here.