Disclaimer: Vision Ears sent us the Vison Ears Elysium free of charge in exchange for the review. The unit is a custom version and it doesn't need to be returned. Vision Ears isn't a site advertiser.
[responsivevoice_button]
Vision Ears
If you've been following and reading HFN, than you certainly know this isn't the first time we talk about the German Vision Ears. In June 2015 we reviewed their VE5 monitor and visited the guys in their lab and then we in May 2017 reviewed their VE8 Flagship. Recently Linus reviewed the VE 3.2 and now it's time to take a close look at the new Elysium, by the hand of the VE8 creator. For those of you that aren't familiar with Vision Ears yet, there's some info. And of course there's also the Q&A we did with the VE guys.
Perfect sound is our passion – highest quality our demand.
Vision Ears is located in the heart of Cologne, Germany and they're devoted to developing and producing their custom made In-Ears with great passion. Marcel Schoenen and Amin Karimpour were working for the same CIEM company last decade and they were linked by their vision of highest quality and outstanding customer service. After a few years of separation, the two got reunited and VISION EARS was born. Since 2013, the headquarters of Vision Ears is located in the Luxemburgerstrasse in Cologne's central south. Their optimism and the lucky situation to be able to form a team that is as passionate for In-Ears as the founders are, makes VE a solid and reliable partner for all musicians (such as Rammstein – VE8) and audiophiles around the world.
The Elysium
The newest monitor in VE's line-up is the Elysium. You can find out all about it on VE's website here: https://vision-ears.de/erlkoenig_en . Even though the page name says Erlkönig, it's also the correct page for the Elysium.
The Elysium is a four-driver monitor and it has the following configuration: 1 balanced armature driver for bass, 1 dynamic driver for the mids and a double electrostat driver for the highs. Normally in hybrid monitors, companies use a dynamic driver for the bass section, but the Elysium does it the other way round. And how it works!
With ELYSIUM our pursuit was to create an electrifying detailed but also warm and embracing sound that makes you close your eyes and lets you dive into the sanctuary of music. Into Elysium.
That means the mids have only one dynamic driver but to get the best out of it, VE designed the HALC system for it. HALC stands for High-precision Acoustic Leveling Chamber and as you can probably see in the pics, it's the green "thing" in the earpiece shell. Promotion-wise, HALC makes a reference to the Hulk in name and color: https://www.facebook.com/visionears.de/photos/a.228871220611299/1217431008421977/?type=3&theater
For the highs, VE is using double electrostat drivers. In theory electrostat headphones need a lot of power and thus a separate amp, but because of the voltage transformer inside the earphones, the two small ES drivers don't need additional power and they can be driven by any DAP or source.
We don't know all the specs but we do know there's a 3-way crossover, a 16.4Ω impedance and a 105dB sensitivity, making the Elysium easy to drive on paper.
It is the first Electrostat-driver in the VE product range and it's a new flagship model, not looking at the Erlkönig universal IEM. To be more precise, it in my opinion doesn't replace the VE8 but it joins it at the top of the product line-up. Both monitors are very different sounding and they both deserve the flagship status.
Driver Details
By Vision Ears:
VE used BA technology for creating a full but precise bass which is well balanced and stunningly layered. Although BA drivers are known to reproduce a rather analytic sound, we were able to tune the bass unit of our ELYSIUM in a way you never would expect from this type of technology. A fine and beautiful harmony between precision and smoothness.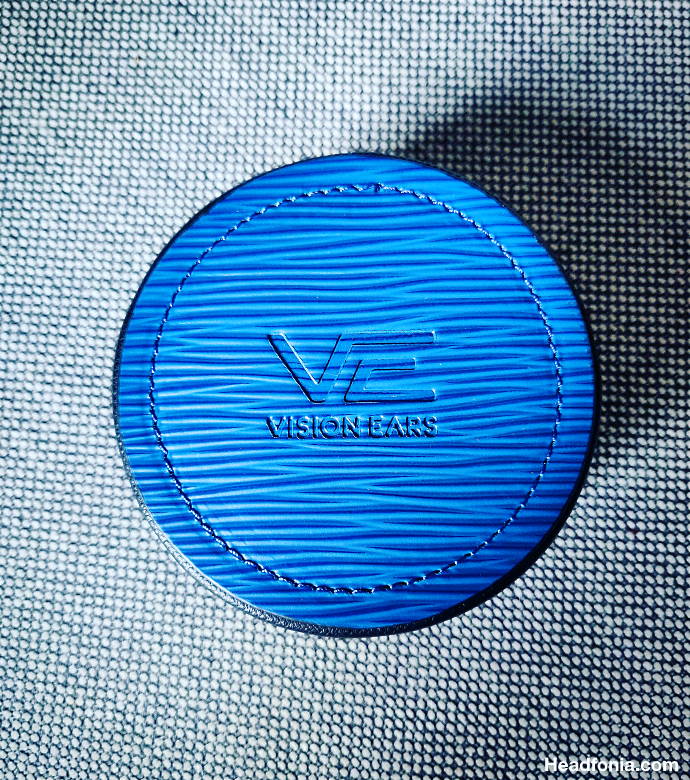 We decided to use a dynamic driver that was precisely tuned for our requirements, giving a smooth and rich presence to the middle frequencies. Middle frequencies are not easy to define well. They contain the most versatile information in music and if well-tuned, make you feel being right in the middle of your music. Our dynamic driver is featured with a "High-precision Acoustic Leveling Chamber" (HALC), finely tuning the sound of our dynamic driver to highest accuracy.
Development of this high precision component was a demanding challenge and is exclusively featured in Vision Ears ELYSIUM.
With a state-of-the-art dual electrostatic tweeter for the high frequencies, we achieved sparkling highs, so crystal clear and engaging that you might even feel the breath of the musician.
The technology of electrostatic drivers is well known to high demanding audiophile people but they were yet mainly equipped in high class headphones. In the recent time this technology is gaining more and more ground with IEM´s all over the world, making the huge benefits of electrostatic drivers now portable.
Breakdown
In contrary to a normal review I will use the same breakdown as I always do for my Custom Inear reviews:
Build quality & Comfort
Personalization
Cable
Price & Accessories
Customer Service
Sound
Competitors/Comparisons
Driveability & Sources
The article continues on Page Two. You can get there by clicking HERE or by using the jump below
The article continues on Page Two. You can get there by clicking HERE or by using the jump below