1. Build quality & Comfort
[responsivevoice_button]
Build Quality
Like always, the VE build quality is excellent. It's German precision combined with a high level of expertise. Of course for a flagship model, we wouldn't be happy with anything less than stellar in this regard. Over the years I have seen all the CIEM companies getting better in making monitors and the build quality nowadays is very high in general. Vision Ears' monitors however have always been built with the highest precision and their crew has an eye for detail. In my opinion Vision Ears is one of the very best CIEM builders.
With the Elysium you get solid shells with no flaws, no bubbles, no bumps, no sharp edges, a perfect closing of the face plate, perfectly flush sockets and sublime lacquering. Even the insides are very neat when looking at the wiring, driver placement, etc. Both left and right earpieces are perfectly symmetric on the in- and outside.
I went to Cologne to the VE headquarters to get my impressions for the Elysium taken and it was Marcel himself who did them. I have about 40 custom monitors in my collection but this set is the absolute best fitting one I have. When I mentioned this to Amin, he was happy to hear so but he was also surprised as it turns out I wasn't the first to tell him that. I guess  Marcel is a master impression maker and that combined with a perfect production process, simply leads to a top level quality.
Vision Ears was so kind to scan me these impressions and from now these will be used as reference for other CIEM builders.
So in short: stellar build quality and a comfortable and tight fit with a perfect seal. If I would give scores, the Vision Ears Elysium would score maximum on build quality, it's that easy.
Comfort 
The Elysium size-wise is normal, even small in size and I have CIEMs with a lower driver count that are much bigger. Vision Ears still uses the same short canals as they've always done. The perfect fit, small size and short canals make the Elysium extremely comfortable to wear, even for very long periods.
Like I said, this is the best fitting CIEM in my collection and it's extremely comfortable. 
2. Personalization
Vision Ears offers a lot of possibilities for the face plates and the shell of the monitors and you can configure your own Elysium directly in their configurator. You can check it out yourself here: https://vision-ears.de/configurator#model=elysium
For the body you get the usual choice of colours and face plates can be in wood, mirror (like my VE5), carbon, etc. Vision Ears always points out they only use real materials and no cheap fake copies. The artwork on the faceplate could be a name or logo or any design you upload, there hardly are any limits. Of course your name/initials/logo will also be (color) labeled on the inside of the in-ear.
Of course the special customization options cost extra depending on the level of difficulty. If there's something you can't get done with the design tool, you can always contact VE directly to find a solution.
Amin insisted to go for the standard Elysium look as they designed it. That means a fully see-through shell so you can see the drivers and internals (green HAL chamber) as well as their craftsmanship. The face plate is the standard Elysium one with the blue and green accents on a see-through base, with the Elysium and VE logo on each side. Personally I don't really like this typical face plate but that doesn't really matter. VE and many other people like it and the sound is most important in the end.
3. Cable
The Elysium monitor comes with a premium (white/grey) 8 wire spc 28AWG cable with a 2.5mm OYAIDE balanced connector as a standard. The 2-pin connectors have no markings but the left side has a circle on the connector, so you always know what earpiece to hook it up to. The cable and Elysium only comes with a 2.5mm balanced termination and I absolutely support that choice as IEMs in almost all cases sound better in balanced.
I think Vision Ears originally was going to use a special Effect Audio cable but in the end they sourced their own cable. The new cable has gold plated connectors and a VE labelled splitter about 30cm down from the ear pieces. The cable looks good but simple and it is fairly light, making it comfortable as well. You never feel as if the cable is pulling down the monitors at all. Sound-wise this cable performs really well. There is no friction-noise and it isn't picking up any radio interference noises either.
According to VE the cable has a big impact on Elysium's performance and they recommend playing with your aftermarket cables when listening to the Elysium. That being said, I'm perfectly happy with the stock cable and the Elysium sound-wise impresses with it.
4. Price & Accessories
Vision Ears always delivers quality and great sound, but that comes with a price. The new Elysium will set you back an impressive €2900. With some special design options, the final price might even be higher.
It's a hefty price but it is a flagship level monitor as well. When you're paying this kind of money you expect nothing but the best on all levels and VE doesn't disappoint. The Elysium comes in a big, beautiful personalized! box with two flaps on top. By opening the flaps the content of the inner box rises up and shows you the monitors and accessories. It's absolutely beautiful and very impressive.
We've mentioned before that VE is king when it comes to accessories and this time you with your monitors get: a personalized round case, a leather cable binder, a cleaning spray, a cleaning pen – dry caps, a jack adapter, a funny sticker and a user guide.
The article continues on Page Three. You can get there by clicking HERE or by using the jump below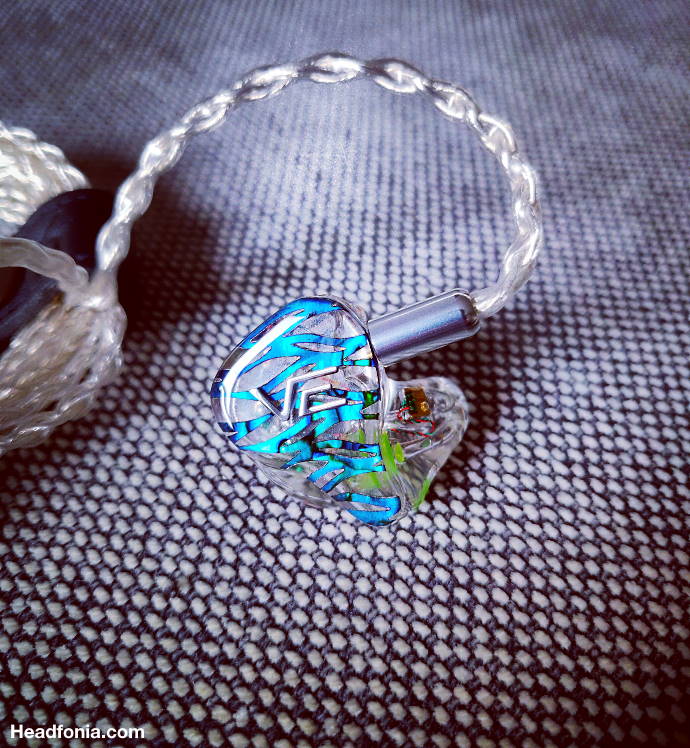 The article continues on Page Three. You can get there by clicking HERE or by using the jump below