Disclaimer: The Chord Hugo 2 was sent to us directly from Chord Electronics for the purpose of this review.
Chord Electronics
I published Linus' Chord Hugo 2 review just last week, and as I won't be covering the parts he covered already, we really advise to read Part 1 of the Hugo 2 review first, which you can find HERE. I also suggest reading up on the Chord Mojo first, here and here, and of course checking out the original Hugo review is also a good idea as the Hugo 2 will be compared to the original in this second part of the review.
If there is one brand in personal audio that does not need an introduction I believe it's Chord Electronics. They have been talked about continuously ever since they have brought the fabulous Hugo (you go, get it?) to the market. It was their absolute breakthrough product which has shown us what is possible with D/A converters. Their smaller, cigarette pack sized, Mojo has been, and probably still is, one of the most sold items in this segment and is loved by the whole community around the globe.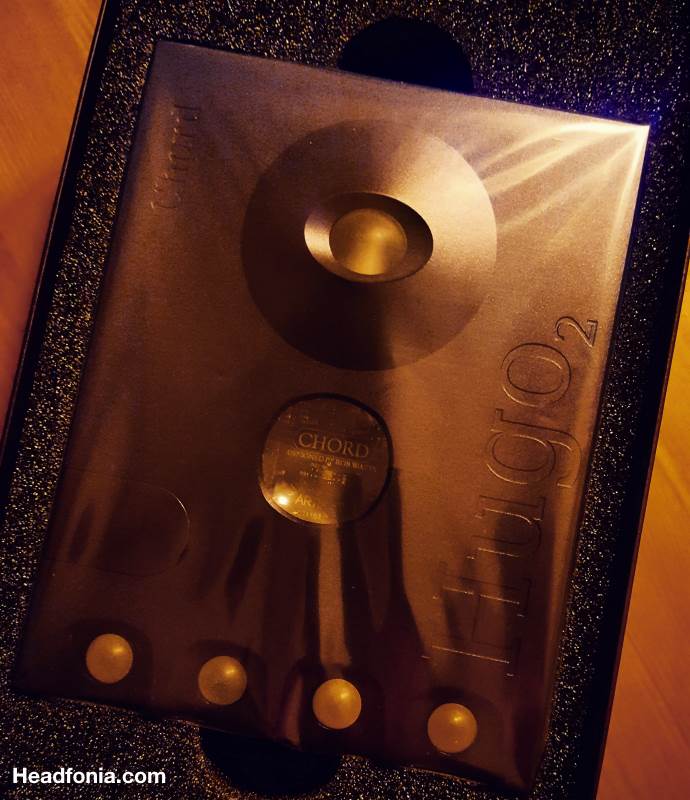 Linus' also included a part of our Chord electronics interview in his review, but you can also check out the Q&A article with Chord's John Franks right here: https://www.headfonia.com/q-n-a-saturday-chord-electronics/
Hugo 2
I really love the original Hugo and so my expectations for Hugo 2 were very high. At the same time I was a little worried that the H2 would sound more digital like the Mojo, and I wasn't sure I'd like that. We'll get back to that later though.
You can find out all you need to know on Chord's official Hugo 2 web page right here: https://chordelectronics.co.uk/product/hugo-2/
Hugo 2 can be used both at home and on-the-go, either with headphones or within a conventional audio system. Its line-level output and full-function remote control adds real flexibility in full-size and desktop systems. I absolutely adore the remote control option. I don't have a leather jacket for the Hugo 2 yet and as a result I've only been using it as a desktop unit up to now. When several sources are connected to the Hugo 2 it isn't always easy to remember what color/input corresponds to which source but the remote makes it super easy to switch sources. Everything you can do on the H2, you can do on the remote: love it!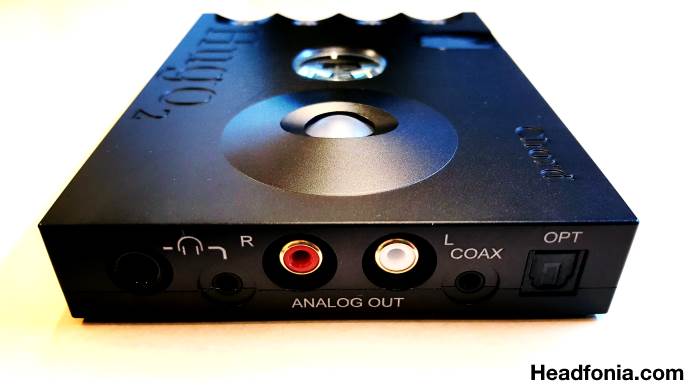 The Hugo 2 offers four digital inputs (optical, coaxial and HD USB) plus extended-range Bluetooth, with high-resolution file playback up to 768kHz and up to DSD512 (Octa DSD), via its HD USB input. Analogue outputs include 2x RCA, plus 3.5mm and 6.35mm headphone outputs.
A four-function switch filter offers a useful degree of user-selectable frequency-shaping, bringing warm and soft or transparent and incisive presentations, giving additional flexibility and user control. For headphone-listening, Hugo 2 retains the popular digital crossfeed function of the original and offers three operation modes. The system duplicates the effect of listening to speakers and is based on advanced binaural audio research.
Hugo 2 features four spherical control buttons, which illuminate with colour-coding information and control power, input, filtering, plus the unit's crossfeed functions. Battery playing time is around seven hours and two modes of automatic charging are included using the dedicated Micro USB charging port; an indicator shows charging and battery-charge status.
You can find the full specs of the Hugo 2 at the end of this review on the very last page.
Build Quality, Layout, Price & Looks
The original Hugo was gorgeous but the new Hugo is even more so. Hugo one was smooth and had curved edges, Hugo 2 is more squared and has straight edges. Chord chose to move the controls from the side to the top and that for me is a lot more practical. If you already complained about the Hugo 1's flashy color system (for the bit rate and such), you probably won't like the new Hugo 2 as it is all about the colors and what they represent. You however (just like with the Mojo) can dim the lights to a really low level, should you find it too flashy looking.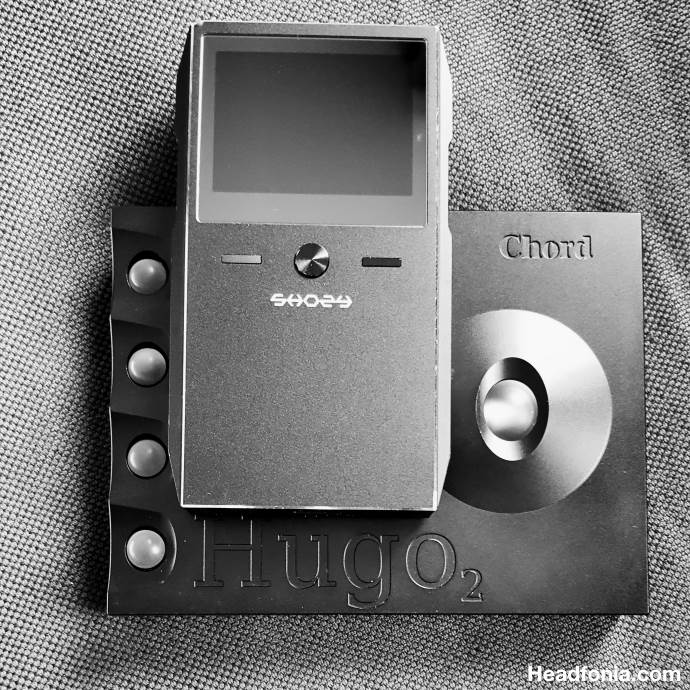 Build quality wise it is as good as it gets but I do have to mention you easily leave traces and scratches on the black casing. So be careful using it until your new leather jacket arrives. I really can't complain about anything else really: it looks gorgeous, feels great and it's easy to use. Linus covered the layout in his review last week, so I won't going into detail on that again. I do have to note however that if you're in to "stacking", you'll always have to put Hugo 2 on top as the top surface isn't perfectly flat. The volume dial sticks out and the case has a little bump so it's impossible to stack something on top of it. The Hugo 2 is a beautiful piece of gear however and it oozes class when displayed on your office desk.
As said, the Hugo 2 for the moment is more transportable than it is portable as I don't have the handy jacket yet. The Hugo 2 is so versatile (see inputs/outputs above) however, that you'll carry it to work in a bag with a big smile on your face, knowing you'll be listening to a top quality DAC/AMP with  desktop performance as soon as you arrives.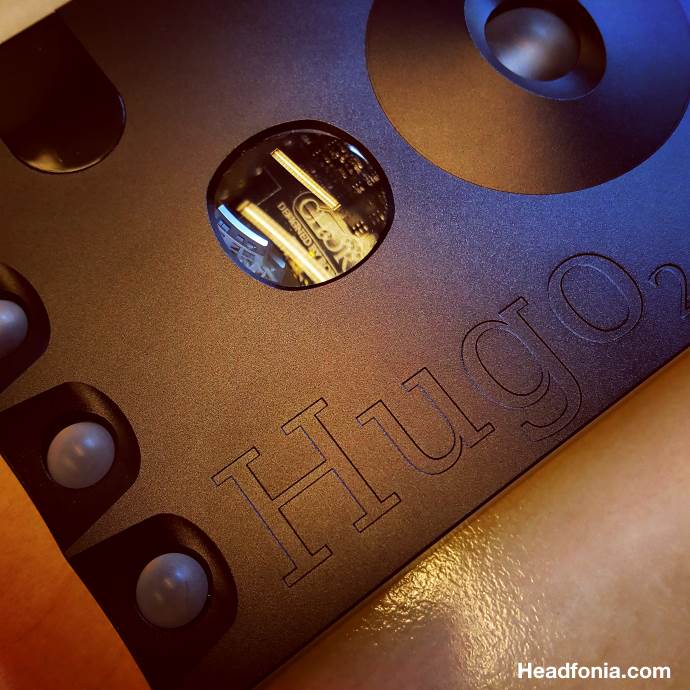 Hugo 2 offers you transportability, desktop quality sound, beautiful design and a whole lot of in- and outputs but that all comes with a considerable price tag of $/€2195. You do get a perfect all-in-one unit however, one of the – if not THE – very best on the market. For accessories, etc, check Part 1 of the Chord Hugo 2 review

Click HERE or use the jump below to go to page 2 of the review