Disclaimer: I purchased Mojo used from e-earphone in Akihabara as Chord wasn't interested in us reviewing the Mojo. I don't know how this unit got so bloody banged up in the month or so it's been on market, but its previous owner did a bang up number on it. Not that my Mojo lost its mojo. No portable I've used is as full of it. Mojo goes new for 399£ or 599$ USD. You can find out all about it here: Mojo – Your Music. Just Better.
Update: I've added notes about DSD playback, nighttime aliens, and done my best to correct grammatical/spelling errors. My bad.
I'd like to keep this short. Short because there's so little about Mojo about which to rant and stomp my feet.
Form
Mojo and Toy Story's The Claw-worshipping aliens must have a common, cross-eyed ancestor. Two of Mojo's eyes work the volume; its final, cyclopic eye, powers the unit off and on. The volume buttons change colours depending on how much voltage is flowing from the jacks; the mains button changes colours based on the sampling rate of the music it sucks. And battery life. It's a unique, if discursive hardware interface. And, it's the only thing about Mojo that makes me want to curse.
The rest of the design is rock solid. Chord's logo is cleft all HiFi-like from the body at a 35º angle. And that body stands out like Østerlars Rundkirke among pre-fab contemporaries. Nothing but its eyes budge. I could throw Mojo through a quadruple pane window. I could throw it through a Vorzüge PURE II+. Østerlars Rundkirke might stop it. Maybe.
Both Mojo's precision build, and its solid body bely its price. Especially after benchmarking it (RMAA: Chord Mojo @24-bit), and turning it over to determine its country of manufacture, I fully expected it to go for 1000$ at a minimum. 599$ is a steal. And precisely because it is England-grown, I certainly didn't expect a 90's-derived 'Microsoft Works' logo (thanks, Darko).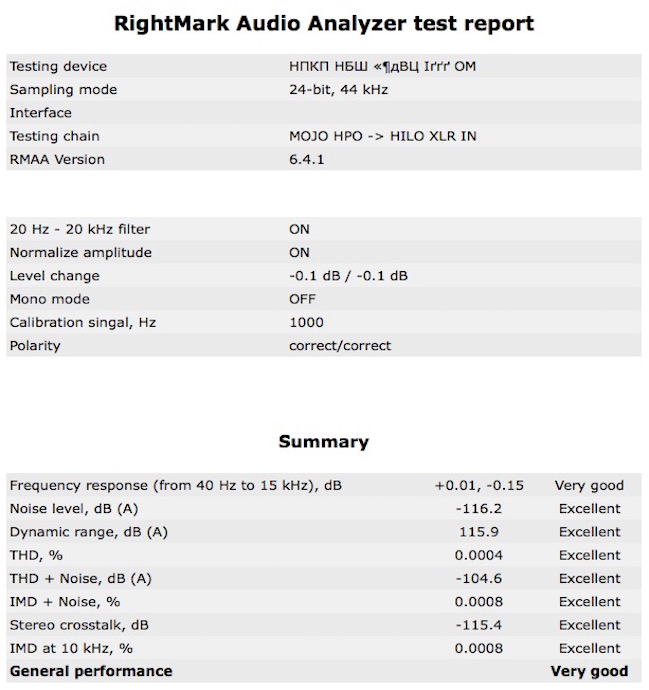 Function
What you have to steel yourself against is trypophobia. A two-second press makes its mains eye glow, turning Mojo on or off, but only if you pressed it at the right angle. Whilst photographing Mojo for a recent magazine shoot, I had the damnedest time getting its lights to go on without it sliding around my table, forcing me to refocuse my Fujifilm GX680III. It took five tries, the last of which had me rubber gloving it between antsy, frustrated fingers whose work it was to somehow get those eyes on, to get the Mojo back to the table, to switch off the overhead lights, and then to grip the shutter before those eyes again winked out. There's not drink enough in the world for such frustration.
I get it: they're part of a unique design. But that design can be a bugger to use. And after just a few uses, those eyes develop finger print cataracts.
Mojo's tied-died and geekily systematic display of sampling rates and volumes and battery life by colour bands is great- if you have a de-coder handy. Thankfully, confusion ends there. Mojo plugs and plays straight out of an iPhone (if you've got a lightning-USB adapter), Android, and Mac. I have no idea what hoops you have to run through to get Windows to play nice with it, but you people exist, and I'm sure there's a way for your will. If you've got a hi-end player, you fire its digital output into any of Mojo's inputs: USB, optical, or coaxial. 
I should have mentioned this earlier: Mojo whines a bit. When charging, it whines till USB calms. Or something. And it whines when you've got it on, but not not got your iPhone or iMac feeding it music. I'm told this is normal. Okay… At least it quiets after a while.

In order to get on with Mojo, there are a number of things to forgive. Like the above. And, like how its eyes are so damned bright. It totally lights up your bedside. It lights up your ceiling, your spouse, and part of the closet- but only just enough. There's something in there, something dark, slithering, and waiting. Ignorance is bliss. But Chord are English. There's something about the struggle that matters, that pays off in the long run. And let me tell you… Mojo really does pay off. It zips through 16-bit, through 24-bit, through DXD and DSD. It plugs into your everything. It's a do-it all that, in the name of compatibility, doesn't mess with performance.
Romantic types will enjoy plugging in headphones side by side in front of the fire in preparation for plugging and unplugging each other.
But Mojo is hardly about the fiddly, or the fondle.
It is all about performance.
Sound and performance after the jump: