What we are looking at today is the Moondrop Kato In-Ear Monitor selling for $189 USD.
Disclaimer: Shenzhen Audio sent us the KATO for this review, free of charge. I only covered customs taxes and fees. All thoughts and experiences with the product are naturally my own. You can find more about them here. Let's get to it.
Moondrop
Moondrop is a company that specializes in the research & development of Hi-Fi earphones. They have been in the industry since 2014 but the Moondrop brand was established in 2015. In the first years, the Moondrop team focused only on earbud design and later added IEMs to their product line-up. By using new technologies in their products and launching successful products, they managed to become a great company that designs & produces products for every price range of the market in a short time. 
You can find our Moondrop reviews here.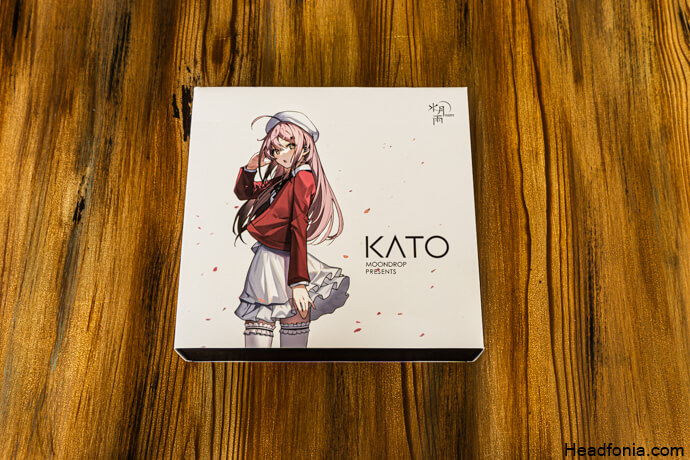 Moondrop Kato
Kato is the latest addition to Moondrop's line-up of in-ear monitors. Moondrop's R&D team focused on demonstrating and developing a new generation of a 10mm flagship dynamic driver before the KXXS, to further improve the linear dynamic range. The KXXS gained a lot of fans around the world and now the KATO is born after 2 years of intensive R&D for the new ULT dynamic driver. Kato's dedicated page can be found here. In my opinion, Kato is an interesting monitor, it has an expansive soundstage and an airy sound signature. Let's take a closer look at it, without further ado.
Driver: 10mm-ULT dynamic driver
Diaphragm: the 3rd generation DLC composite diaphragm
Socket: 0.78-2Pin sunken design
Housing: MIM stainless steel
Nozzle: stainless steel x2, brass x2
Cable: Silver Plated Copper – 3.5mm – 0.78 2-pin
Frequency response range: 10Hz-45kHz (IEC61094, Free Field)
Effective frequency response range: 20Hz-20kHz (IEC60318-4, -3dB)
Impedance: 32Ω±15% (@1KHz)
Sensitivity: 123dB/Nrms (@1KHz)
Distortion: < 0.15% (@1khz, AES17 20khz, A-weight)
Packaging & Accessories
Moondrop's Kato comes inside of a stylish square cardboard box. On the white outer cover, we see the pink-haired anime girl who is the mascot of the Moondrop company. When you slide the outer cover off, a stylishly designed box welcomes you. This box has window-style flaps and offers a premium unboxing experience. Under these flaps, you see an abstract artwork made of silver lines, presenting you the Kato. 
The accessories included with the product are quite rich. You get a small suede carrying pouch and an artificial leather carrying case for all your transportation needs. The carrying case has a rigid structure and the indigo leather texture feels quite premium in hand. The inside of the case is covered with softer material so it won't scratch your IEMs. You can also put the IEMs into the little suede pouch and together they will fit inside the hard carrying case for maximum protection. 
Apart from those, the Kato comes with an eccentric set of tips which are called "Spring Tips". According to the Moondrop, the Spring tips prevent nozzle resonance and offer a better treble timbre. You get 3 pairs of Spring tips and 3 pairs of memory foam tips with the Kato. Additionally, the Kato comes with an interchangeable nozzle system so you can easily replace the clogged or damaged nozzle. The earphones come equipped with the stainless steel nozzle set and there is a brass nozzle set included in the package. The change in the acoustic properties of the nozzle may or may not affect the sound and we will talk about it in the sound section. 
Let's move on to the cable, shall we?
Moondrop included a beautiful, silver-plated copper cable in the package. It utilizes a 4-core 2-braid configuration for reduced microphonics and improved ergonomics. The cable looks very good and its color complements the Kato very well. On another note, the cable is not heavy and it features memory-wired ear hooks. It can also be paired with other IEMs that utilize 0.78mm wide 2-pin sockets.
To sum this section up, the accessories that come with the product are quite satisfactory. In terms of both variety and quality. It is safe to say that Moondrop's latest gem, the Kato, offers a great unboxing experience.
Design, Build & Fit
Let me start the paragraph by saying that I really like Kato's design and build quality. Kato has a chassis made of stainless steel using metal injection molding technology. Moondrop offers the Kato in 2 different shell types. Matte or glossy. Let's not continue without saying that Kato is polished by hand. The review unit they sent me is the polished variant and it looks very shiny. The shell is not big, it has a rather compact size compared to the majority of IEMs around this price tag. It also features an angular design, much like A&K DAPs.
I must also say that it is a fingerprint magnet but in life, beauty comes with a price. Apart from that, the mirror finish looks amazing under any light. Furthermore, during my time with the Kato, some people stopped me on the road and asked what brand the earphones in my ear were. If you like the cold touch of metal, I am sure that you will like this IEM's design and build. It feels durable and rigid in hand. 
Fit on the other hand is as expected from a small/medium size IEM. It may not be the lightest IEM in my inventory, but it sits comfortably inside my ear's concha without any issues. If you think that its angular structure will bother your ears, don't worry. I thought about that at first too, but my experience has been quite positive about that. The Kato offers a very comfy fit and I can wear it without problems for extended periods of time. I don't think you'll have fit issues with this IEM unless you have abnormally small ears.
The Kato comes with two nozzle sets. One set in stainless steel and one set in brass. The ability to replace the nozzles is quite good because nozzles that are clogged or damaged in some way can be very annoying and may disrupt your musical experience. The Kato has an interchangeable nozzle module with a screw mechanism. You can unscrew the old or clogged nozzle with nothing but your hands and replace it with a newer one instantly.
If you follow my reviews, you already know that I appreciate it when manufacturers give us a chance to improve the longevity of the products and take proper precautions if needed. Overall, Moondrop did an amazing job with the packaging, build, fit and design. I can't really find anything negative about it.
The review continues on Page Two, after the click HERE or by using the jump below.
Page 1: Intro, Moondrop, Kato, Packaging & Accessories, Design, Build & Fit
Page 2: Sound Quality, Low, Mid, High, Technical Performance, Comparisons, Last Words