Disclaimer: Vorzüge sent me Vorzamp DUOII samples for review at Headfonia. I have also shot two advertising images for Vorzüge. DUO II goes for 799$ USD. You can find out all about it here: VorzAMPDuo II ™. 
The long preface
Sampling epochal portable audio players and amps reminds me just how far we've come. At the moment, I've got my Grade PS1000's plugged into an Apple iPod 5G (video). Its volume is cranked up to about 80%. It is playing Nick Cave's Your Funeral… My Trial. I cranked the volume down by 8% after queuing up Classified.
My iPhone SE gets similarly loud at a volume of around 50%. It is stabler to boot. But, thanks to a clever storage adapter, inside my iPod 5G is over 200 GB of music. Had I purchased the newer version, I could have fit every song in my 420GB library inside. I'm a perennial fan of its Wolfson WM8758 DAC. But let's face it, the stars seldom align. It hisses too much, and its performance under load is pitiful. As far as I know, the most reliable way to align the stars is by attaching a good external amp to it.
I've been sampling portable amps since 2006 or so. Xin's Super Micro was my first. I have no idea what my last will be. But I do know this: the only line of amps that, from top to bottom impresses me is Vorzüge's. In fact, it is the only line of amps that consistently keeps up with Chord's Mojo. And, despite generation 1 units performing top of the heap in their day, every following VorzAMP has supplanted the one before it, both performing better, and being easier to use.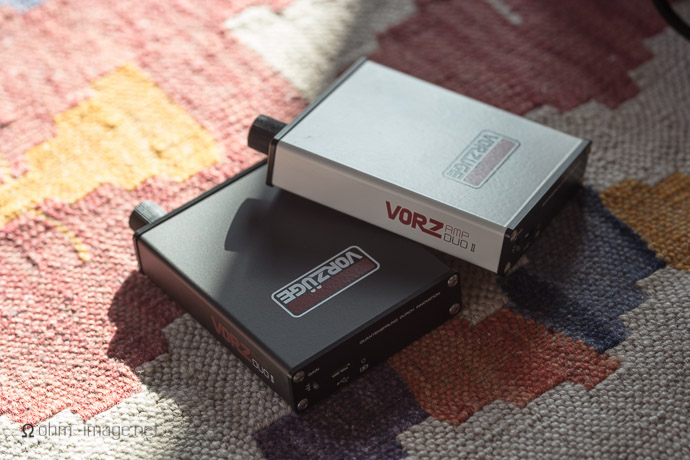 Not sound
Vorzüge are the Porsche of portable amps. Every VorzAMP iterates on the familiar, the iconic. 2012's DUO and PURE share the same physical footprint with today's PURE II/II+ and DUO II. They share the same in/out and ON/OFF placement. Where they exist, changes are minimal. The Micro-USB charging port has been modernized with micro-USB. The paint coatings are smoother and less prone to smudging than previous generations.
Still included in the accessory package is the VorzKABEL, a hex key, and a real Apple USB charger. It is a solid accessory package. And the box it comes in is the same black box. It's part jewelry cases, part Hasselblad digital back tote. Speaking of totes, the familiar Vorzüge draw string carry case is still included, though I still believe that an iPod Sock is better. And, it fits like a glove.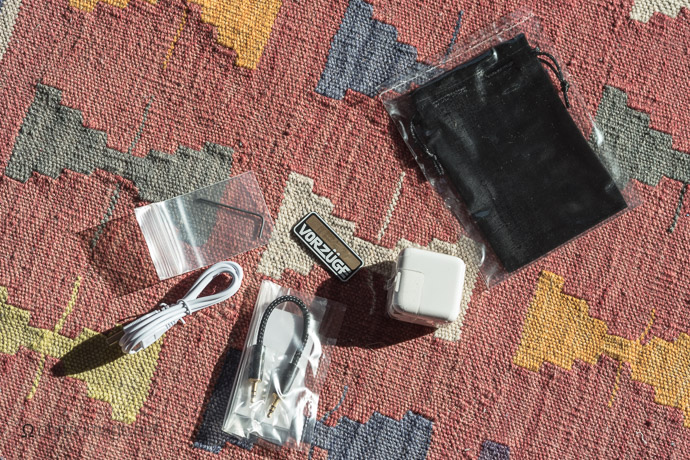 Enter VorzAMP DUOII
As I pointed out in my last Picture Sunday entry, DUO inherits most of the improvements introduced to the series starting with PURE II. It also introduces a few of its own, smart among them being the translating of its gain switch from the front panel to the back. Previously, it was easier to flip from low to high gain, and blast your ears. That is no longer the case.
A brilliant dual-stage EQ sits where PUREII's gain sat. Because the two amps share so much – sound included – in common, this review will often veer to how well that EQ is implemented.
The meh
I get between 6 and 7 hours on a single charge. I'd prefer ten. I'd also prefer Vorzamp DUOII's lamp to be 100x less bright. But, as this has been my complaint about every VorzAMP, I know that won't change any time soon.
Sound and more after the jump or the click HERE: