In this review we take a close look at the high-end SAEQ Audio PDA-1b amplifier, selling for $4,300 USD.
Disclaimer: SAEQ Audio is not related to Headfonia in any way. The SAEQ Audio PDA-1b was sent to me to be featured on Headfonia.com, in exchange for my honest opinion.
SAEQ Audio
SAEQ Audio is a Serbian based company which isn't very familiar yet in our headphone world, but I have feeling things are about to change soon. SAEQ simply stands for Serbian Audio EQuipment. I first learned about SAEQ Audio at the high-end show in Munich. The good people from RAAL introduced me to Dragan Domanovic from SAEQ. One thing led to another and as a result we today are reviewing SAEQ's PDA-1b headphone amplifier.
Dragan is the owner of SAEQ audio and he has been building amplifiers since the 70's, meaning he has over 50 years of experience in the field. Impressive!
The devices that I have developed, constructed and built all these years have gradually acquired a character and tone that I considered to be correct and authentic, in the musical and technical sense.
One of the things SAEQ is famous for is their use of germanium transistors but they are strongly focused on continuous technical/mechanical and aesthetical development. You can find SAEQ's full "About us" on their website here.
At this time SAEQ is selling four different headphone amplifiers: the HYPERION GE, the MORPHEUS, the HAS-1c and the PDA-1b. They also have some cables in their inventory. In this article we are focusing on their PDA-1b headphone amplifier.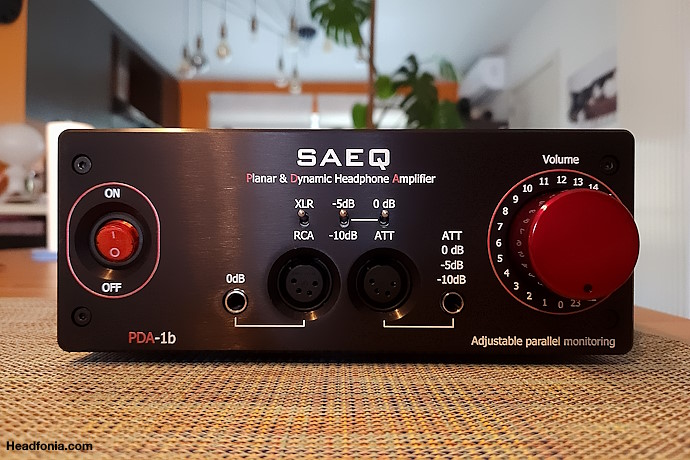 SAEQ Audio PDA-1b
PDA-1b stands for Planar & Dynamic Headphone Amplifier, and one of its main features is its adjustable parallel monitoring. We'll get back to that in a bit. The PDA-1b's price is on request, but it's selling for around $4,300 USD. You can find the PDA-1b's dedicated page here.
The basic technology for this amplifier was taken from SAEQ's highly acclaimed HAS-1b amplifier. The PDA-1b drives all types of electrodynamic and planar headphones, and it works with anything between 2 and 600 ohms. You can connect up to 4 pairs of headphones to it without affecting the quality of reproduction and tonal balance. This is due to a very powerful output stage with discrete components and carefully designed double feedback. Note that you won't be able to directly drive RAAL's ribbon headphones with this amp, you will need RAAL's interface for that.
The topology of the PDA-1b is made with discrete elements. SAEQ also uses a stabilized power source, as it is a prerequisite for the presentation of micro-details. The output stage comes with a powerful low-impedance output that can go down to 2 ohm impedances, which can be useful when driving some planar headphones. More on that later in this article in the part on sound.
What I love about this amplifier is that you can connect up to 4 headphones simultaneously, without any loss of sound quality. It's the perfect amp for reviewers and audiophiles with multiple high-end headphones. Another great feature is that the PDA-1b allows you to attenuate half of the outputs, but also the input. This gives you greater control and really comes in handy when you have different types of headphones.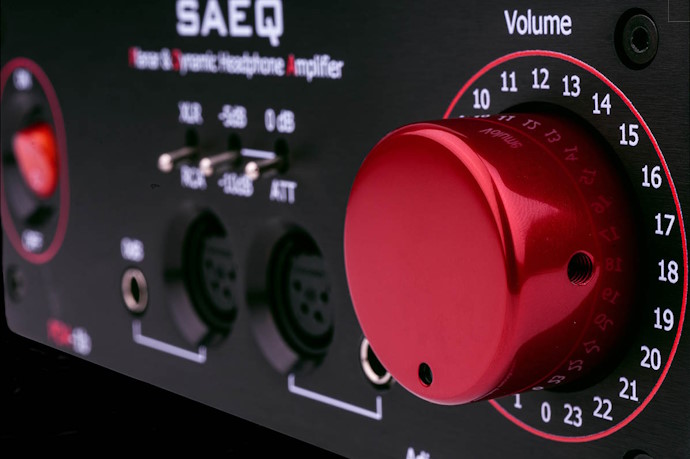 Design & Build quality
The SAEQ Audio PDA-1b comes in a nice white box and it is very safely packed. The PDA-1b is a beautiful amplifier and I love the front plate finishing and the unique red touches. The design is simple yet refined even if the front face is quite busy with all the connectors, text and buttons. At the same time it makes things clear and straightforward.
The PDA-1b is a typical headphone amplifier size-wise and it measures 90mm in height, 218mm in width and 320mm in depth (3.54 x 8.58 x 12.60 inches). It weighs an impressive 5,3kg, which makes it sit sturdy on your desk at all times. This amp will not move around on your desk when (dis)connecting headphones.
The build quality is excellent. The case, front & back plate finishing are top notch and all of the connectors and buttons are sturdy and stylish. That volume button with the red glossy finish is so gorgeous. The power button could have been more similar to the volume button, but now we're nit-picking. All-in-all it's a really nice unit with a high-end finish. At this price it's everything it should be. Just pay attention when inserting your headphone connectors, so that you don't damage the amp's front plate.
Amplifier layout & Usage
As mentioned earlier, the SAEQ Audio PDA-1b is a busy amplifier both on the front and back, but it at the same time is so easy to use. The possibility to be able to connect 4 headphones simultaneously without any loss of quality is extremely useful.
On the front we from left to right have the power button, a 6.35mm output, a 4-pin XLR output, another 4-pin XLR output, another 6.35mm output and the volume control. The 2 headphone outputs on the right offer the attenuation options. You can turn the attenuation on/off and you can choose between -5dB and -10dB. On the top of the unit there is a 110/220v selector and some ventilation covered by a mesh.
On the back of the unit we find the RCA inputs on the left and the XLR balanced inputs in the middle with the attenuation switch at input level right in the middle. The power connector is on the far right. It's a quite busy back side, but there's no issue connecting cables and even fancier aftermarket boutique cables with bigger sized plugs can easily be connected.
The PDA-1b stands on 3 very sturdy feet, keeping the amplifier in place at all times. The front controls are easy to use and you without any issue can connect multiple headphones at once.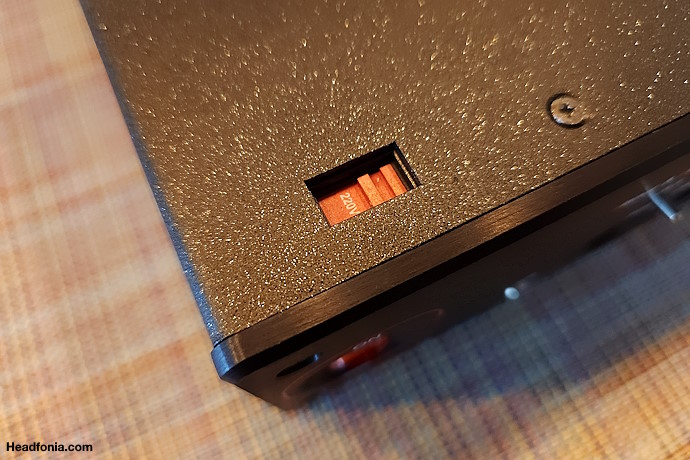 Specs
Load Impedance headphones out – direct: 2- 600 ohms
Output Power (one channel driven): 10W/8 ohms, 5W/16 ohms, 2.5W/32ohm, 1,25W/64ohms, 0,6W/120 ohms, 0,3W/300 ohms, 0,15W/600 ohms at 1khz/sine /both canal driving.
Frequency Response: 2V RMS 15hz – 500kHz (-1dB/ -3dB)
Power Bandwidth: 100kHz (-1db) at 2W
Distortion: < 0,3% at 1khz
Signal to Noise Ratio: Better than 95dB
Input Impedance: 40kΩ
Input Sensitivity for full OUT: 0,7V at 1 kHz
Input Connections: INPUT 1- 2 RCA Single-Ended, INPUT 2 – 2 XLR 3-pin Balanced (female)
Output Connections: 2 x XLR 4-pin female (balanced Planar & Dynamic headphones) 2 x 6.3mm stereo jack (Planar & Dynamic headphones) 8 – 600Ω
Max Power Consumption: 50W, without signal 15W
Working voltage: 115V/230VAC (selector switch) or 100V (requires internal connection)
Dimensions: Height 90mm, Width 218mm, D 320mm (3.54 x 8.58 x 12.60 inches)
Weight: Net 5,3kg / Br 6,6kg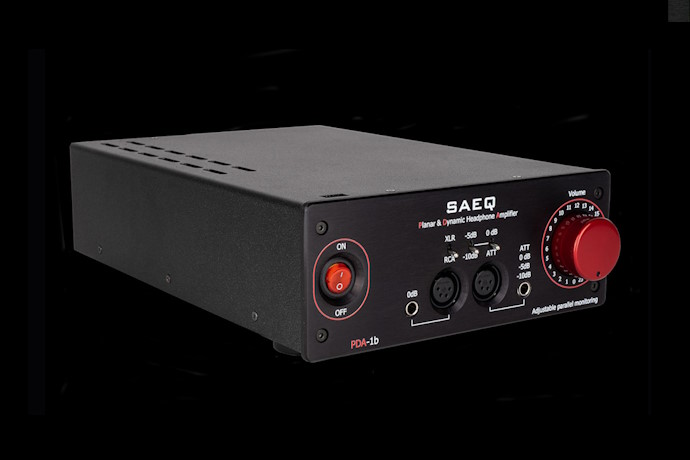 Sound
Sound – Intro
SAEQ insists that using a high end source with the PDA-1b is crucial. As it is a transparent amp, it is most important to use a highly detailed source. We in this review have used the Musician Audio Aquarius R2R DAC, as well as the Violectric V850.
This is an amplifier that will certainly make you smile with satisfaction while listening to your favorite music materials . With that, our basic mission has been accomplished.
The assessment was done with a series of high-end, different technology headphones which I will get back to in a dedicated chapter. The Aquarius was connected to my laptop running ROON, and connected to the PDA-1b via XLR.
The review continues on the second page with the elaborate part on sound. Click here or use the jumps below
Page 1: SAEQ, PDA-1b, Design & Build quality, Layout & Usage, Specifications, Sound Intro
Page 2: Sound General, Sound Synergy, Conclusion, Summary