In this article, we review the Astell&Kern PA10, the brand's new headphone amp selling for $599 USD / €629 EUR.
Disclaimer: Astell&Kern sent us the PA10, free of charge, for the purpose of this review. In exchange, we're going to give our honest opinion, as always.
About Astell&Kern
Founded in 2012, Astell&Kern is one of the most renowned luxury brands in the audiophile world. A subsidiary of the mighty Dreamus conglomerate, A&K was one of the pioneers of high-end DAPs back in the day, with the A&K 100. A compact player, entirely made of aluminum and glass, that competed with the likes of Hifiman and their HM-801 and HM-601, or with FiiO and its tiny X3.
And if I, at the time, found the player a bit too small, a bit too expensive, and not powerful enough to really make a difference in the burgeoning world of DAPs, sales and reviews proved me wrong. The AK100 was a hit, and the AK100II that followed was even better, fixing the few issues found on its predecessor and doubling down on the storage quantity. Fast forward to 2023, and Astell&Kern now have a complete line-up of high-end players, ranging from their "entry-level" (new) A&K SR35 (review soon), to the mighty A&K SP3000, who's seconded by the Kann Max or the beloved SE180 – that I reviewed a while ago, as Berkhan did but with a different module.
But, today, we are not reviewing a DAP. No no, today, we are taking a blast into the past, and we'll be reviewing… a portable headphone amplifier. Not even a portable DAC/Amp no, a pure, Class-A, amplifier, namely the Astell&Kern PA10. A device that's designed to be paired with the brand's DAPs, so you can get enough juice fot your mighty new headphone.
Should you get one? That's what we will discover today.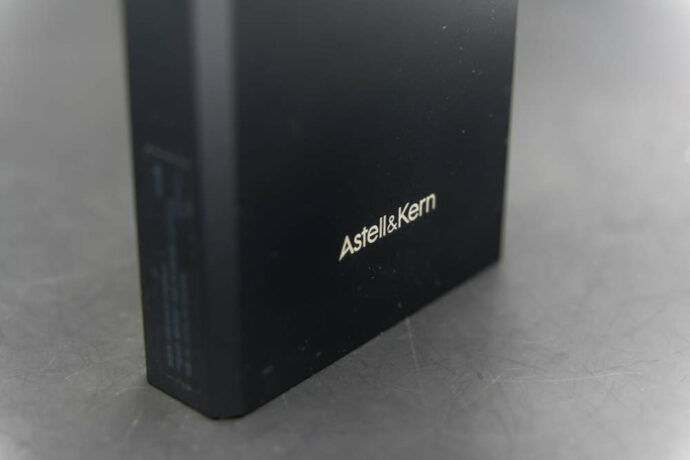 Design & Build Quality
Casing
As usual with A&K, build quality is absolutely flawless, with no gaps and premium materials everywhere your eye can see, and your hands can touch. Made of a single brick of aluminum, CNC-milled then brushed, the PA10 has this distinctive touch you'll only find on high-end audio devices. And that's not just the touch, with 325g on the scale, the amp isn't lightweight by any means, but doesn't feel too cumbersome at the same time. It feels just right and if I didn't have to pair it with a source, I'd find it quite handy on the go (more on that later).
While the front panel exhibits a classic anthracite aluminum color, with a slight slope for the widened upper chassis, the back panel is where things get funky. Entirely covered with a silicone grip, the Astell&Kern PA10 gets the same kaleidoscopic panel found on the DAPs but textured. It's equally intriguing and useful, giving the paired source an exceptional grip, and avoiding scratches at the same time. Bonus, when put on a desk, this side helps to prevent slipping that naturally occurs with a full aluminum device.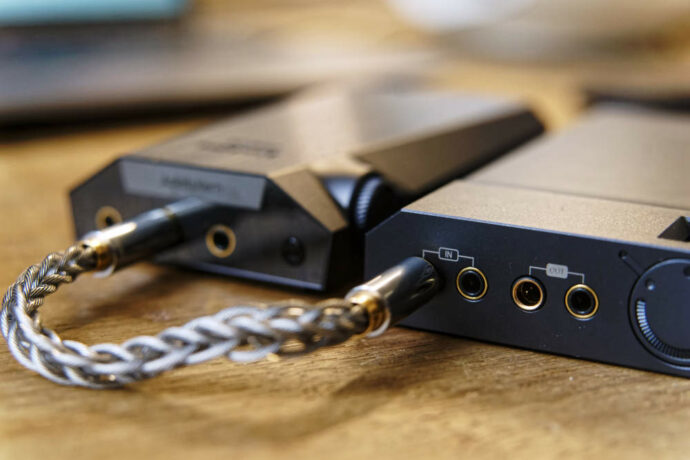 It's still a geeky device though, with no less than three different switches on the side, four inputs/outputs on top, and a massive volume wheel that's completely recessed in the body. Add to that the four input/output ports on top and this amp ticks all the right boxes.
Finally, speaking of box, the A&K PA10 remains a massive one for on the go. 140mm long, 73mm wide, and 23.3mm thick. Okay, that's almost compact compared to the FiiO Q7, but still, paired with a DAP or a smartphone + DAC, this is a massive pack.
Layout
The layout of the PA10 is quite simple.
On top, you have:
2x 3.5mm ports, in and out
2x 4.4mm ports, in and out
And at the bottom, you get a single USB-C port, dedicated to charging purposes only. Also, as you'd expect, you can't use the 4.4mm output if you use the 3.5mm input, or the 3.5mm output if you connect the 4.4mm input – it's one way in, one way out.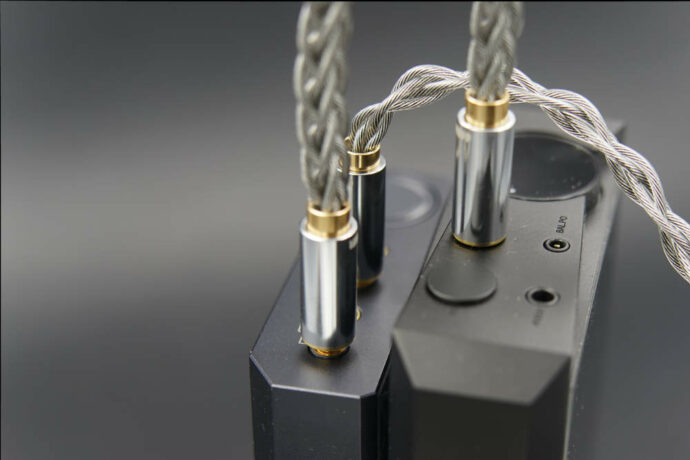 Last but not least, on the left side you get three toggles, laid out like this – from top to bottom:
current: Low (default) / Mid (+50mA) / High (+100mA)
gain: Low (2.1 Vrms / 4.2 Vrms) / High (3.1 Vrms / 6.2 Vrms)
crossfeed: Off / On
Simple and clear.
Bundle
Inside the box
The Astell&Kern PA10 follows the brand's usual path, and comes with a very dire bundle – but that's classical for A&K.
Inside, you will find :
the A&K PA10
a USB-C to USB-C cable
a 3.5mm to 3.5mm cable
two silicon bands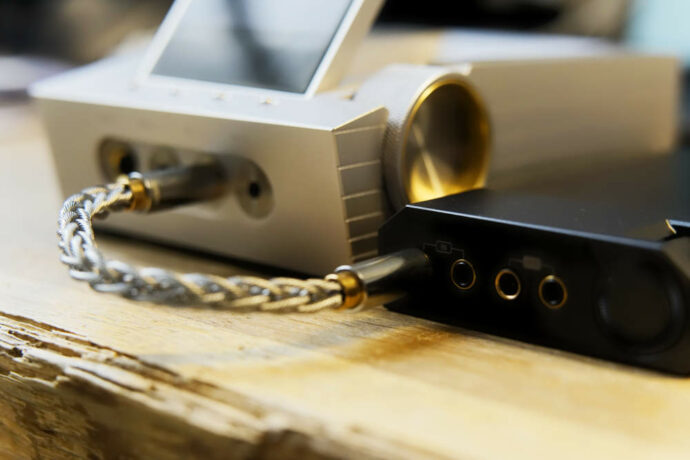 No 4.4mm to 4.4mm cable, and no cover, which means you'll have to buy one buy yourself. I got one directly from ddHiFi – see the one in the picture – that is simply exquisite.
The article continues on Page Two, after the click here.
Page 1: about Astell&Kern
Page 2: UI, Usage, Bundle
Page 3: Technical specifications
Page 4: Sound performance