Today we review the Unique Melody Maven Pro IEM which is selling for $1.799 USD in custom version and 2.999 USD in universal version.
Disclaimer: The Unique Melody Maven Pro custom monitor was sent to us free of charge in exchange for this review, directly by Unique Melody. UM is not related to Headfonia in any way.
Intro
If you've read any of my Unique Melody reviews, you will know it's one of those brands that just "do it" for me. The Maestro and Mason series, as well as the MEST series, have received high marks from me. I am a big fan of the way UM implemented bone conduction and I really feel it brings something extra to the party. I'm not the only one who feels this way, and since the first bone conduction IEMs from UM was released, many of their competitors have also started developing comparable bone conduction drivers for their monitors.
The reason why we're a bit late with the review of the Maven Pro is that we had to wait a bit longer for the custom version as the production of the universal version (which many used for review) was given priority.
Let's start exploring the Unique Melody Maven Pro!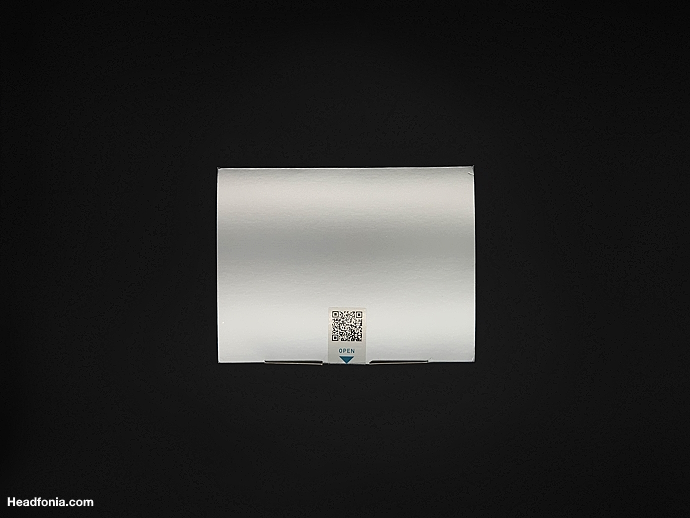 UM – Unique Melody
According to Unique Melody, they are one of the first and longest-established manufacturer of custom in-ear monitors in China. Since 2007, with over 10 years of research and experience in the industry, they've developed a wide range of products from multi-BA, hybrid dynamic and BA, to more recent units containing Bluetooth, planar magnetic, piezoelectric, and bone conducting technologies that also contain various patents.
Fast forward to 2023 and Unique Melody is everywhere, they are more structured, have a clear product line up, better communication and an up-to-date website. They also have excellent representation and MusicTeck in the US really have made it easy for everyone to get familiar with the brand.
It's not always easy finding the right Unique Melody website via Google so here it is: https://www.uniquemelody.org/. If you use Facebook's search you'll also find several FB Pages for Unique Melody, but the correct and official page can be found here: https://www.facebook.com/UniqueMelodyIEM/.
It's clearly not the first time we've reviewed Unique Melody monitors and we have full articles about the Maverick, Martian, Maestro, ME.1, Mason V3 and Mason V3+, MEST, MEST MKII and MEXT. Phew! This time we're looking at the newest UM creation, the Maven Pro.
Time to dive in!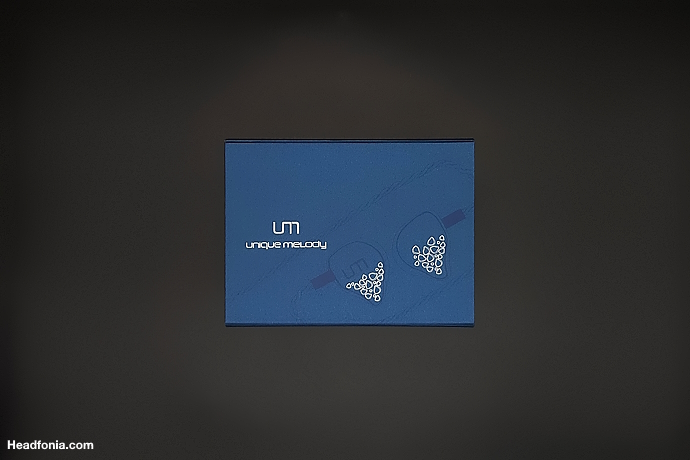 Unique Melody – Maven Pro
Maven Pro's dedicated web page can be found here. You can buy it from MusicTeck in the USA via this link here.
The Maven Pro has a couple of unique features, and we'll go deeper into some of them. First off al, the driver configuration. The Maven Pro uses no less than 12 drivers on each side, with a 4-way crossover and a 4-tuning tunnel design. This setup was first used in the Mentor series. Each frequency range has its own tuning tunnel to fully isolate between frequency sectors. A metal sound tube is connected at the end of the sound tunnel to ensure that the sound tube will not be squeezed out of shape and to maintain the consistency of sound transmission. But back to the drivers.
The Maven Pro's 12 drivers are the following: 4 Bass Drivers + 2 Mids Drivers + 4 Treble Drivers + 2 Ultra-High Drivers. 10 of these drivers are Balanced Armatures and the 2 remaining are Electrostat (EST) drivers for ultra-high frequency extension. The frequency response range can reach up to 70kHz. Compared to the Maven, UM states that "the Maven Pro has an adjusted crossover structure and driver configuration, which improves the bass response significantly". This Maven Pro no longer utilizes open-back BA drivers but instead boasts two additional electrostatic drivers to improve the speed further and vastly extend the response range with the distortion rate controlled to the lowest level.
Second, the Maven Pro is all about "Titanium". The universal version comes with Sapphire blue titanium shells and the monitors are 3D-printed. It probably is hard to spot in the pictures, but if you look inside the face plate openings, the 3D-printing process clearly shows.
According to Unique Melody, titanium naturally absorbs very little sound, thus allowing the maximum amount of sound to transmit into your ears without any distortion whatsoever. We'll find out more about this right after the Technical specs below.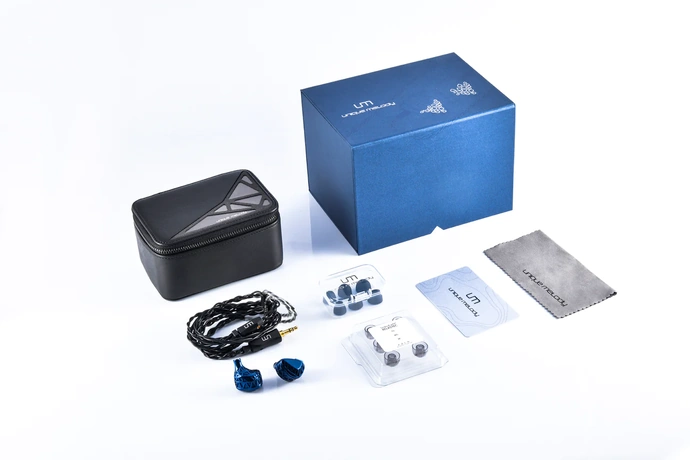 Technical specifications
Driver Type: Electrostatic + Balanced Armature
Driver Count: 12 Drivers
Frequency Response Range: 20Hz-70kHz
Sensitivity: @1KHz 112dB
Impedance: 30Ω
Socket: 2-Pin Socket
Shells: Titanium Alloy
Crossover: 4-way Crossover
Configuration: 4 Bass Drivers + 2 Mids Drivers + 4 Treble Drivers + 2 Ultra-High Drivers
Cable: UM Copper M2 Custom Cable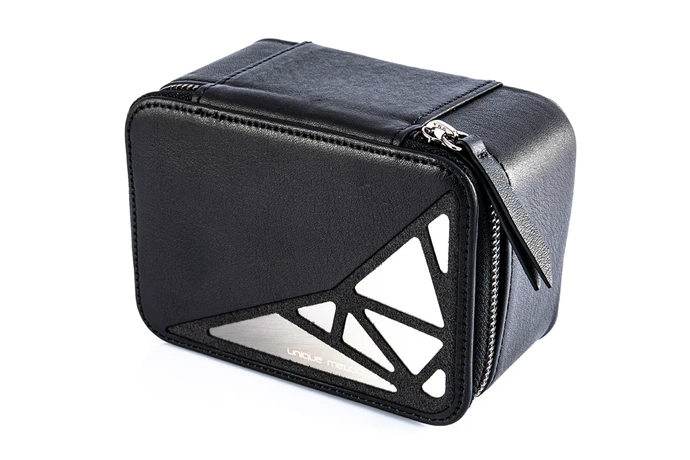 Maven Pro – Materials & Building
There are multiple reasons why UM is using Titanium in the Maven Pro IEM. First, there's the effect it has on the tuning. UM states that titanium provides extremely high sound insulation to reduce the mutual interference of drivers. The Maven Pro housing is printed in titanium alloy for high accuracy.
Second, UM uses medical-grade titanium, which is corrosion resistant and allergy safe. The shell thickness is only 0.25 mm (equivalent to the thickness of two sheets of letter paper. That's 1/6 of the thickness of the traditional resin shell. Titanium also is 4 times as strong as the density of a traditional resin case. The titanium shells are also 15 times as strong as the traditional resin shells, making them more resistant to drops and compression.
As said, the Maven Pro is 3D-printed, and the shell consists of 1200 Layers of high precision 3D graphics slice. The monitor is fully hand crafted once the printing process is done. The magical number here is 12. Some fun facts:
– Every artisan must have at least 12 months of experience in IEMs assembly.
– Each pair of Titanium shells need 12 hours of hand finishing.
– Each titanium shell goes through 12 post-processing processes.
– Each pair of Maven Pro is craved precisely. The weekly output capacity is only 12 pairs.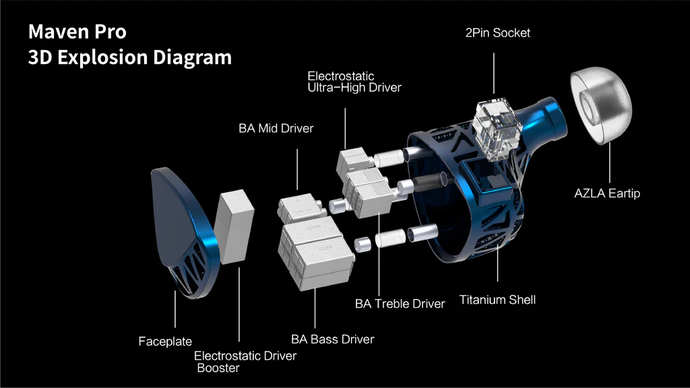 The titanium shells in general are more heavy than acrylic or carbon fibre, but the weigh is no issue. Titanium does feel colder to the ear, where the usual shells feels warmer and softer in comparison.
The article continues on the second page. Click here or use the jumps below.
Page 1: Intro, Unique Melody, Maven Pro, Specifications, Material & Building
Page 2: Build quality, Comfort & Isolation, Design & Personalization, Cable, Price & Accessories, Sound intro, Sound general, Sound classics
Page 3: Comparisons, Sources, Conclusion