In this article we review the FiiO Q7, the brand's new DAC/AMP selling for $799 USD.
Disclaimer: FiiO sent us the Q7, free of charge, for the purpose of this review. In exchange, we're going to give our honest opinion, as always.
About FiiO
Founded in 2007, FiiO is one of the pillars of the portable audiophile world, with companies like Astell&Kern, iBasso, and Meze. IEM, headphone amps, DACs, and obviously DAPs, they did it all and did it well, filling each and every corner with an endless list of multi-awarded devices, like the K9 Pro, BTR5, Q3, or the M11.
And if the brand began as a chi-fi maker, with cheap but nice products, lately they've constantly been moving upmarket with players like the FiiO M11 Plus ESS or the ridiculously big FiiO M17.
A fantastic player nonetheless, packing two high-end ESS-Sabre DAC + THX modules, a new power-supply schematic allowing you to switch between battery or DC and many various improvements both hardware and software. A fantastic player whose main drawback is its gigantic size – don't expect it to fit in any pocket except a dedicated bag or case.
But, developing a new player takes time (a lot) and money (even more). And if the FiiO M17 is a wonderful showcase, it remains quite expensive for many audiophile – even if $3000 less expensive than A&K latest flagship. Which gave FiiO's team an idea, the brand had an idea: what if we stripped the DAP from all of its "Player" parts but kept all of the "Digital Audio" ones, to make a DAC/AMP, instead of a DAP ?
And so was born the FiiO Q7, a portable DAC/AMP based on the FiiO M17, sharing the same audio circuit – minus the android player part – that should give you equal performances, for no less than $1000 down. The TOTL deal of the year? That's what we'll see.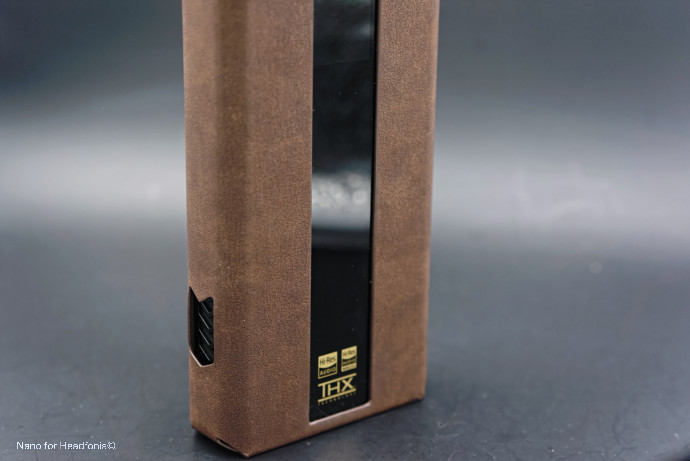 Design & Build Quality
Casing
From afar, it's hard to distinguish the FiiO Q7 from its sibling, the M17. Same massive case – 156.4 mm tall, 88.5mm wide, 28mm thick – same weight (or almost) with total weight of 620g, without the leather case, and overall… same design. Which isn't a bad thing by any means, especially for a DAC/AMP that's advertised as "Portable desktop-class amplifier", and from top to bottom, this device screams TOTL.
As usual with the brand, build quality is absolutely flawless, with no gaps and premium materials everywhere your eye can see, and your hand's touch. Front panel? Gorilla glass. Back panel? Grainy silicon so you won't scratch your phone, or lose it when paired . The case? Neat, CNC'ed, polished matte black aluminum. Volume Knob? Massive and golden.
It's still an incredibly geeky device, with vents on the side, illuminated by RGB lightings, and a screen that's way too sharp for a portable DAC/AMP – but that's also why it's one of my favorite designs, it goes "all-out". And, paired with the provided desktop stand, you really feel like you're holding a $1500+ DAC/AMP on your desktop, in addition to drawing all eyes to your desk.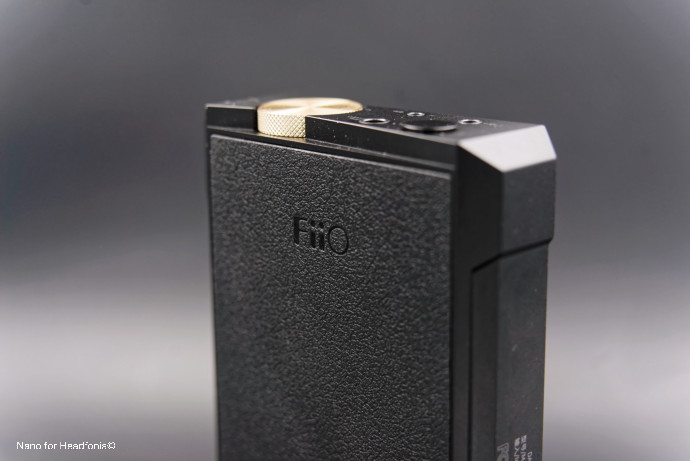 Layout
Compared to the M17, the FiiO Q7 display some slight variations:
the full-sized screen has been replaced by a smaller one, getting you access to many different options
the Hi-Res and THX logo is now emblazoned upfront, leaving the backplate free of any inscriptions
the volume control is now infinite, when the FiiO M17 enjoys a long course one
there's no micro-SD port available, it's a DAC/AMP, not a DAP
you get a Toslink input, in addition to all and every inputs available
But, for the rest, everything is almost identical.
If the right side is now blank, on the left side, you'll find:
prev/next buttons
a play/pause button
At the bottom, you have:
a blue USB-C port for data transfer and charge
a DC input if you want to bypass the battery and rely on the power supply
a coaxial input, that allows you to use the player either as a DAC, or a source
an optical input, that does exactly the same
a toggle that activate/deactivate the USB Charge
a toggle that switch between DC and battery
Finally, on top you have:
a 3.5mm headphone/line output, so you can connect your headphone or a dedicated amp
a 2.5mm balanced headphone output, a classic
4.4mm Pentaconn balanced headphone output that now doubles as a balanced line output
a 6.35mm headphone port for your biggest cans
and the volume knob
Once again, all headphone outputs are completely blacked out and if some will like the sober presentation, others might prefer the classic gold-plated 4.4mm Pentaconn look. Bonus point for the 6.35mm jack output, it's not something you usually see on a DAP!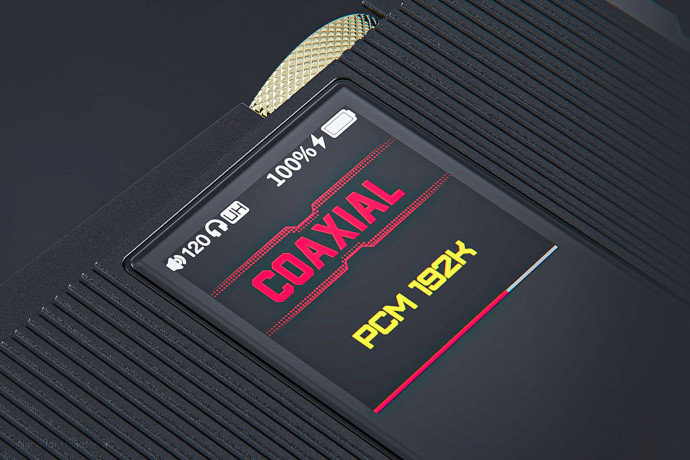 Screen
Clearly, a screen on a DAC/AMP is just for show. But, that doesn't mean you can't make the most of it, and the FiiO Q7 definitely makes good use of its screen.
Somewhere, buried in my basement, I still have my old FiiO E07 and E17(K) which came with a blue OLED screen, so that you could tweak some settings (balance, treble/bass) or simply know the actual playing volume. A feature lost on the actual Q3 and Q5, but still available on the BTR5 and BTR7 or even on DACs from other brands, like the xDuoo XD05 Plus.
But, none of them equal the quality and visual sharpness found on the FiiO Q7's screen. If only 1.3'' wide, this one gets a full-color, high-definition panel, with excellent view-angles and superb UI, allowing you to navigate easily through all the menu. Do you need a screen this good on a DAC/AMP? Definitely not. Do you want a screen this sharp on your DAC/AMP? Absolutely yes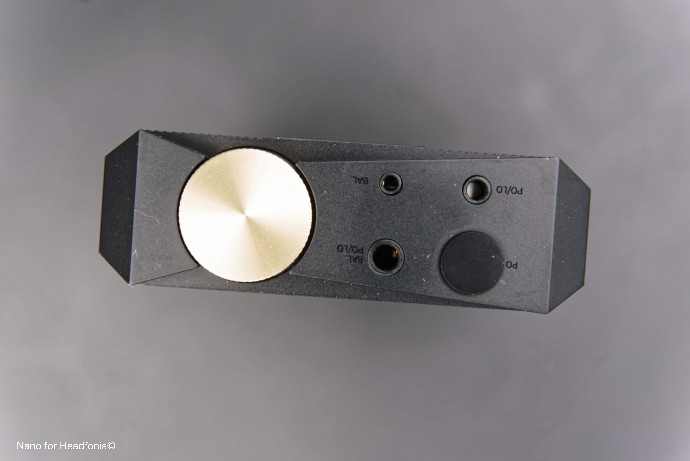 Bundle
Inside the box
The FiiO Q7 is (un)surprisingly well-dotted, but what's even more surprise is the sheer size of the retail box. It's simply one of the biggest one I ever saw for a portable DAC/AMP, by far! Why? Because this time, they decided to fit both the DAC/AMP AND the dock, in the same box.
Inside, you will find :
the FiiO Q7
a leather case
two USB-C to USB-C cables (short and long) + MFi to USB-C
an USB-Adapter
a power adaptor
an external DC adapter
and finally, the mighty cooling stand fan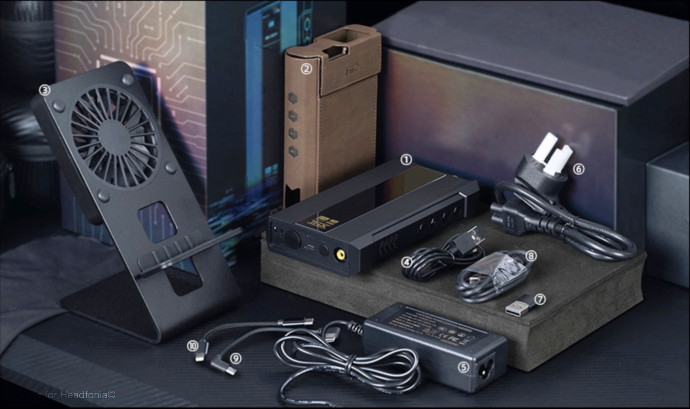 Yes, like the M17, the FiiO Q7 comes with a cooling stand fan, or a ventilated cradle if you prefer. Powered by a USB-C port, this dock is dedicated for users that intend to use the player in a desktop setup, hooked to a power amp or a high-end headphone, like the Meze Empyrean.
Sadly, the port only comes with a sole USB-C port and no bypass, BUT if you use the DC adapter, you can then connect the cradle to your Q7 with the small USB-C to USB-C cable, you'll be able to power the dock and cool down your Q7 in desktop mode. Clever
The article continues on Page Two, after the click here
Page 1: about FiiO
Page 2: UI, Usage, Bundle
Page 3: Technical specifications
Page 4: Sound performance