Today we're going to be checking out the new FiiO BTR5 2021! It's selling for $119 USD.
Disclaimer: FiiO sent us the BTR5 2021 for the purpose of this review. I only covered the import taxes and fees. All thoughts and experiences with the product are naturally my own.
FiiO
FiiO is one of the most popular audiophile-focused companies in the world. They design and manufacture a wide variety of audio products for different price brackets. They have been in this industry since 2007 and they are very popular with fans all around the world. They entered the Bluetooth playground with solid products and today we are looking at their new and upgraded BTR5, the BTR5 2021. We have reviewed and awarded a lot of FiiO gear here on Headfonia over the years and you can read those reviews here: Headfonia FiiO Reviews.
FiiO BTR5 2021 Bluetooth DAC & Amplifier – What's New?
FiiO BTR5 2021 is the upgraded version of the BTR5 that was released roughly two years ago. The previous generation BTR5 had the ESS's 9218P DAC in dual configuration. Fiio upgraded the chips to 9219C in this new version, aiming for better performance and even lower power consumption. Both of these DACs are from the Sabre series of ESS Technology. This series offers low power consumption, high-performance DACs and they are very popular around the world so it's easy to understand why FiiO chose this particular DAC. Additionally, the new DAC comes with MQA support. However, due to Bluetooth's limitations, MQA is not available wirelessly. I am including the highlights of the new BTR5 2021 below.
DAC: ESS Technology ESS9219C x2 (Dual Configuration)
Bluetooth Chipset: Qualcomm CSR8675
USB Controller: XMOS XUF208
Supported Codecs: AAC / SBC / aptX / aptX LL / aptX HD / LDAC
Outputs: 3.5mm Unbalanced x1 – 2.5mm Balanced x1
USB DAC Mode: Native DSD up to DSD256 – PCM up to 384kHz + MQA Support
SNR: PO≥118dB (32Ω dbA) – BAL≥122dB(32Ω dbA)
Microphones: 2 mics with cVc 8.0 
Battery: 550 mAh / 8-9h
Dimensions & Weight: Approx. 72×32×11.1mm – 43 grams
BTR5 2021's dedicated web page can be found here.
Let's take a closer look at it, without further ado.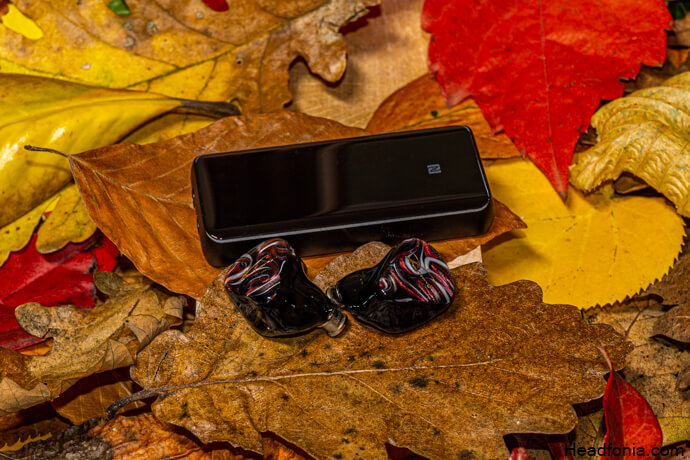 Packaging & Accessories
BTR5 2021's package is quite interesting. The outer surface of the package is covered with a coating that gives a kind of rainbow effect. In my opinion, this package looks much more appealing than the previous package, which was simple and ordinary. 
Sliding off the cover grants you access to the foam compartment where everything is neatly packed by FiiO. The accessories are nice, you get pretty much all the essentials. FiiO provides an ABS plastic case with a clip and a small USB-A to USB-C cable to charge the device. Additionally, compared to the previous-gen, FiiO has added an elastic USB-C to USB-C interconnect cable to the package. The supplied interconnect cable is of good quality and surprisingly soft. The charging cable seems generic and the ABS plastic case does not look all that great. Fiio should have included a leather case with this beautiful product.
Design & Build Quality
Fiio's track record on build quality has always been good. I remember Fiio's E12-Mont Blanc portable amplifier like it was yesterday. It was a handsome device and this memory is nearly 10 years old. Look where we are now with the new Q3. Even their budget-oriented products maintain a distinct design line for years without falling below a certain quality level and I think that's brilliant. The BTR5 2021 is no exception. The chassis of the device is made of aluminum. The front and back of the aluminum body are covered with tempered glass with a hardness of 6h. The glass is curved on the sides and it feels very nice to touch. It is also a fingerprint magnet but as always, beauty comes with a price. 
The anodized aluminum chassis of the device is covered with matte black paint and looks very aesthetically pleasing. The device features 4 buttons and they are located on the right side of the chassis. From top to bottom, we see a power button, a multi-functional button, and a volume button. The balanced and unbalanced outputs are located at the top of the chassis and the USB-C input is located on the bottom. The device features an OLED screen and it provides you with quite a bit of information about the device. You can see check the sample rate, volume level, battery level, and navigate between the menus, easily.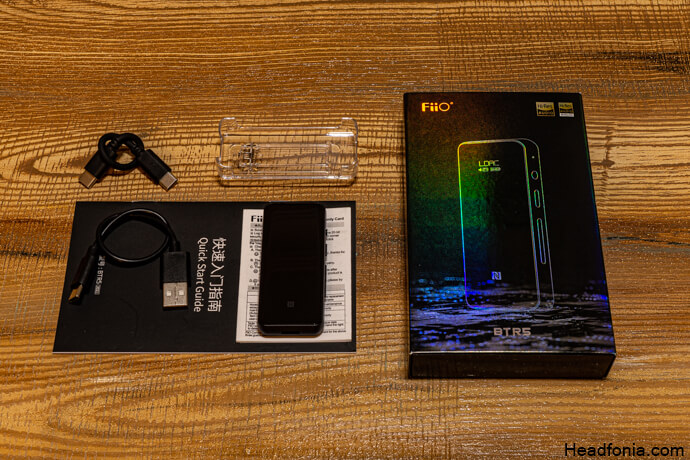 The overall build quality of the device is quite nice and I think it is safe to say that it will endure physical abuse up to some extend. It is not very easy to scratch the tempered glass but it is definitely not entirely scratch-proof so I would take good care of it by not throwing it around. It is quite easy to drop the device as it features a slick surface. It is also very small and lightweight. It weighs around 43 grams and is about as big as a lighter for reference. 
The review continues on Page Two, after the click HERE or by using the jump below.
Page 2: Amplitude & Chipset, Features & Control
Page 3: App Support, Performance, Wired Performance, Shanling UP5 Comparsion, Last Words