In this review we take a close look at the Ferrum Audio OOR amplifier, selling for €1.995 Euro.
Disclaimer: Ferrum Audio is not related to Headfonia in any way. The OOR & HYPSOS were sent to me to be featured on Headfonia.com.
HEM / Ferrum Audio
Founded more than 20 years ago in Warsaw, Poland by Marcin Hamerla, HEM set out to operate at the forefront of audio technology. Having done several projects for the Polish government, HEM's focus shifted to industry leading digital technology in collaborating with Mytek Digital. Experimenting with hi-res audio and Master Quality Authenticated files in particular, HEM manufactured the finest Digital to Analogue converters in the world under the Mytek brand. Apart from being responsible for manufacturing Mytek, HEM distributed the brand in European and Far Eastern markets. Another brand in HEM distribution is Clarus Cable. HEM recently introduced a new and completely in-house developed brand of hifi products under the name Ferrum, which HEM will be distributing as well. Because of HEM's in-house Research & Development and Software Programming Division, fields of expertise also include the manufacturing of original electronic equipment (OEM) and electronic designs (ODM).
The Ferrum brand was created in early 2020 and set out to combine sustainability, durability and quality into compact yet attractive packages, focused on one thing only: delivering the best possible audio experience at an affordable price level. The first product was the Hypsos PSU (Power Supply Unit) which we will shortly cover in this article as well. The second Ferrum product is a headphone amplifier called, OOR, and it's the unit we're looking at today in this article.
Ferrum probably isn't very well know yet in our personal audio segment. Looking at how popular the Hypsos is and how the OOR performs, I am convinced that they will quickly build a good reputation in the personal audio segment. Let's dive in!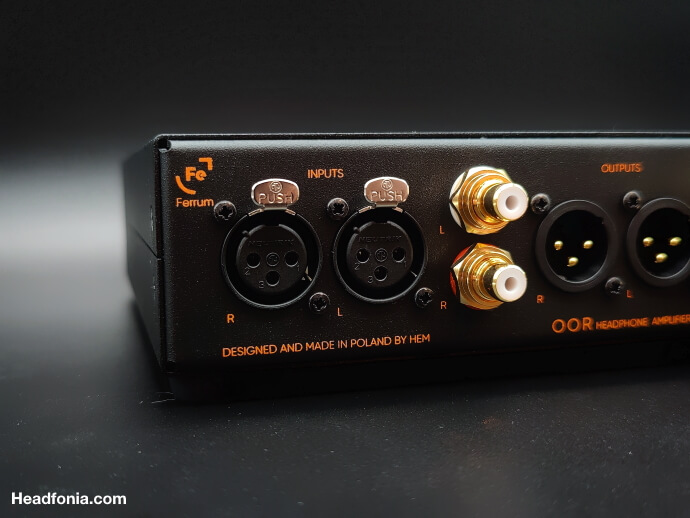 OOR
Do you know that OOR actually means "ear" in Dutch, my native language? It's no coincidence really as Ferrum is planning on giving all of their products a "European" name.
According to Ferrum, "OOR is a 100% analogue amplifier and it will drive any headphone to the max of its capabilities while delivering the most transparent and detailed soundstage you've ever experienced. OOR delivers your music with ultra-low distortion, huge dynamics and unrivalled detail to your favourite headphones".
The Ferrum Audio OOR is both a fully analogue balanced headphone amplifier as well as a pre-amp. It's a push/pull design with a modified CLASS AB power stage. OOR's product page can be found here: https://ferrum.audio/oor/
A great deal of attention was given to the design of the internal power supply, which is fed by the included and specially selected AC/DC power adapter. Next to that you can also use it with Ferrum's Hypsos external power supply, by using the Ferrum Power Link (FPL in short). But more on that later.
The discrete power amp technology is developed in-house to achieve the best possible analog quality. OOR is quite powerful and it in example delivers 1.6W into 300Ohm and an impressive 8W into 60Ohm. This amplifier drives everything with easy. We'll be describing the synergy with several flagship headphones later in this article.
The Ferrum Audio OOR sells for €1.995 Euro and the combo with the Hypsos power supply goes for €2.990 Euro. It comes in a very pretty large box with a quick manual and the normal power supply.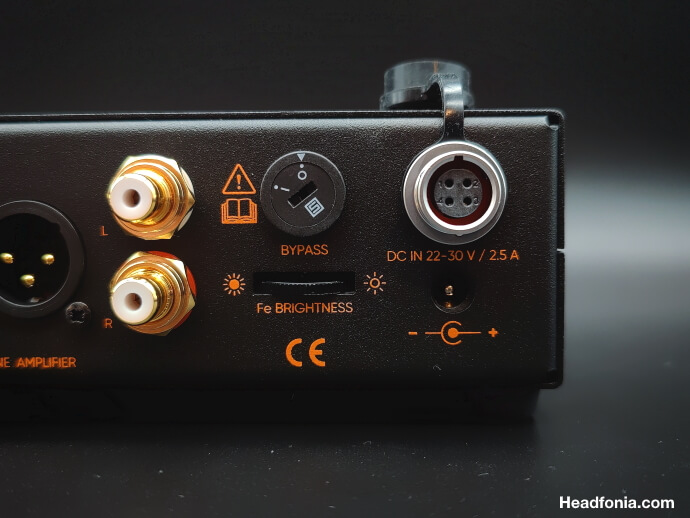 Design, Build quality & Amp layout
For OOR, Ferrum uses Corten steel in combination with an anodized aluminium front. It's a pretty and classy looking amplifier if you ask me. And the combo setup with the Hypsos oozes quality. It's the kind of high end looking gear, that doesn't take up too much room in your setup but which always looks stunning. Everyone who visited me in my office, immediately asked about het stylish setup on my desk.
According to Ferrum, the OOR marries internal complexity to external beauty. OOR only needs three knobs on the front panel to control the music. One for gain settings to match your headphones, one to choose between balanced or unbalanced input (it's also the power switch) and the most prominent one for controlling the volume (ALPS). On the left you have the beautiful Ferrum Logo which nicely lights up when the unit(s) are turned on. In the middle you have a 4-pin XLR output and a 6.35mm TRS headphone output.
On the back of the unit, things get more busy but it's very clear and easy to use. There's more than enough room to easily hook up and disconnect your cables. From left to right we have: XLR inputs, RCA inputs, XLR outputs, RCA outputs, the bypass function, the Fe Brightness wheel and last but not least, the FPL and normal power connector.
Both on the outside as well as on the inside you can find top quality components and the build quality is exemplary. The Ferrum Audio OOR is a pleasure to touch and feel. A real high end unit, with a high end finish. Absolutely nothing bad can be said of this, except for maybe to watch out not to scratch the outer casing by putting your headphones on it.
Talking about using the OOR, I do have to mention that the amplifier gets quite warm compared to my other solid state amplifiers when it's in use. I do advise not to put anything on top of the amp while it's in use, make sure there's enough ventilation.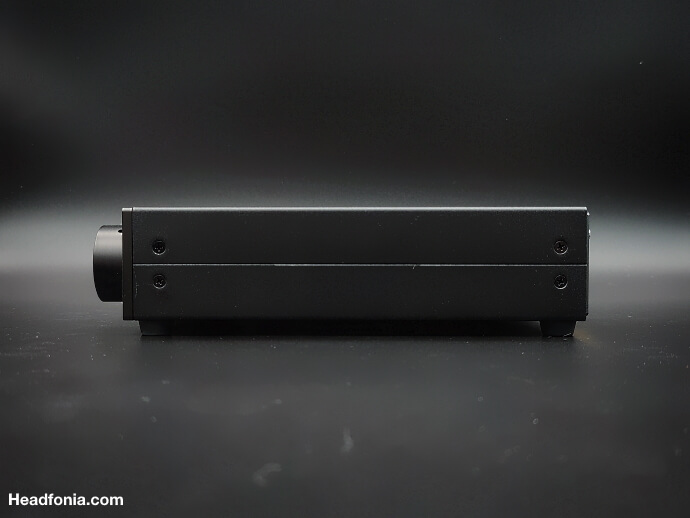 Specifications
Gain (dB):                                                       balanced -4dB, +6dB, +16dB / single ended -10dB, 0dB, 10dB
Operation:                                                       Fully balanced, proprietary discrete power amp
Inputs:                                                              XLR, RCA / 2,5mm DC connector center positive / proprietary 4-pin DC connector
Outputs:                                                           Balanced 4-pin XLR & 6,35 mm jack
Frequency Response:                                    20Hz – 100kHz 0,1dB
Output Power Single Ended:                       400mW into 300Ω, 2W into 60Ω
Output Power Balanced:                              1.600mW into 300Ω, 8W into 60Ω
THD + Noise:                                                 TBA
Input Impedance:                                          94kΩ
Output Impedance Single Ended:              22Ω on pre-amp
Output Impedance Balanced:                     44Ω on pre-amp
Output Impedance Headphones:              < 0,3Ω
Power Consumption:                                   Idle <15W
Power Adapter:                                             100/240V AC to 22-30V DC
Dimension (W x D x H cm/in):                 21,7 x 20,6 x 5 cm / 8.6 x 8.1 x 2.0 inch
Weight (kg/LBS):                                         1,8 kg / 3,97 LBS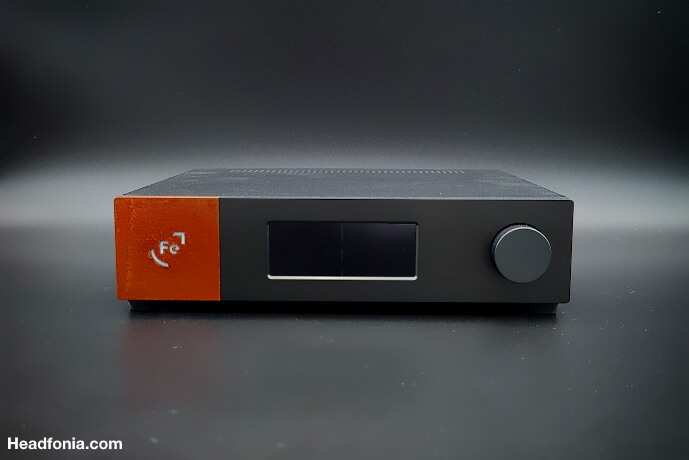 Hypsos
The Hypsos is Ferrum's successful PSU and the OOR can be upgraded with this PSU. By using the Ferrum Power Link (FPL) connection, it can perform its 4TSD measurements far deeper inside OOR than it can with any other product.
Hypsos can be used with any amplifier and you can set the voltage to whatever your amplifier needs. The Hypsos has preconfigured the settings for a lot of amplifiers already, so you can just choose yours from the list.
I have to say I am always skeptical when it comes to power supply units and cleaners and such, but in this case the difference is easily audible. For most of the time I have used the OOR in combination with the Hypsos. There is so much to tell about the Hypsos on its own, that I could in fact write a dedicated review on it. For now, you can find out all about the Hypsos on its dedicated web page, right here: https://ferrum.audio/hypsos/
The review continues on the next page. Use the jumps below or click here.
Page 1: HEM, OOR, Design, Build quality & Amp layout, Specs
Page 2: Sound – Intro, General, Single Ended vs Balanced, Classics
Page 3: Sound – Headphones, Without Hypsos, End Words