Say hello to one of the most well known entry level amplifiers in the industry. Most people will be shocked to find how small the Headamp Gilmore Lite really is. The shocker is when you realize that an amplifier this small can deliver such a clean and powerful sound. Physically, it is smaller than a typical paperback book, yet it has enough juice even for the Sennheiser HD800. The gain is quite monstrous too, and at 12 O'clock, I find the HD800 to be really loud on the Gilmore Gilmore Lite. This gain level is more suitable for full size headphones, as it doesn't give you enough conntrol when using sensitive IEMs. But in most cases, we wouldn't be using a desktop amplifier for IEMs.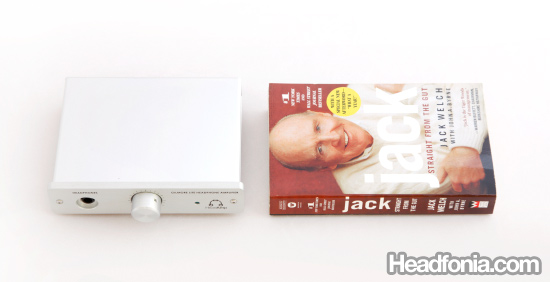 Build quality is first class, just what you would expect from a reputable brand like HeadAmp. Though it doesn't really scream high end or boutique, the Gilmore Lite would be a fine object to grace your work desk. It's small enough to fit in just about any desktop environment.
The sound on the Gilmore lite is everything that you'd expect from a solid state. Depending on the amplifier you've been listening to, the Gilmore is a little forward in its presentation. It definitely complements the laid back Sennheisers, but don't expect a radical change. Other than that, everything about it is quite solid state. Clean power, and plenty of it. Exactly what amplifiers are meant to be.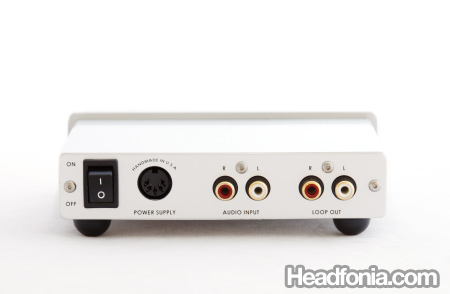 One nifty feature that you don't see with a lot of entry level amplifiers is the loop out feature — basically it passes through the signal from the line in without going through the amplification circuit. Useful when you have more than one amplifiers to power from a single source. For example, using a single DAC, I can pass the signal to the Gilmore Lite and connect one headphone there, and then pass the signal to another amplifier through the Gilmore Lite's RCA loop out. This makes it possible to have multiple set up without having to plug/unplug your interconnects everytime you want to listen to the other set up.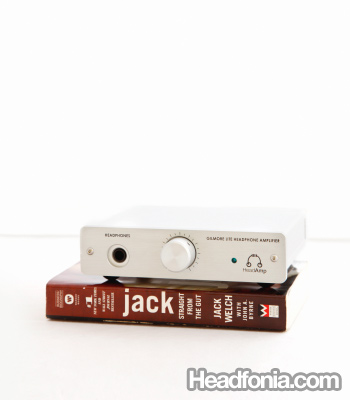 With the abundance of cheap amplifiers from Chinese manufacturers, the Gilmore Lite, now priced at $499, is hard to be considered entry level. For the price, you might be tempted to go with other offerings that offer more bells and whistles. While cheaper alternatives are plenty, things like build quality and reliability may be an issue on less reputable brands' products. Also, I have found some cheaper entry level amplifiers to sound dry and harsh. Not so with the Gilmore Lite. You can be assured that the money will buy you years of good performing solid state amplification, backed by one of the most trusted brands in the industry.
The Gilmore Lite has been providing headphone enthusiasts with a lot of musical enjoyment all these years, and just recently, Justin stated that he is close to ending production on the Gilmore Lite. So, like the TTVJ Hybrid Portable, this is one of the grab-it-while-you-can amplifiers.