Today we're looking at the JDS Labs Element III DAC & AMP. It's selling for $449 USD.
Disclaimer: JDS Labs sent us the Element III for the purpose of this review. I only covered the customs fees & taxes. As always, I am here to convey my honest experience with the product.
JDS Labs
Many of you already have an acquaintance with JDS Labs because of the widely popular DACs & AMPs that they design. They are one of my favorite companies in the industry. I have used many of their products in the past, even the old ones such as JDS's production of NwAvGuy's O2 amplifier and Altoid can JDS CMoys. Those were the times! I can honestly say that I have never used anything "mediocre" from JDS. They always deliver, based on my experience.
JDS Labs started with an audiophile's pursuit of excellence. The story begins with John Seaber, the JDS in JDS Labs. John, who was not happy with the bass response of his Sennheiser HD-280 Pro, designed a bass boost circuit and shared it with audio enthusiasts. In no time, John's keen hands get overflown full of requests from other audio enthusiasts. Though JDS Labs was never planned to be a company, Co-Founder Nick joined in 2011, and the evolution that will make JDS Labs what it is today begins.
They are now this hugely popular killer company, which is trusted by the fans because of their honest and transparent attitude.
We have reviewed and awarded a lot of JDS Labs gear here on Headfonia over the years, check out their reviews here: Headfonia JDS Labs reviews
I also recommend checking out their blog over here. Now that you're acquainted, let's take a look at the Element III.
JDS Labs Element III
The Element III is JDS Labs' latest flagship DAC & AMP. With the Element III, JDS Labs has integrated an OLED display on the chassis for the first time and switched to digital volume control. Element III offers excellent channel balance down to minimum volume. This means you won't experience channel imbalance even with your most sensitive IEMs. There are also many improvements to the PCB. We'll cover the details of the display and the changes later on in this review, but first, you can find the technical data of the device below.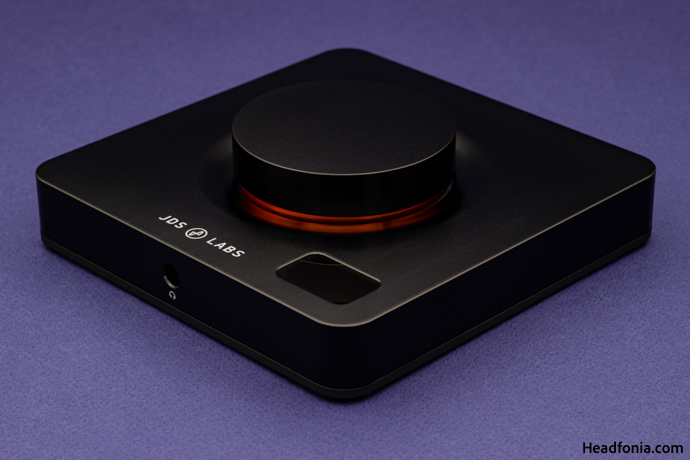 Specifications & Features (full list here.)
Auto Gain Feature (1.0x – 4.73x)
Max Continuous Power @ 32 Ω – Standard 1.3 W (6.43 VRMS)
255-Step Volume with Perfect Channel Balance
OLED Display & Integrated Controls
RCA Pre-Amp Function
Relay Muting
XU208 32/384 & DSD128 + UAC1/2
5.8 x 5.8 x 1.6 inches
Tested on Firmware v2.2.3
Packaging & Accessories
Element III comes in a cardboard box bearing JDS's 'Sound As Science' slogan, which I find quite catchy. The Element III is bundled with a large 16vac charger adapter and a nice USB A-to-B cable that features a ferrite core. JDS has been including this high-quality cable in accessories for a long time and I do appreciate it when companies supply good-quality accessories. They rarely do. The 16VAC adapter is quite large and will most likely block the next outlet if you are using an extension. Lastly, JDS includes a quality control card and a quick start guide in each box.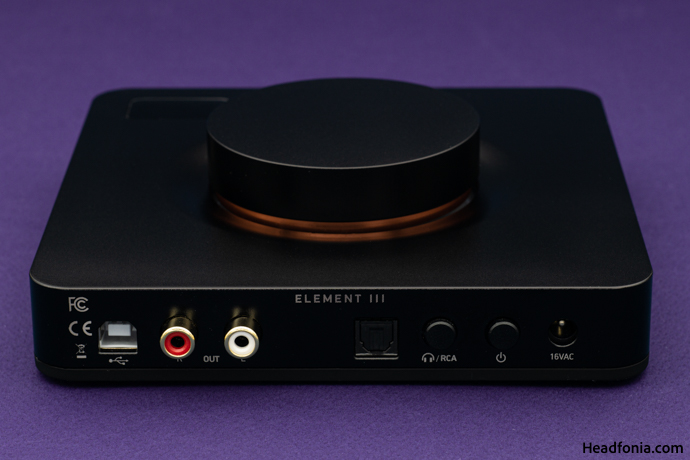 Design & Build Quality
The Element III is probably the most elegant DAC-AMP I've ever owned. I started this paragraph with a striking sentence because the Element III is a cleverly designed device that doesn't compromise on looks or features. A large volume knob is mounted on a flat, square aluminum chassis that is both compact and chic, resulting in a design that is both aesthetically pleasing and functional. Around the volume wheel, there is a copper ring that adds a stylish flair to the device. Just below it is a soft glowing circular white LED light. The LEDs do not distract you in a dimly lit room as they're not very bright. Additionally, JDS Labs now offers the Element III with a red or black ring if you think copper wouldn't suit your table. I personally love the soft shimmer of copper.
The volume wheel feels incredibly smooth and fast. The Element III moved from analog to digital volume control so there is no physical min-max point for the wheel. Unlike anything before it from JDS, the Element III features an OLED screen that is facing upwards. It is located next to the JDS logo and despite being small, it offers convenient on-device controls. The volume wheel doubles as a button for navigation. We'll talk more about these in the controls section. It is really nice to see JDS still thriving to add to their already great designs.
The device layout is quite simple. The headphone jack is located in the center of the front panel and apart from this jack, all other I/O ports as well as buttons are located on the back and are not visible. This adds to the sense of simplicity. While the simplicity of the layout has the advantage of a cleaner look, it also comes with some disadvantages, such as essential buttons being hard to reach.
On the back of the device, the following are positioned from left to right: USB-B input, RCA outputs, optical input, output switch button, power button, and barrel power socket. I have conflicting thoughts about the power button being here, maybe there could have been a different solution involving the volume wheel/button, but I'm sure they thought about this.
To summarize this section, the Element III impressed me both in terms of design and material quality. With its aluminum chassis, robust sockets, and buttons, I see a product that'll serve for many years. With its small and compact footprint and eye-catching design, it is, in my opinion, one of the most aesthetic DAC & AMP units on the market.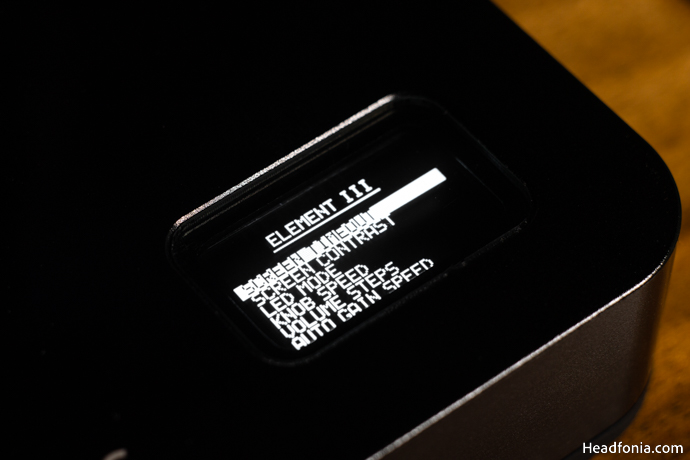 Controls & UI
The new OLED display is a major improvement to the Element III. Thanks to this display, you can access a lot of information from within the device and control various settings. Needless to say, one of the main tasks of this screen is to show the active input-output and volume-gain level to the user.
You access the device menu by pressing and holding the volume wheel for 4-5 seconds. To switch between titles, simply rotate the volume wheel and press down to confirm your selection. The menu is rich. You can change the screen timeout time, adjust the screen brightness, turn the LED off and on, change the volume steps between 0.5db and 1db, adjust the auto gain speed, switch between UAC1-2, turn on SPDIF de-emphasis, change the DAC filter, play with the DPLL setting, see the firmware version or do a factory reset.
In addition, if you want to change the knob button behavior, you can do that from this menu. Available options are as follows; toggle output, toggle input, mute USB, and mute RCA. The navigation and controls of the device are quite simple, and menus, categories are easily comprehensible. It, therefore, doesn't take too long to learn how to use the device. The resolution of the OLED screen is adequate and can be read without effort. Also, I really like the tactile feedback of all the buttons on the Element III. Feels great to the touch!
The review continues on Page Two, after the click HERE or by using the jump below.
Page 1: JDS Labs, JDS Labs Element III, Packaging & Accessories, Design & Build Quality, Controls & UI
Page 2: Firmware & Support, Technology & Power, Sound, Comparison, Last Words