Today we are taking a look at the $189 USD Moondrop MoonRiver 2 ultra-portable USB DAC & AMP dongle.
Disclaimer: ShenzhenAudio sent us the Moondrop MoonRiver 2 for this review, free of charge. I only covered the customs fees & taxes. I am here to share my honest opinion with you.
Moondrop
Moondrop is a company that specializes in the research & development of a wide range of audio equipment. They have been in the industry since 2014 but the Moondrop brand was established in 2015. In the first years, the Moondrop team focused only on earbud design and later added IEMs to their product line-up. By using new technologies in their products and launching successful products, they managed to become a great company that designs & produces products for every price range of the market in a short time. 
Although Moondrop is best known among audiophiles for the IEMs they make, they have also made products in different categories in the past. One of them is Moonriver 1. The Moonriver 1 is a product that was designed and produced before USB DACs became so popular, but did not go into mass production. Moonriver 2, on the other hand, is both a tribute to the MR1 and a product that shows how far technology and Moondrop, have come. In this video release, Moondrop officials state that more and various products await us in the future. If you are interested in MoonRiver 2 and are curious about its development story, I suggest you watch the video.
Let's get to the review without further ado. 
Moondrop MoonRiver 2
Moondrop officials, while talking about the development purpose of MoonRiver 2, especially mention the increasing component quality and they mention that it is now possible to make portable DAC/AMPs that match the quality of dedicated Hi-Fi players. This is exactly what they aim the MoonRiver 2 at. With this device, the aim was to transform a casual and non-hifi device like a simple smartphone into something that can deliver great SQ. Of course, streaming services, which are developing day by day and offering great convenience, also play an important role in this. 
So, what is under the hood of the Moondrop MoonRiver 2 dongle? Let's take a look at the highlights of the device, together. First and foremost, the MoonRiver 2 utilizes dual CS43198 DAC chips from Cirrus Logic. If my memory serves me correctly, we last saw this DAC in Astell&Kern's USB DAC & AMP, PEE51. This DAC is Cirrus Logic's current flagship and on paper, it boasts impressive performance. Frankly, I don't have a long history with the CS43198. I've experienced mostly AKM and ESS-equipped portable devices and that's exactly why I'm excited to review the MoonRiver 2.
Apart from the DAC chip, the MoonRiver 2 also comes with an impressive amplification stage. It combines two high-performance dual-op amp chips in a four-channel way and it is able to achieve 4Vrms of output power, which is a lot, considering its tiny size. Additionally, the unit has the support for the latest USB standards, can handle some of the big cans with powerful output, and features over 116 dB of SNR. 
These are all impressive specs and highlights, but how is the real experience, how is the real sound you may ask, don't worry, I will try to fill every blank you have about this device. Let me leave this list of highlights and specs here first.
Specifications & Highlights
Dual Cirrus Logic CS43198 DAC chips
Two Dual-OP AMP chips
4Vrms of Output Power
131dB DNR
116dB SNR
3.5mm SE & 4.4mm BAL HPOs
USB Type-C
AluAlloy Body
32-bit/384kHz, DSD256 Support
4Vrms LO Output Power
220≈270mw @32Ω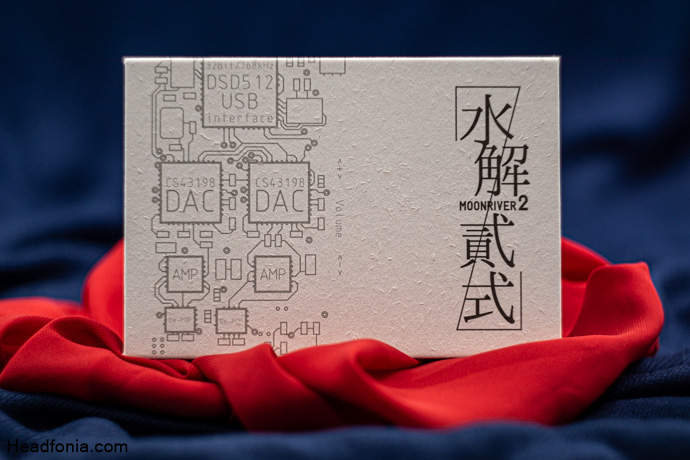 Packaging & Accessories
We all know and love Moondrop's anime-like, fun, and unique packaging designs. However, this time, Moondrop seems to have chosen something slightly subtle, and elegant with simplicity in mind. The Moondrop MoonRiver 2 comes in a small, white, cardboard box with a flip cover. Upon closer inspection, I could tell from the texture and feel of the cardboard, that Moondrop may have used recycled cardboard, which is quite impressive if true. 
As for accessories, Moondrop included a small USB-A to USB-C adapter and a gorgeous USB-C to USB-C interconnect that you can use with your phone, laptop, tablet, and various other devices. The cable is transparent and the silver-plated wires look very sleek & niche. Additionally, there is a manual and that's pretty much everything in the box.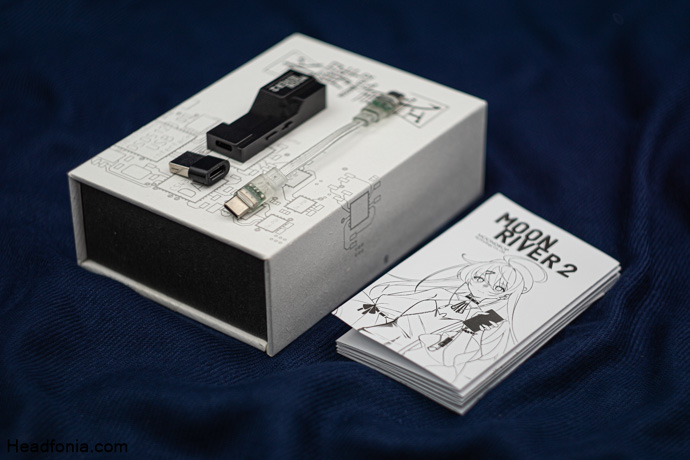 Design & Build Quality
Moondrop is a company that prioritizes design and incorporates unique design elements in all the products they have designed and developed so far. The MoonRiver 2, like other Moondrop products, has a very interesting design. First of all, I want to start with the size of the device. The device is quite small, while many high-end USB dongle-DACs come with a larger form factor, the Moondrop has a rather small chassis. The chassis is completely made of aluminum and Moondrop officials specifically state that no glue is used. This is very nice for tech enthusiasts like me, this kind of attention to detail pleases me. In general, using adhesives in all kinds of electronic devices is cheap and it is a method of cost-control. It is almost never good. It makes it difficult to access the interior of the device, makes servicing difficult, and has many negative aspects. It is a small but important detail that Moondrop uses a complete screw system for the chassis.
On the back of the Moondrop MoonRiver 2, we see the circuit layout diagram of the device, laser printed. This detail is also very nice and laser engraving looks very high quality. The top side of the device is not flat as the back, Moondrop went on the precision milling route here, and the device has some kind of geometric layer pattern. Furthermore, the left part of the device is thicker as there is a 4.4mm socket lying underneath. MoonRiver 2 looks technically advanced, stylish and unique, from the second you hold it in your hands.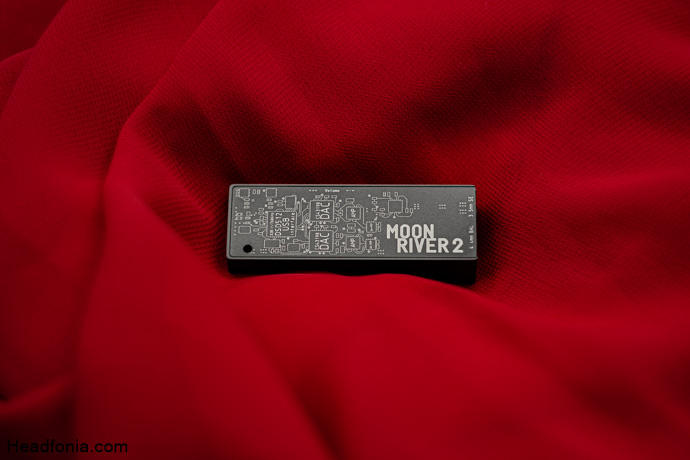 Overall build quality is quite good also, the HP sockets feel durable and rigid, the 4.4mm HPO is gold-plated and there are also two buttons on the right side of the device. You can control the volume with these buttons and adjust the gain setting by pressing the + and – buttons at the same time. The buttons have a very slight wobble but it's nothing to worry about in my opinion. The USB-C socket is firm and feels durable. I am quite content with the design and build aspects of the device, I think it is a job well-done. 
User Experience & Controls
I am an Android 12 user, I also have UAPP and Tidal. Both of the applications detect MoonRiver 2 right away. My phone initializes the DAC in seconds and listening to DSDs in UAPP is a seamless and easy process. Tidal works great also, without any bugs. I haven't experienced a huge battery impact so that's another plus. If you'd like to amp it, the MoonRiver 2 switches to DAC mode when you turn its volume all the way to the top. It can dish out 4vrms which is quite good for a dongle of this form and factor. It dishes out more than 200mW into a 32 Ω load and it has no trouble driving my HD58X. I don't recommend using it with 300+ Ω hard-to-drive headphones. Those deserve desktop units with more power in my philosophy, however, you can go ahead and test it with your hard-to-drive headphones and let us know in the comments. Apart from that, the unit offers a very low, practically non-existent background noise floor and I can confirm that this is the case with both sensitive IEMs and cans like the Deva Pro or the 58X in my arsenal. 
Compared to other dongles, the MoonRiver 2 performs superbly, power-wise. Don't forget that it is small enough to carry anywhere with you and you are not going to deal with charging as the device has no batteries inside. It is a quite practical and convenient device. There is a status LED on the top side of the device. This LED indicates the gain mode and active file types, such as DSD or PCM.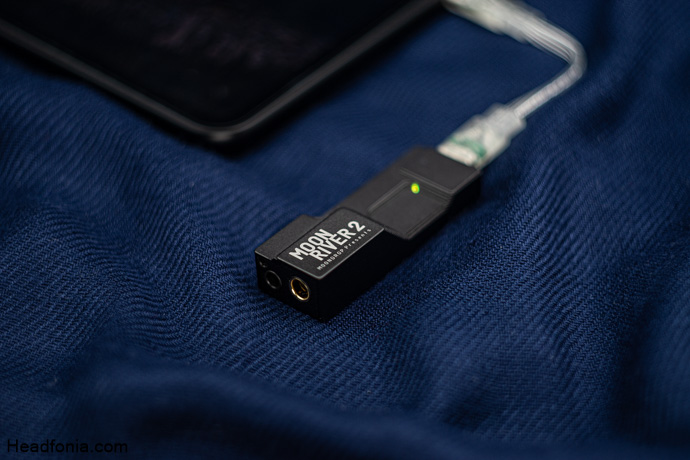 The MR2 works straight away with macOS devices, however, if you want to use the MoonRiver 2 with your Windows PC, you better go here and download its official driver. One additional note, Moondrop shielded the device quite well, I had no noise/jitter/RFI while using 4.5G/5G on my phone. It was dead silent during my sessions with it. The firmware of the device is upgradable according to Moondrop and there will be future updates on the official downloads page.
The review continues on Page Two, after the click HERE or by using the jump below.
Page 2: Sound Signature, High, Mid, Low, Technical Performance, Comparisons, Last Words