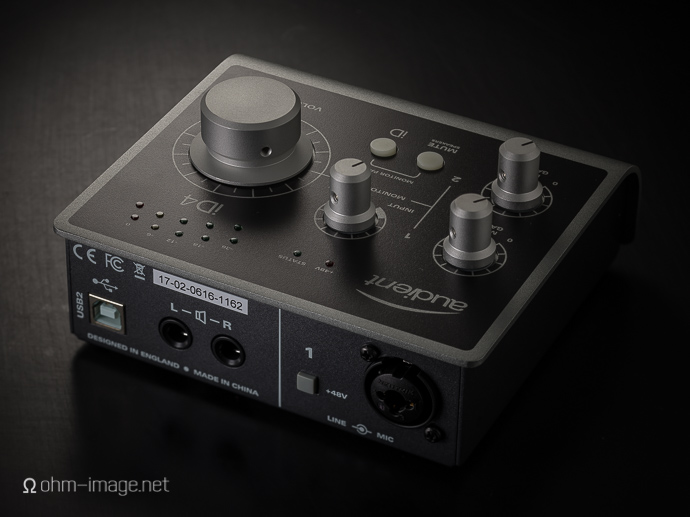 Sound – inputs
The iD4's microphone pre-amp is worth the price. It's not as rich-sounding as the one in the DUET 2, but records more defined, detailed, and clear extremes. And it is clearer than the one in the Zoom H6. It powers voltage-hungry mics well, and its gain section is nicely damped. It has a problem powering really low-Ω stealth and measuring microphones – the sort that Vibro Labs market for earphone output testing – but almost every other microphone works as well as can be expected. Like the microphone pre-amp, the D.I pre-amp is powerful, not easy to overload, and is damped by a finely toothed gain section.
Precisely because its inputs are so clean and have loads of headroom, I wish there were one more of each, both for concurrent recording of pre-mixed stuff as well as spoken/sung overlays, and for simple output measurements from headphones, DAPs, and such. Of course, the iD14 exists for the person that needs dual microphone/line inputs.
Sound – headphone and speaker monitors
As I mentioned a few days ago, I'm miffed that the iD4's nearly noiseless headphone amp appears to have such a high output impedance. Especially because some musicians may prefer to use sensitive IEMs, this is a shame. That said, it outputs nearly stable signals through every portable and full-size headphone I threw at it. And while it's not fair to compare it to the Lynx HILO, there are a few areas where its headphone amp comes out on top. They are: stereo crosstalk, dynamic range, and noise levels. And, the iD4 outputs voltage just shy of what the Lynx can do through the same computer. Under load, however, every one falls apart. The iD4's speaker outs, however, are great all the time.
As earlier mentioned, the iD4's headphone output is nearly noiseless. Not as nearly noiseless as Grace's m9xx, but close enough. HILO, on the other hand, is loud enough for even medium-sensitivity earphones to pick up hiss, though at levels which barely impact playback.
Finally, the iD4's output is clearer than HILO's, with great incredible stereo detail, particularly in the low frequencies. Because it has power, and is low noise, I consider it a good companion to headphones in the 50-300Ω range. Its penchant for clarity marries clear, fast headphones well, and helps to balance out headphones that are more veiled. But I'd not recommend the iD4 for audiophiles who don't also record. It's strengths are the blending of high quality parts rather than their performance in isolation from each other.
The Meh
My uses are much simpler than those typical of recording musicians. As such, latency issues, which have been noted at Masters-of-Music, don't affect me. But it appears that the iD4 shows greater latency than a couple competitors. I'd love to see discrete panning controls and clearer labeling out the back, not to mention a lower output impedance for those that use in ear monitors when recording/editing.
End words
iD4 should have been around in 2008. I'd not have wasted time and money on the Edirol. It's generally easier to use, is far nicer to look at, not to mention it is built like a tank. With the possible exception of its panning system, the iD4 is laid out well and lights up in all the right places. If you've got hard budgets of space and dosh, the iD4's limitations are acceptable. Even without limitations, there are a few things that it does superbly. The clarity of its microphone pre-amp is one. The utility of its instrument input is another. Those combined with concurrent recording/playback capabilities is outstanding.
Well done.