Today we're excited to check out the all-new Socrates cable by Eletech. It retails for $699 USD and promises a new perspective on pure Copper. How does it cope? Let's find out!
Disclaimer: Eletech supplied the Socrates completely free of charge for this review. Headfonia is not affiliated with Eletech in any way. Eletech is not a site advertiser. Many thanks for the generosity and opportunity. The Socrates remains Eletech's sole property and can asked back any time. No questions asked.
About Eletech:
Eletech, aka Elementechnology, is a Singaporean boutique cable maker that just launched late 2019. Their team of staff however has a long history in the industry. Co-founder Eric Chong has previously worked over at Effect Audio before he started his new journey.
Since Eletech has just started, it comes without surprise, that their current portfolio is still very comprehensible. They have a line-up of four different products. There's the entry level Fortitude and Prudence, the high end Plato and of course the flagship Iliad.
As one can see, their naming of the higher end cables goes out to Greek history and ancient literature. As someone who's been born on Crete, there has always been a special connection to Greece for me. So when I saw Eletech's product-names, it left me smiling.
In this review we will check out their latest introduction – the Socrates.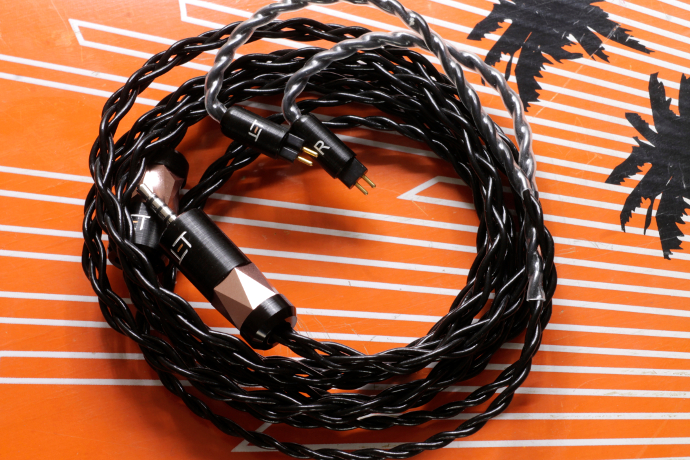 About Socrates:
The Socrates is a full copper four-wired cable in Eletech's School of Athens Series. It uses 24 AWG sized strands of flawless monocrystal bespoke 7N OCC copper and puts them in a black PVC jacket. Eletech uses something they call maximus efficiency strand geometry with kevlar infusion. The Socrates is also cryogenically treated and comes with a bespoke Eletech solder.
Socrates can be bought in different terminations. You can chose from 2.5mm and 4.4mm balanced or 3.5mm unbalanced jacks. IEM wise you can pick between 2-pin, MMCX, UE/qdc, FitEar or JH Audio 4-pin connections. Mine is a 2-pin to 2.5mm terminated cable.
Socrates retails for $ 699 and can be acquired straight from Eletech or one of their regional partner.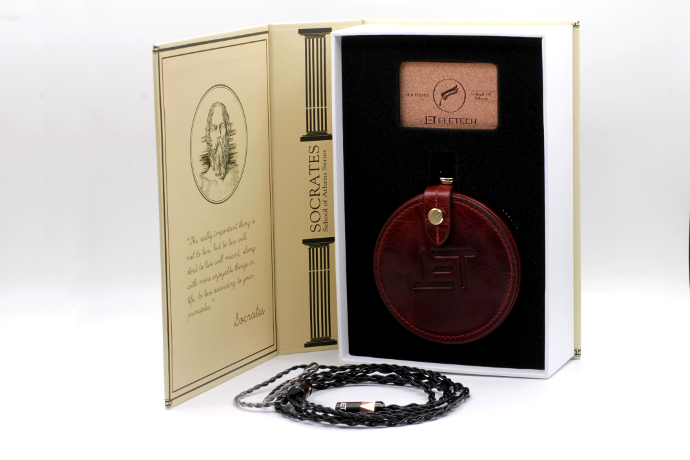 Package:
When I received my Socrates, it came in a sturdy flip open cardboard box. On the top of the box you'll see a lineart image of – you guessed it – Socrates. Open the box and you'll be greeted by a copper colored metal card, a red leather case and in that case you'll find your new Socrates.
The case is very nice and I really love the smell of leather. But there are some things that I just don't get. Like the button that has been installed purely for aesthetics. It has no use and can't even be opened. On the inside it looks like it has a layer/pouch for something. I am not really sure for what, but it's there. It's just too small for everything. For aesthetics probably.
Still, for the price you are paying you get a very nice set of accessories. Some other cable manufacturers give you close to nothing in comparison. It's nice to be spoiled.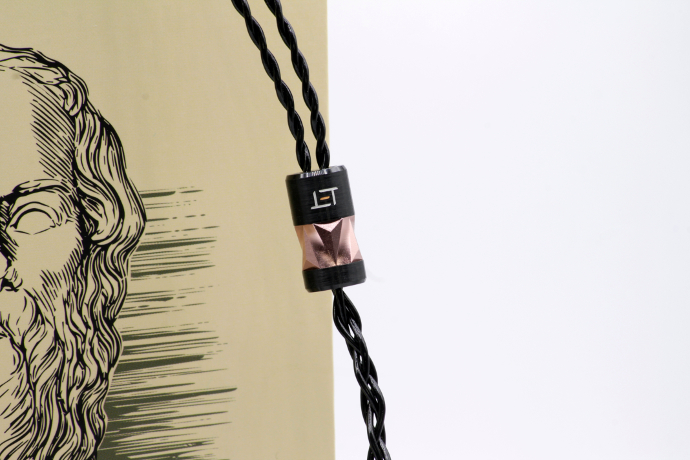 Build Quality and Ergonomics:
The build of Socrates has me split to be honest. On one hand there's the incredibly beautiful hardware. Just look at the Y-split. Play with it and see the reflection of light dancing around. There's nothing like it. Even the Iliad doesn't come close to that in my opinion. I love the copper/rose-gold and black combination of the aluminum hardware.
The thing I am not very impressed by is the color of the cable itself. I know most manufacturers opt for transparent optics, but Eletech decided to go black. Due to the bigger sized strands the Socrates also doesn't feel as soft and pliable as the Iliad for example. Which should be using the same insulation mix, except for the transparent looks.
Apart from that I think the build quality is very much spot on though. I really like the black hardware. Even the 2-pin barrels are made of black anodized aluminum. Both sides are also clearly marked with L/R so you don't mix channels up.
In terms of ergonomics the Socrates sits comfortably behind my ear. It doesn't disappear like the Linum cables, but still. If you're wearing glasses it might be an issue. Although it didn't bother me too much when I wore sunglasses.
All about Sound on page two!