Mids
For a device that costs this small, the mids are very transparent and clean with the new E10K. Although the mid-range is a bit dry and lean, the resolution is very impressive. The instruments and vocals sound life-like and the instruments sound very crisp in particular. Of course, don't expect great air and space in this area. However, the transparency is surprisingly good overall.
The tonality is also very close to reference studio speakers as it doesn't add any coloration or fun to the sound. I guess that's also the quality of the 9038 chip. The clarity with the instruments is very good as well as tonality. So in short, great resolution and transparency for the price, but not much stage room and layering here.  and thanks to the device's excellent background, you can pinpoint every instrument. It's not like some mid-range DACs but you can enjoy the clean mid-presentation.
Treble
The treble is nicely defined with good sparkle and resolution. There's plenty of detail and dynamism in the treble region with good transparency for the price. Just like the mid-range, there's good clarity and transparency here. The treble has a good resolution as well. There's also good control here, as I haven't heard any sibilance or ear-piercing treble.
There's not much air in the treble just like the mids, but you get very good definition and attack in this region. It's nothing special but plays very honestly and truthfully. It's like a piece of studio equipment in pocket size. Not in terms of technical performance, but in terms of delivery and presentation.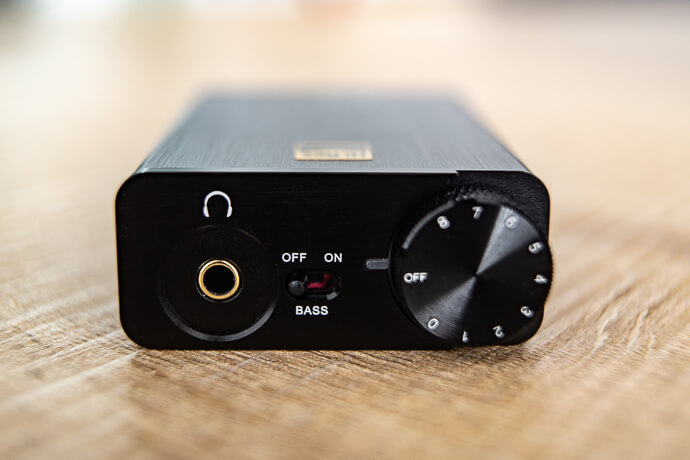 Technical Performance
The sound stage of the E10K TC is very narrow so you don't get a great picture of the sound overall. Layering is far from the best as well. Those were expected of course. But the great things with the E10K are clarity and resolution. Sure, the music is mostly crammed into a small room in terms of stage, but the device sounds very very clean with excellent detail and resolution. Its bass response is also exemplary. So this is definitely a very strong performance for its size and asking price.
The stereo imaging is very good thanks to the good noise floor and background. There's no hiss with a low gain setting so you can use it with your sensitive IEMs. When the gain is high, there's audible background noise with IEMs, but not with headphones. The positioning is far from great as it has a very narrow and close sound stage. Yet, the device has excellent consistency and a flat sound signature with a neutral approach. So it's a very ideal device for lovers of flat and colorless sound.
The output power is very high even with the low gain setting so it can drive many headphones out there. The high gain is insanely powerful for that size, so I must say I'm not surprised. The E10 and E10K were also very powerful overall hence there's nothing new here. If you're looking for a very cheap companion for your full-size can, this is one of the best options around.
Comparison with New K3
Compared to the E10K, the K3 has a sleeker and more modern design language and I think it has a bit better build quality too. The E10K represents FiiO's legacy in that regard. The K3 also has more features with the 2.5mm BAL output, optical output, and USB 1.0/2.0 switch.
Sound-wise the new K3 has a wider and deeper stage, better attack and dynamism, and better transparency. Overall it sounds more atmospheric with better layering and I think it has a more musical and better-defined mid-range. There's more bass quantity with a more powerful slam and rumble as well. Switching to the E10K feels a bit cramped in comparison, but you might like its neutral delivery a bit more of course. But it doesn't sound that dynamic and attacking overall. I think the K3s is a better all-rounder with movies, gaming, and music, whilst the E10K is simpler with more basic and neutral tuning.
If you have full-size headphones though, I would say it's better to have the E10K TC since it has much more power. If you have IEMs or easy-to-drive headphones, the New K3 should be the better choice as it also has a balanced and optical output.
Conclusion
The new FiiO E10K TC is a nice release from FiiO as it shows they're still believing their legendary product in terms of performance. For just 82$, you get great output power and a neutral sound signature with great detail, resolution, and transparency. It has a heritage design, plug & play function, and great sound quality for its size. This is an unbeatable performance for the price, so it has to be on our recommended list.
If you are looking for a tiny device to drive your full-size headphones, I don't know whether there's a cheaper option than the E10K TC. I'm very impressed by its truthful and neutral sound, and it has great technical performance apart from staging and layering. I recommend the FiiO E10K TC to anyone who's looking for a small companion.
Say hi to our cheapest product in the Best DAC/Amp Recommendations!
Page 1:  Intro and Sound Quality