Say hello to our new guest writer, Julius. A long time headphone enthusiast, he has a special connection with his JVC DX1000 headphone and so I thought it'd be a good idea to start with writing a piece on it. Personally I've never heard the DX1000, but from reading his description of it, it looks like the type of headphone that I can very much enjoy. Anyway hope you enjoy the writing – Mike
I often use my Grandmother as a test subject every Sunday. Don't worry, I meant for her opinions on my audio gear. It's not like I am shooting Gamma Rays at her in attempt to get her to transform into Granny Hulk…I do that on Fridays. That's a different type of review for another time. Over the course of years of letting her listen to all of my new gear that comes in, she continually asks me to let her listen to "That one wooden headphone that looks like a satellite dish". By that, she means the beautiful wooden and closed back JVC DX-1000. Or as I refer to it: The D1K.
She's not wrong for wanting to hear this stellar headphone over and over. In all my many years of writing as an Audio Journalist, my ears have never meshed so well with a headphone. It became my benchmark after the first time I heard it. That one headphone I compare to all others. It has a unique flavor, if you will and it is one that I have searched many years for. In a Universe of mostly balanced and natural sounding expensive headphones, the D1K is the Black Sheep. That one headphone that isn't afraid to get down and dirty, jump into the Mosh Pit and really let you have some fun with your music. She's Bass heavy and spacious, easily driven and well-rounded when it comes to music genre selection. I adore this headphone. But, it does have a few drawbacks. First and foremost, I must admit that I am not a critical listener; I prefer to have fun while listening to my music and strive to find gear that is well rounded. In the case of the JVC DX-1000, I get everything I've ever wanted…well almost.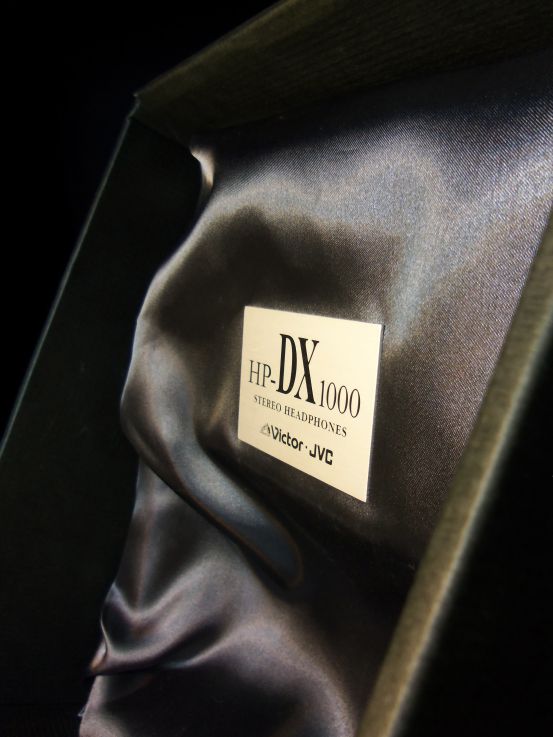 Clarity and Presentation
The set is not worth anywhere near $1300 when it comes to sonic clarity. For example, my Koss ESP-950 Electrostatics run half the price of the JVC and provides a noticeably more clear experience in the mids and highs. A clear haze on the DX1K can be easily detected when switching up between the two. Sure, the Koss is an Electrostatic and one of the best headphone buys you can ever ask for, but it lacks musicality that is very abundant in the JVC. Other headphones like the Hifiman HE-500, Audeze LCD2 and maybe even a heavily modified Denon D7000 can all sound superior in the clarity department. If clarity is your most important quality when purchasing headphones, you might want to look elsewhere. You will be disappointed if you pay full price for this headphone. Look for a used one to lessen the chances of your wallet poisoning or drowning itself when you are not looking.
This headphone is by no means an unclear headphone, it is just not as clear sounding as some of the best headphones out there in the $1000 tier. I do not notice any poor clarity qualities anywhere throughout the spectrum. Bass is this headphones strong point and personally I believe that it rivals the Audeze LCD2 Bass. Very potent, very clear and oh so satisfying. It has that deep rumble with light to moderate kick factor. It is more relaxed than punchy, which is rare to hear in bass heavy headphones. The Low end is also lightly colored and leaning away from being analytical or natural. It has some color, but just enough to keep things fun and very Hi-Fi at the same time. Mids and Vocals are stellar despite not being so clear in comparison to the newer generation of Orthos. They are very forward, very immersing and well placed. They are large and spacious with excellent depth and control when it comes to vocals. Shockingly so at times as there are many instances during some of my favorite tracks that take my breath away. Highs are smooth and a bit lack luster, they are a little bright and lack fluidity. Meaning they have a tendency to provide a relaxing upper regions experience but at the cost of responsiveness. Accurate is not a term I would use to describe the upper region of the DX-1000.
Continue to the next page…