Today we're giving Headfonia readers a look at an unusual and very different sort of headphone amplifier: the 'Tuba' from Hawaiian manufacturer Hagerman Audio Labs.
Disclaimer: the Tuba was sent directly to Headfonia by Hagerman Audio Labs in exchange for our honest feedback and review. It sells for $649.
subjectivism noun
sub·​jec·​tiv·​ism | \ (ˌ)səb-ˈjek-ti-ˌvi-zəm
"A doctrine that the supreme good is the realization of a subjective experience or feeling (such as pleasure)"
Measurably-speaking tube audio is, by rights, yesterday's technology. Ask a casual listener what they think about a strange-looking box with glowing valves protruding out the top, and they might tell you that it has all the high-tech appeal of a World-War II-era typewriter. Ask a seasoned audio 'objectivist' what to make of the same device, and they'll swear black and blue that lashings of harmonic distortion have no place in adding 'seasoning' to their playback experience. 
So why then does tube audio maintain such a devout following? And why do manufacturers continue to develop tube technology, and seek to extract maximum performance from this 'outdated' form of amplification? Well, it just so happens that it sounds pretty bloody good when implemented well, in a different kind of way. For this reviewer, it's also more than simply the sound – it's also the experience. I get a kick out of digging through old crates hoping to strike gold by way of new old stock Soviet-era tubes and love the 'hum' that a valve-amp makes while it's warming up. Maybe it reminds me I'm human? Maybe it reminds me that music is an entirely emotional construct? I digress.
About Hagerman Audio Labs:
One company that's chosen to stick with this decidedly analogue technology is Hagerman Audio Labs, a one-man-band operation from Honolulu, Hawaii. Veteran proprietor Jim Hagerman has made a name for himself in audio circles for producing a range of hand-crafted, audiophile products including a series of guitar effect pedals, and the well-regarded 'Trumpet' phono pre-amplifier (among many others). Jim names his products after orchestral instruments which seems to offer a hint as to the musical intent behind the manufacturer's philosophy. Hagerman has recently turned his focus to the burgeoning personal audio market, with his latest 'instrumental' offering – meet the 'Tuba' headphone amplifier.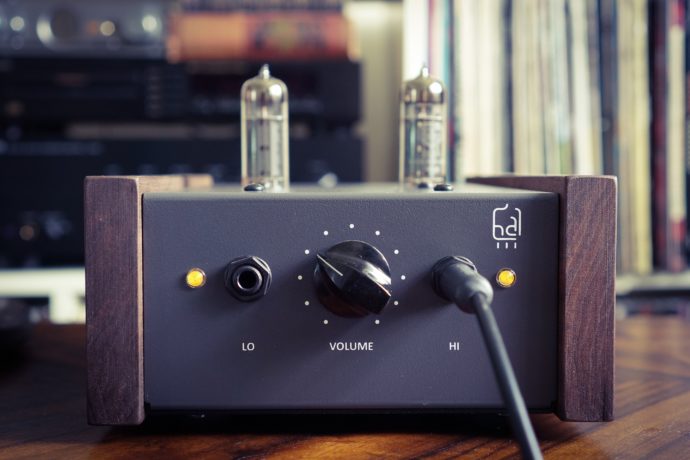 The $649 USD (with free worldwide shipping) Tuba is described as "…a world-class vacuum tube headphone amplifier designed to operate with either low impedance (Grado) or high impedance (Sennheiser) headphones.". This alone is a curious proposition, as tube amplifiers of the output transformer-less design (OTL) generally pack a fairly high output-impedance, wreaking havoc with the frequency response of lower-Z headphones. The promise of versatility with a range of headphones, old-world aesthetics, and the know-how of a seasoned analogue packed-under the hood sounds like the Tuba is well-worth exploring. Let's fire-up the twin EL84 tubes and take a look.
Design and features:
Make no mistake – the Tuba is certainly one-of-a-kind in the looks department. In 'stock' form the Tuba comprises of a no-nonsense rectangular, assuredly-solid steel case with a pair of EL84 tubes poking out through the roof. Inputs, switches and labels are all fairly utilitarian and give the distinct impression that the maker's focus is firmly one of function over form. However, tick the option for walnut side panels (an additional $50, bringing the Tuba up to $699), and it's an altogether different aesthetic flavour. Whereas the stock Tuba wouldn't look out of place on a welder's workbench, the rather nice wooden panels turn the Tuba into a ruggedly handsome 'statement' piece (a mandatory option in my opinion). 
The Tuba feels incredibly sturdy at 7 pounds (just over 3 kilograms for observers of the metric system, myself included), and feels built to last. Hagerman Audio offers 10 years warranty on workmanship for the Tuba, and I have no doubt whatsoever that this thing will have any problems seeing-out the end of the next decade.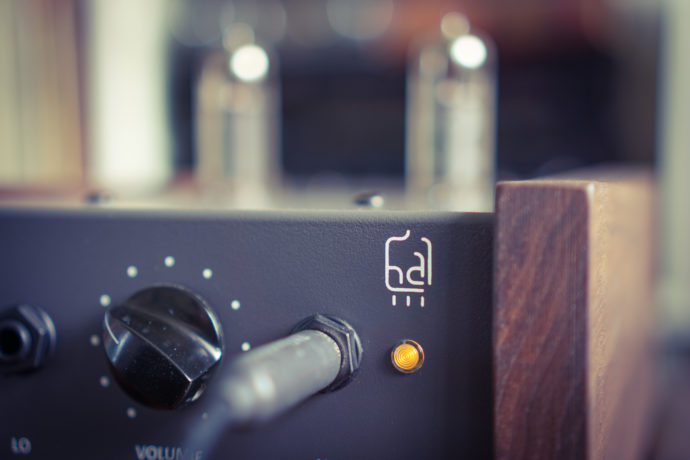 I must give a quick shout-out here to Hagerman Audio's logo. There aren't that many great ones in the audio world, but theirs is a minimal and clever one with a nice 'nod' to their analogue bread-and-butter. Bravo. 
My only quibble with the physical design is the volume pot. The plastic dial has a little 'play' and wobbles slightly before attenuation is increased or decreased. It's not an actual problem when it comes to accurately dialing-in the right volume level, but it would feel nicer to have a tighter pot with smooth, tactile resistance.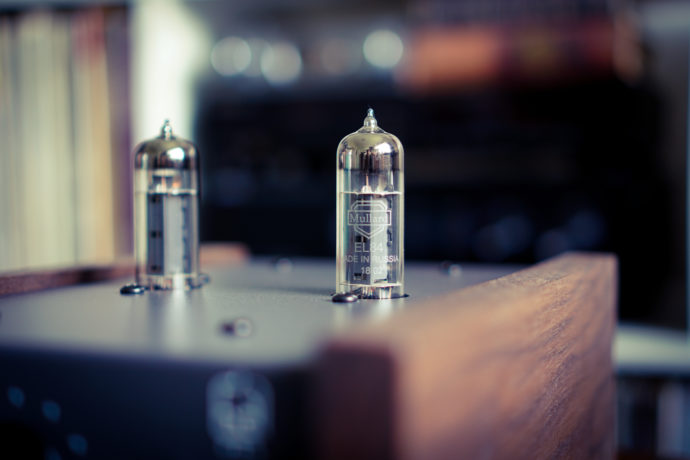 The Tuba ships with well-regarded Mullard EL84 tubes and power is provided via a 15-volt wall-wart. Aside from the printed instruction manual, that's all there is by way of accessories, aside from a very cool 'Hagerman' screwdriver (very handy!). The Tuba is switched on by pressing the volume-knob on the front (admission: it took me about 5 minutes to figure this out…let's just say I'm not one for instruction manuals), and after a warm-up period of about 30 seconds both LEDs on the front light-up, letting you know the Tuba is ready for business. RCA-inputs on the rear-panel accept a line-level signal from your source, be it a DAC, CD-player, or phono preamp. 
The Tuba features two 6.3mm single-ended headphone outputs either side of the volume-pot: "LO" has an output impedance of 5 ohms, and the "HI" output has 35 ohms. Some quick maths using the old "one eighth rule" (a generally unscientific principle that a headphone's impedance should be in the order of eight times greater than the output impedance of an amplifier), and this tells me that the Tuba is ready to tango with a range of headphones that I have on-hand including low-impedance planars, IEMs, and 250+ ohm dynamic drivers.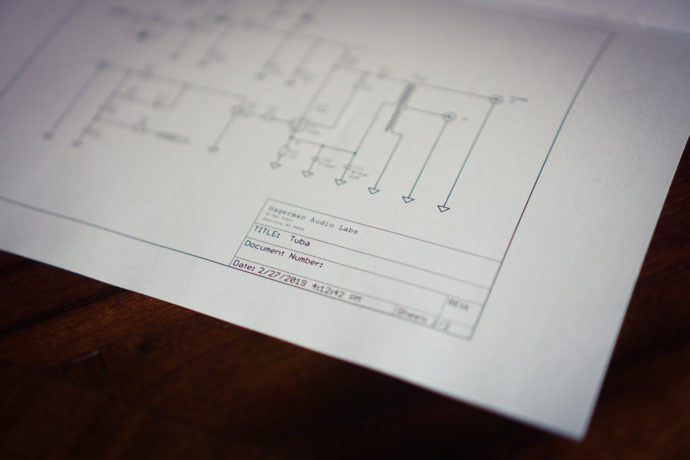 The power stage of the Tuba is a single-ended, zero-feedback, parafeed EL84 triode into an impedance matching transformer. Hagerman describes this as "offering very low distortion and huge signal headroom". Specifications of the Tuba supplied by Hagerman Audio are as follows:
50k ohm input impedance
5/35 ohm output impedance (LO/HI)
10Hz to 150kHz bandwidth (-3dB)
350mW output power @ 32 ohms
7Vrms output voltage
5dB gain
0.25% distortion @ 0dBV 400Hz
6 x 10 x 3.5 inches
7 pounds
15Vdc @ 1.35A
Sound impressions continue over the jump on page 2.