Today we review the brand new Naim Uniti Atom Headphone Edition, a $3,299 USD all-in-one headphone amp, DAC, preamp, and streaming device (and so, so much more!). 
Note: this review unit was kindly loaned to us by Busisoft A.V, the local Australian distributor for Naim. As always, our thanks go out to them for their support. We'll be sending The Naim Uniti Atom Headphone Edition back their way post-review.
Breaking 'the chain'.
Building a personal audio or hifi system can take years of patient collecting, pairing, as well as trial-and-error along the way when it comes to assembling the perfect 'chain' for your listening needs. To make your headphones "go brrr", first you're going to need to give them an adequate amount of juice to get their transducers pumping –  cue the headphone amplifier. Next, you'll need to be feeding that amplifier with some kind of line-level input of either the digital or analogue flavour. For most of you Headfonia readers, this will usually take the form of a DAC. Or, for the more retro-inclined among you, perhaps a turntable or CD player. Next, it goes without saying that you're going to need to find some kind of music to pipe into the aforementioned devices. I've personally spent many years collecting a huge digital and physical library of music, but the advent of streaming has made it even easier to make most of history's recorded music a mere click away (and is putting up a compelling argument for consigning physical music to the pages of history…nearly). But, very often this requires yet another box to slot into your stack in the form of a computer or streaming device. And once you've assembled this all together, there's every chance that it might not even sound great, or pair well with your favourite headphones. Back to the drawing board…and rinse, repeat. 
It was exhausting enough to simply write that last paragraph, but I'm sure that you've caught on by now that trying to build the ultimate listening system can be bloody frustrating and not to mention…bloody expensive. The other necessary consequence of building an audio chain is mess. More boxes mean more space, more cables, and more clutter (trust me, you don't want to see the viper's nest of cables behind my listening/review desk…).
So, by now I'm sure that you're also thinking that it'd be nice if there were some kind of device that could take care of all of this…right? Well, it's easier said than done – there's a reason why separate devices exist. Cramming a bunch of things into the one design often comes with a compromise in some way, shape, or form. 
One device to rule them all?
But, with the arrival subject of today's review, I've come across the first device that I've ever encountered that puts up a compelling claim to be the sole device that you'll ever need to park on your desk to enjoy stunning headphone listening – and all with an utterly seamless user experience to boot: the brand-new Naim Uniti Atom Headphone Edition. Before I start describing it to you, let's get one thing out of the way early: The Uniti Atom (let's go with this contraction from here on in) is the single most expensive review item that I've tangoed with to date. $3,290 USD is not an inconsiderable amount of money when you're talking about anything, let alone hifi. The thought of departing with that amount of money might make you wince, but let's take a look at what we have on the table first and then have a think about your long-term listening ambitions before you pass judgement. Trust me, spending a month or so with the Uniti Atom has seriously made me reassess my setup and the way that I go about listening to music.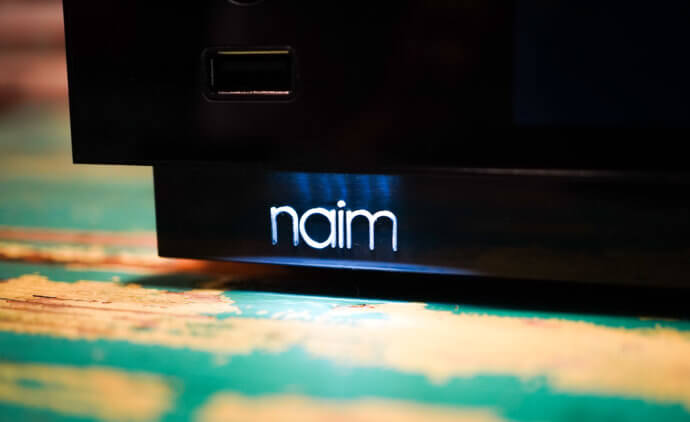 A very magic box, indeed.
Legendary British hifi brand Naim is a mainstay in the two-channel hifi world, but not exactly a household name when it comes to personal audio. But, their French parent company – the VerVent Audio Group – also boasts the Focal brand within their stable, which ought to ring a few bells among you lot. While Naim hasn't made too many waves in the headphone world until now, they've certainly staked their claim with the release of the stupidly-specced, and stupidly-talented Uniti Atom Headphone Edition. You might be getting a case of Deja Vu with the name of this device, and you'd be right. The 'regular' Uniti Atom is an integrated streaming DAC that also packs an onboard 40-Watt stereo speaker amplifier. The Headphone Edition eschews the ability to power speakers, but Naim has gone 'all-in' on this latest entrant when aiming for the audiophile headphone crowd, including a 6.3mm single-ended headphone jack in addition to 4.4mm and 4-pin XLR headphone jacks which can pump up to 1.5 Watts into 16 ohms out of any of those connections, plus an all-new, dedicated headphone amplification stage. A Naim spokesperson described the headphone topology and performance thusly:
"It is a class-A amplifier that runs into class-AB when the going gets exciting. When it's being used as a line output amplifier it is pure class-A. When driving, say 600Ω at full volume the headphone amplifier will remain in class-A too. 300Ω at full volume the headphone amplifier will remain in class-A for all except the last few dB. As the impedance of the headphones drops then the point at which it slides out of class-A gets lower. Dropping to 32Ω it will be pure class-A until approximately 3.2mW and then seamlessly and transparently glide into class-AB for the remaining top 25dB. Remember, music is generally recorded around -20dB so for all the musical nuances it can be still considered class-A."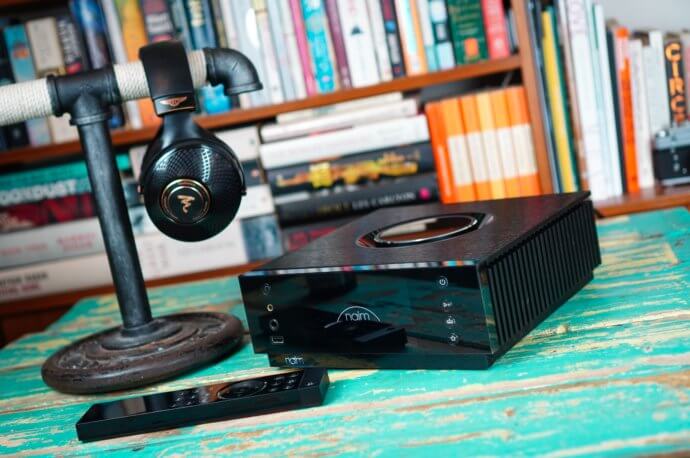 Digital decoding is handled by the same Burr-Brown chip employed on the 'regular' Uniti Atom, capable of decoding digital files up to 24bit/384kHz. In 'traditional' wired mode, the Uniti Atom's DAC can be accessed via 2 x USB-A, 2 x optical, or a single coaxial input. For those of you looking to pair up the Uniti Atom with an external source such as a turntable, CD player (or another DAC) it also has you covered there, being able to accept a line-level RCA analogue input. 
In addition to performing headphone amplification duties, the Uniti Atom also operates as a preamp, offering both XLR and RCA outputs. So, not only can it work as a stand-alone headphone device, but add a power amplifier or a pair of powered speakers and you also have one very talented preamplifier on your hands indeed. 
While the features that I've already described would make the Uniti Atom an already talented device, the cherry on top is the streaming smarts that Naim has baked inside of it. The Headphone Edition uses the same Naim streaming platform that runs from their Mu-so 2nd Generation family, through the Uniti range right up to their flagship ND 555 player. That gives the listener access to Spotify Connect, TIDAL, Qobuz, plus Chromecast built-in giving access to other services, including Deezer; Apple AirPlay 2 support (including Apple Music streaming) as well as Roon Ready status. The Ethernet and WiFi connectivity of the Uniti Atom not only allow you to connect to a local network, and can give the user to update their device as new technologies and services arise via on-air updates. 
Device specifications:
Network: 
Ethernet (10/100Mbps)
WiFi (802.11 b/g/n/ac with internal antennae)
Multiroom: 
Sync up to five Naim Streaming products and control via the Naim App.
Audio Inputs:
Digital: 2x Optical S/PDIF up to 96kHz, Coaxial RCA (up to 24bit/192kHz, DoP 64Fs)
Analogue: 1 x Stereo RCA pair
USB: 2x USB 2.0 (Type A connector)
Streaming: 
Apple AirPlay 2, Chromecast Built-in, UPnPTM, Spotify® Connect, TIDAL, Roon Ready, Bluetooth, Internet Radio, Qobuz
Audio Outputs:
Balanced XLR Preamp output
RCA Preamp output
Headphone Outputs: 
4.4mm Pentaconn (balanced) 4 pin XLR (balanced) 6.35mm (¼ inch) jack (unbalanced)
1.5W RMS per channel into 16ohms
Suitable for headphones from 16ohms and upwards
So, it seems that we have one very clever device on our hands in terms of being able to accept just about any sort of conceivable input, and enough power and connectivity to tango with just about all but the most insensitive of headphones (none of which are really my cup of tea, anyhow). But before we get into its performance in detail, let's take a look at what the Naim Uniti Atom Headphone Edition is like to live with, firstly. 
Click over to page 2 to continue the review.
Page 2: Presentation & Build, User Experience
Page 3: Headphone Performance, Comparisons, Conclusion