For years I have been reading people rave about AKG  K1000 flagship headphone. Although a bit late but better than never, the opportunity for me to evaluate this headphone has finally come. Thanks to my good friend Alvon at Jaben Jakarta and Yobbie, I have two different K1000s to evaluate for writing this review. All these years that I've read countless of reviews and impressions on the K1000, I can't remember having read one bad impression on the K1000. Can a headphone really be that perfect?
Introduction to the K1000 sound
The open floating design of the K1000 results in a sound presentation unique to the of Stax's offerings like the square-framed Lambdas. It doesn't quite sound as open as a real speaker setup but on the other hand it easily gives a better focus on the music in comparison to the majority of speaker setups out thereK1000. It is very natural and indeed more speaker like than any other headphones, including modern flagship headphones like the Sennheiser HD800 or any . This is due to the close distance between the drivers to the ears, which makes it less dependent on room set acoustics as speakers normally do. The balance of this speaker/headphone presentation mix is very enjoyable as you get an open sound but to a certain degree still maintain the focused sound that headphones are known for.
There is a great degree of adjustability with the K1000 through the opening and closing of the driver panels. When the panels are fully closed, the drivers are parallel to the ears, and this gives the most focused and headphone like sound. As the panel is opened little by little the sound becomes more open, less forward, and more diffused. When the panel is fully open, at almost a perpendicular angle to the ears, the sound becomes more spacious yet more diffused. With certain recordings it can even give the sensation that the soundscape is slightly at the back of your ears, not the conventional in front of it — and this does feel a little odd. With classical and live recordings, the diffused presentation can work to give you a more relaxed and less focused presentation of the music. With most mainstream, studio recorded music, having the panels opened makes the music feel rather ambiguous, losing focus.
Not only can you open the panels to give you an even wider, more diffused sound, but you can also slide the headphone position up and down, forward and backward, and all the different positions will give you a slightly more focused or more diffused sound.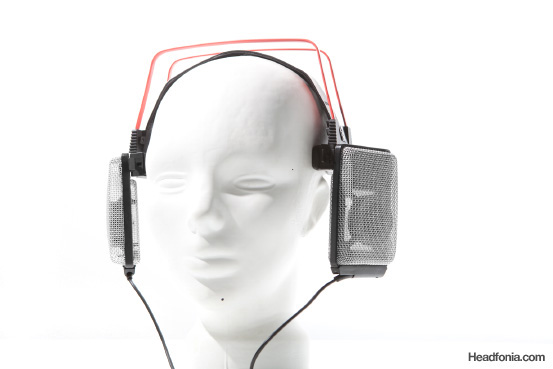 Continue to the next page…