In today's review, we'll be taking a close look at the CMA Twelve – a $1,500 USD DAC, headphone amplifier and preamplifier from Questyle. 
Note: Questyle's Australian distributor, Audio Dynamics was kind enough to send us a review example of the CMA Twelve to check out so we could share our impressions on the unit with Headfonia readers. Our thanks go out to Tony at Audio Dynamics for the opportunity, and the CMA Twelve will be heading back their way after the review. As always, our thoughts and conclusions are our own.
An all-in-one desktop amplifier and digital-to-analogue converter can be an attractive proposition for the desktop audiophile. Mixing and matching separate items can be a bit messy in terms of space and aesthetics when it comes to making the most of valuable desktop real estate. And then there's the whole conundrum of system 'synergy' – finding components that are an ideal match for one another in the sound department. All things considered, I'd rather have one talented 'box' perched on my home desktop to do everything required to make my headphones sound their best. Given that you're going to be interacting with your DAC/amp quite a bit for controlling your source inputs, headphone volume, and perhaps even as a pre-amp upstream of a power amplifier or powered speakers, well you're going to want to like both the way it sounds and the way it behaves in terms of its day-to-day 'livability'. 
Headfonia readers might be accustomed to reading about DAC/amplifier combinations from the likes of Burson, Schiit, and Topping, but Chinese manufacturer Questyle might not elicit quite as much immediate familiarity in the personal audio stakes compared to some of their more established and prolific competitors. However, Questyle has been quietly making some genuinely world-class DAPs as well as source/amplification gear over a decade now. They created some waves in high-end circles a few years ago with the release of their 'Golden Reference System', a truly no-compromise desktop stack for the discerning audiophile looking to extract the highest levels of performance from each discrete component. 
As it turns out, I've had a Questyle product rooted firmly on my desktop for the past couple of years now – their CMA600i DAC/amp combo unit. I've used the CMA600i as both my daily solid-state headphone amp as well as my benchmark reference amplifier when it comes to testing headphones, and as a reference benchmark for testing other source and amplification gear. It's earned a permanent place on my desktop thanks to its killer build and superb flexibility when it comes to being the 'heart' of my desktop system, performing flawlessly as both a balanced headphone amplifier and as a preamplifier. The CMA600i was released several years ago now, but it still hasn't been knocked off its perch around these parts despite having had much more expensive gear pass across my review desk in the meantime. As well as being brilliant to live with, the chief reason I love the CMA600i so much is that its all Class-A 'Current Mode Amplification' (hence their 'CMA' prefix) stage just so happens to sound bloody excellent.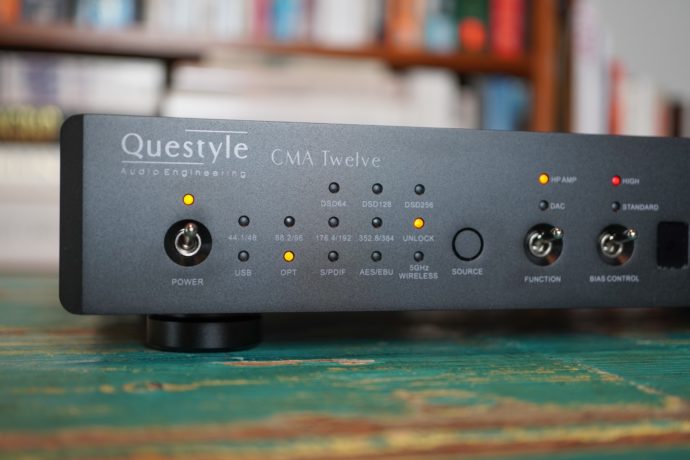 But, like all things in life, we must eventually pave way for progress. And in this case, we have in front of us the latest flagship DAC/amp from Questyle, their CMA Twelve. Given the strong benchmark already set by their older and cheaper CMA600i, let's just say I was thrilled when Questyle's Australian distributor, Audio Dynamics arranged a brand-spanking example of the CMA Twelve to arrive at Headfonia's Down-Under HQ for me to spend some serious review time with. Current Mode Amplification is a patented Questyle technology, and the CMA Twelve is named to celebrate the passing of twelve years since the release of their original Current Mode Amplification product, the CMA800.  So what is it? In short, the CMA Twelve is an all-in-one DAC, headphone amplifier, and preamplifier that will set you back $1,500 USD. Digital-to-analogue decoding duties are handled by the older but proven AK4490 chip from Asahi Kasai, capable of decoding PCM up to 384kHz, and native DSD up to DSD256. As well as the standard USB, optical, and S/PDIF digital inputs, an AES input is also provided which gives a hint of the 'pro' studio DNA evident in Questyle's manufacturing.
The CMA Twelve's analogue stage includes 4 groups of Current Mode Amplifiers working in pure Class-A, which manage to keep noise at an inaudible THD + N level of 0.0005%. The CMA Twelve is able to unleash a full 2 x Watts at 32 ohms and 825mW  at 300 ohms via its balanced outputs, with those power figures reducing to 900mW and 247mW respectively via the 6.3mm single-ended headphone jack. 
The CMA Twelve also operates as a preamplifier, with a wholly separate pre-amplifier section outputting via both balanced XLR and single-ended RCA outputs. Unlike the CMA600i, the output from the DAC section can be switched to either line-level or variable output, a neat feature that I did find lacking in the earlier model. Another studio-friendly feature is the ability to switch the gain level of the preamp section from 14 dBu to 20 dBu. The CMA Twelve is able to be paired with its companion QP2R+Super Hub SHB2 lossless audio player, which can stream lossless digital audio to the CMA Twelve via its inbuilt 5 GHz wifi functionality. 
And if that doesn't sound like enough CMA Twelve for you, Questyle also offers a 'Master' version, for an additional $500 outlay. For your half-a-grand, you'll get special 'MASTER' laser etching, as well as a ceramic PCB board from ROGERS to offer what Questyle promise is even greater sonic performance.
The review continues over the page on page 2, where we'll look at the CMA Twelve's build quality and user experience.