Disclaimer: the LakePeople HPA RS 02 and RS 08 were sent to us on loan for this review by the US Distributor of Violectric/LakePeople. The units will be returned after this review.
Ok, let's get this out of the way right off the bat.  Yes, the Lake People RS 02 and RS 08 are kind of ugly.  Yes, they have no real style.  No, they are not going to catch your eye, make your heart flutter, or make your friends cry out "that amp is badass!"  But come one!  Who gives a %$*@?  I am reminded of a scene from Parks and Recreation, where Ron Swanson has built a chair that is being praised by a lifestyle guru, Annabel Porter.
Porter: I discovered Ron's chairs a few months ago, and what I absolutely love about a Swanson is you can really use it for anything.
Ron: Yes, mostly you use it for sitting.
Porter: Make it a rustic accent piece in your solarium.  Even better, use it as a focal point in your yoga tent.
Ron:  Put it by a table and eat a meal.
You sit on chairs.  End of discussion.  Headphone amps are to amplify a sound signal and power headphones.  End of discussion.  It you want your amp to be an accent piece or as a status symbol, this isn't the amp for you, nor am I the critic for you.  Should you see me walking down the street, please pass on the other side.  Don't go to the same restaurants as me or shop at the same stores.  And, no, you most definitely can't date my daughter!  Now, if you are in the market for a great amp, and want to save a few bucks, please read on.  (but you can't date my daughter, either)

The HPA RS 02 & RS 08
The Reference Series (RS) amps 02 and the 08 are a refreshing of the Lake People amp series, but, as of this time, will not be taking the place of the well regarded (by me and others) G109.  The RS 02 and 08 both use the pre-established circuitry of the Violectric V100.  The G109 was already quiet similar to the V100.  Although I never had them side by side to compare, I do think they V100 might be a bit more forward and a have a touch more body in the mids than the G109.  But then that might just be my memory playing tricks on me.  I loved the G109.  I love the V100 and I love the RS 08.  It might not hurt to peruse these old reviews for a refresher on the V100:
https://www.headfonia.com/violectric-v100-german-pro-audio-quality-by-lakepeople/
https://www.headfonia.com/lake-people-g109s-wonderful-world/
Features & Specs
RS 02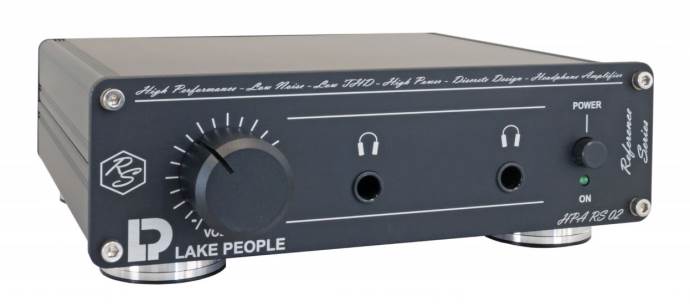 – Unbalanced inputs with gold-plated RCA connectors
– Unbalanced line-outputs with gold-plated RCA connectors
– PRE-GAIN = switchable input gain in five steps
– Line-outputs internally switchable to three modes:
Passive feed-through
Active feedthrough without volume control (pre fader)
Active feedthrough with volume control (post fader)
– ALPS RK27 High-Grade volume control
– High-Quality op-amps in the signal path
– High-quality MKP capacitors in the signal path
– 0.1 and 1% metal film resistors throughout the unit
– power amps with 4 transistors per channel
– 2 silver-plated Neutrik headphone outputs
– Relay-based delayed headphone output cut-off
– Toroidal transformer
– Large filtering capacitors in the power supply
– Switchable ground lift
– Rugged aluminum case, black anodized
– Aluminum front- and back panel
RS 08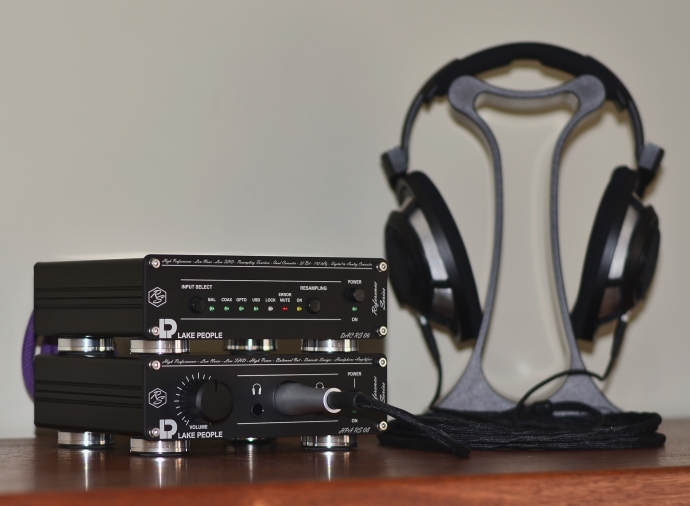 – Unbalanced inputs with gold-plated RCA connectors
– Unbalanced line-outputs with gold-plated RCA connectors
– PRE-GAIN = switchable input gain in five steps
– Line-outputs internally switchable to three modes:
Passive feed-through
Active feedthrough without volume control (pre fader)
Active feedthrough with volume control (post fader)
– ALPS RK27 High-Grade volume control
– High-Quality op-amps in the signal path
– High-quality MKP capacitors in the signal path
– 0.1 and 1% metal film resistors throughout the unit
– 2 x 2 power amps, each with 4 transistors
– 1 x balanced headphone out with 4-pin XLR connector
– 2 x unbalanced headphone out with 1/4″ & 6.3 mm connector
– Relay-based delayed headphone output cut-off
– Toroidal transformer
– Large filtering capacitors in the power supply
– Switchable ground lift
– Rugged aluminum case, black anodized
– Aluminum front- and back panel
More about these amps and how they sound can be found on Page Two, Right after the jump or the click HERE