The star of this week's Picture Sunday is the DragonFly by Audioquest. Check out other recent Picture Posts Here, and Here. 
AudioQuest
AudioQuest is a US based company and the EU headquarters is located in the Netherlands. AudioQuest since the 1980's is mostly known for their cables but they became even more popular among "head-fiers" when they released a very popular mini USB DAC/AMP called the DragonFly.
The AudioQuest DragonFly isn't the first AudioQuest product to be featured on Headfonia, the NightHawk headphone, the DragonFly V1.2 and the JitterBug reviews were both published several weeks/months ago already. And they have the brand new NightOwl coming up. I listened to it on several occasions already and it is a very good headphone. It should be released this month if all goes well.
DragonFly
We reviewed the Dragonfly units before, all three of them, you can find the reviews here:
DragonFly 1.2: Review: Audioquest DragonFly V1.2 
DragonFly Black & red: Review: AudioQuest DragonFly Black & Red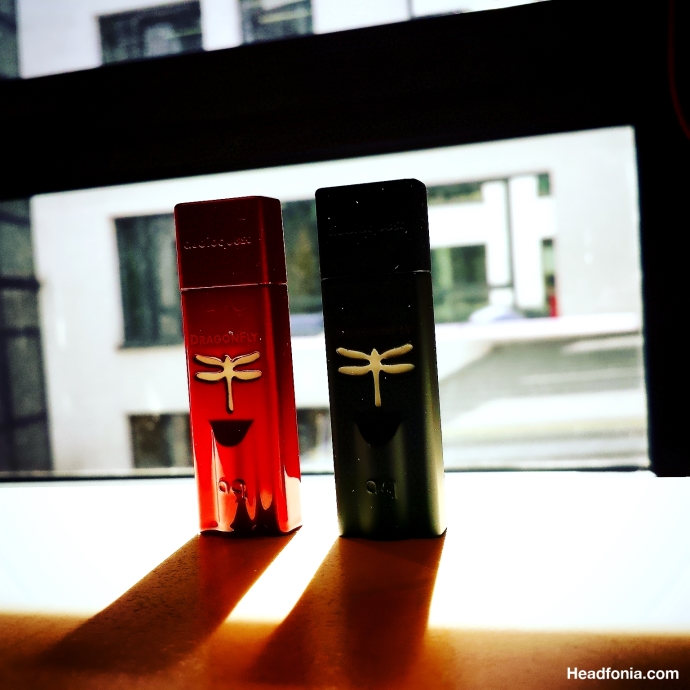 Both the DragonFly units shown in the above picture are still extremely popular. Why? A great sound and price, that easy. DragonFly Black is still going for only $99USD while the a lot better sounding Red version costs $199USD.
The DragonFly is very easy to use: just hook up your iPhone or Android phone to it and  you immediately get good sound. Another advantage it has over other USB DACs when going portable is that it doesn't have a battery, it just uses the one of your source so you only have to make sure your main unit is charged. On top of that the DragonFly is small and you can easily take it and the cable to hook it up to your phone with you.
Sound wise, the red one is the best sounding DragonFly up to date even though some listeners might prefer the more neutral less bodied and faster sound signature of the Black. Once you've listened to either of these versions you don't want to go back to your original V1 or V1.2, they're just that much better. I seriously doubt there are better DAC/Amp combinations in this price category and especially in such a small package. If Headfonia would hand out medals, the DragonFly Red would surely get one. Yes, it's that nice.