Disclaimer: The AudioQuest DragonFly V1.2 was loaned to me by Audioquest directly, it was part of the NightHawk & JitterBug review package.
Audioquest
Audioquest is a US based company and the EU headquarters is located in the Netherlands. Audioquest since the 1980's is mostly known for their cables but they became even more popular among "head-fiers" when they released a very popular mini USB DAC/AMP called the Dragonfly.
The Audioquest DragonFly DAC/amp isn't that new and the original version in the meantime has been replaced by the DragonFly V1.2. The Audioquest DragonFly V1.2 isn't the first Audioquest product to be featured on Headfonia, the NightHawk headphone and the JitterBug reviews were both published several weeks/months ago already. The Audioquest DragonFly V1.2 however arrived later as Audioquest couldn't keep up with the growing demand. That made me have high expectations for this unit and at the same time that explains why we're a bit late with publishing this article.
The simplest way to distinguish DragonFly V1.0 from DragonFly V1.2 is by looking at the 3.5mm plug as V1.0's is black and V1.2's is gray. I never had the opportunity to listen to the V1.0 myself, do take that into account. A new DragonFly Red will be hitting the market soon but I haven't heard anything official about it myself. The Red will use less power allowing it to be used with Apple and Android smartphones and tablets. It will also have a new 32-bit ESS 9010 DAC inside.
Dragonfly V1.2 – Not Sound
The DragonFly V1.2 is small (12mm x 19mm x 62mm) and it came in a very nice (oversized) box that looks almost identical to the JitterBug's box. That Jitterbug in fact can easily be used in combination with the V1.2. The latest DragonFly is very well built and it looks and feels very nice. It basically has the same size as the average memory stick and so it's very easy to take with you.
The DragonFly V1.2 is USB stick-size digital to analog audio converter (DAC) and amplifier, all-in-one. According to Audioquest, the DragonFly V1.2 is an affordable and easy-to-use device that delivers far superior sound by bypassing the poor quality sound card that is built into your computer. DragonFly is a sleek, flash drive sized DAC that connects to a USB jack on a Mac or Windows PC, turning any computer into a true high- fidelity music source.
I'm not the biggest fan of this type of devices and I really didn't like the last one I tested – the Geek Out 1000. I do however like the Resonessance Labs Herus, Stoner Acoustics UD120 and some others. These in contrast to the DragonFly all connect using a standard USB to micro USB-cable. Having heard nothing but good about the DragonFly however, I really wanted to give it a chance and I'm glad I did.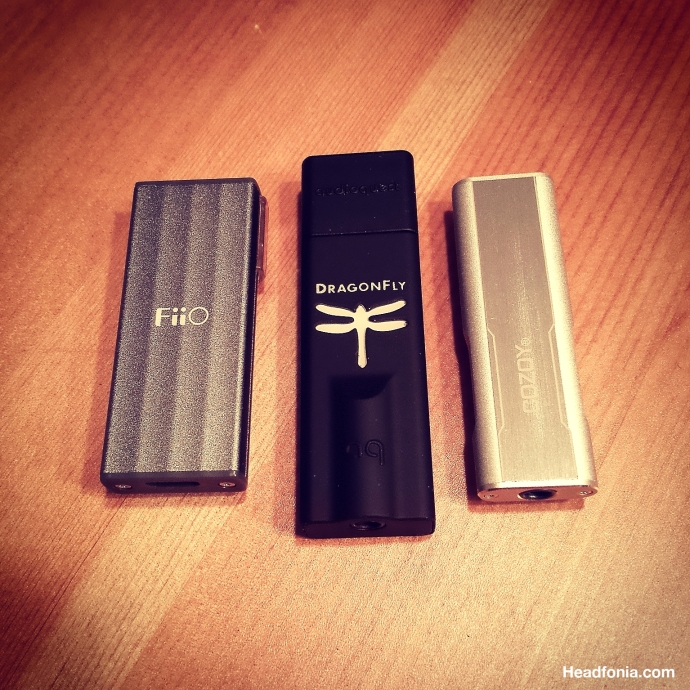 The DragonFly V1.2 plays all music files using an unknown 24-bit ESS Sabre (word is it actually is a 9023) chip to do the decoding and amplification. The DragonFly V1.2 does 16-bit/44kHz to native 24-bit/96kHz with an asynchronous USB audio data transfer protocol (Texas Instruments TAS1020B). The V1.2 drives headphones and earphones directly but can also be used in 'variable' output mode with computer-controlled analog volume control when connected directly to powered speakers or a power amplifier. Or when connecting to a traditional preamplifier or AV receiver, DragonFly V1.2 can be set to a "fixed" output mode by turning the volume to maximum.
When correctly using the DragonFly V1.2 the DragonFly logo on the USB-stick will light up in a different color depending on the bitrate the chip is receiving: 44.1 kHz (green), 48 kHz (glue), 88.2 kHz (amber) and 96 kHz (magenta). You don't have to install any proprietary drivers and you can just use the Windows drivers. I myself use Foobar2000 on my laptop and the DragonFly V1.2 works perfectly using KS (Kernel Streaming). The DragonFly uses two discrete onboard "clocks" so that the math algorithms used to convert the digital audio data to analog are always optimized for the native sample rate of the audio file or stream being played. This ensures the least amount of mathematical manipulation to the native audio data, which results in fewer errors and better sound.
Sound after the click on Page 2
Specifications:
Sample rates supported, LED indicator color codes: 44.1kHz (Green), 48kHz (Blue), 88.2kHz (Amber), 96kHz (Magenta)
Output voltage: 2vrms
Minimum driven impedance (headphones, electronic input): 12 ohms
Maximum headphone driver output power: 125mW @ 32 ohms
Analog Audio – Frequency Response: DC – 22 kHz (44.1kHz sample rate) DC – 24 kHz (48kHz sample rate) DC – 44 kHz (88.2kHz sample rate)
Asynchronous Transfer Ensures Digital Timing Integrity
Dual Fixed-Frequency Master Clocks Enable Optimal 'Clocking' (Digital Timing) For All Sample Rates
Sound after the click on Page 2