Disclaimer: Both samples of the DragonFly Red and DragonFly Black were given to me free of charge for this review by AudioQuest during our meeting at High End in Munich last May. AudioQuest isn't a site advertiser and there's no financial gain with this review.
EDIT: The Audio Quest DragonFly now also does MQA after the firmware update: Check our article here: https://www.headfonia.com/audioquest-dragonfly-mqa/
AudioQuest
AudioQuest is a US based company and the EU headquarters is located in the Netherlands. AudioQuest since the 1980's is mostly known for their cables but they became even more popular among "head-fiers" when they released a very popular mini USB DAC/AMP called the DragonFly.
The AudioQuest DragonFly isn't the first AudioQuest product to be featured on Headfonia, the NightHawk headphone, the DragonFly V1.2 and the JitterBug reviews were both published several weeks/months ago already.
DragonFly History
The AudioQuest DragonFly isn't "new" in the sense that the original multi-award-winning version was launched a long time ago in 2012 already. In the meantime that original version has been replaced by the DragonFly V1.2 which at his turn now has been replaced by both the DragonFly Red V1.0 and Black V1.5.
So the new Black and Red units actually are the 3rd and 4th version already of AudioQuest's popular DragonFly series. I have to say that the DragonFly from the original version up to now has grown on me and the RED version's quality actually is very impressive to me at this stage.
If you're not sure what version of the DragonFly you have then you probably own the original version. The simplest way to distinguish DragonFly V1.0 from DragonFly V1.2 is by looking at the 3.5mm plug as V1.0's is black and V1.2's is gray. The latest DragonFly Black 1.5 also has a gray colored 3.5mm plug but the unit on its back has the Black V1.5 details printed in gold. The Red version of course is easy to spot but the material used is also different. It does feature the same gold "specs" on the back of the unit as well.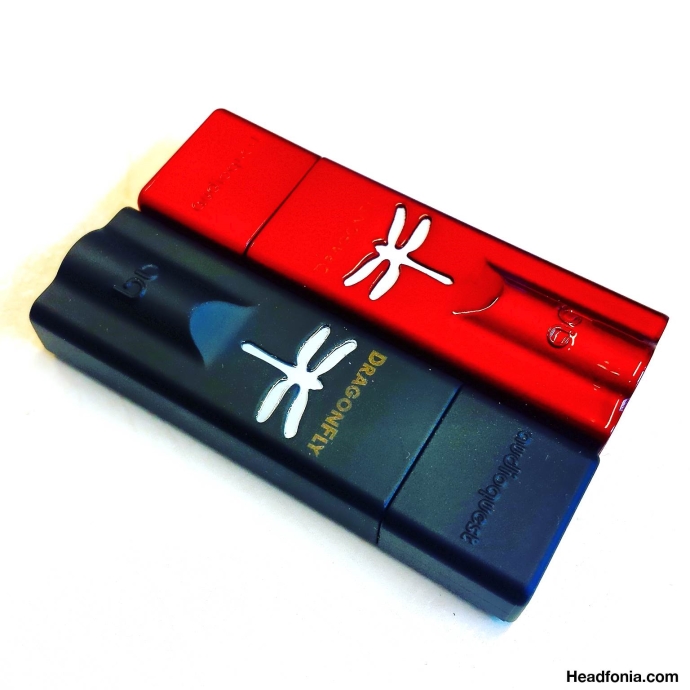 New DragonFly + Build Quality + Specs
For those of you who aren't familiar with the DragonFly yet (is that still possible?), you can basically say the DragonFlies are USB-dongles which serve as DAC, pre-amp to a power/headphone amp and headphone amplifier all in one. Small packages with a big bang for buck measuring only 12mm (h) x 19mm (w) x 62mm (l).
The build quality of the DragonFly is excellent. Their finish is great, they're small and you can put them in your pocket or drop them in your bag without any worries. The Red version does feel nicer as the casing used has a harder feel to it and with its red gloss finish (or automotive finish as they call it) it simply looks shiny and attractive. Both new versions of course still have the DragonFly LED-feature, which shows you what sample rate the unit is receiving from your source. Red: Standby, Green: 44100.0 Hz, Blue: 48000.0 Hz Amber: 88200.0, Hz Magenta: 96000.0 Hz. Be aware the DragonFly units don't do DSD, but more on that later.
While the original DragonFly defined the market for micro-DACs, its USB power draw made it compatible with computers only. Music lovers have craved a more portable version – one that could be reliably used with Apple and Android smartphones and tablets. The new Red and Black were born. AudioQuest and DragonFly designer Gordon Rankin worked alongside Microchip Technology to develop a new high-performance, full-speed USB microcontroller solution that delivers improved signal-to-noise ratio and significantly lower power consumption. Drawing 77% less current than the previous microcontroller, the new Microchip PIC32MX microcontroller enables true compatibility with Apple and Android smartphones and tablets (OTG with the correct software) although it seems it's not always 100% guaranteed to work. That however isn't related to the DragonFly but rather to the OS implementation in your Android or Apple device. It should work on Apple iOS 5 and newer and Android 4.1 and newer (For Android devices, see owner's manual).
It continues on Page TWO, after the click HERE