Disclaimer: The Noble Sage sample in this review was bought directly by me. Noble is not affiliated to Headfonia. All pictures were taken by my hands.
About Noble Audio:
Noble Audio, or simply Noble, is an American based company that manufactures custom made in ear monitors as well as universal models. They are still a relatively young brand being only formed about four years ago, though the Noble team can look back on a bit more years of experience in the field. Before Noble was born Dr. John Moulton, aka Wizard (nickname given due to the magnificent designs he created), founded Heir Audio. In 2013 Moulton parted ways with Heir and formed Noble Audio together with some former colleagues.
Noble is one of the most unique and innovative brands around. When they started they introduced the audiophile world a complete lineup of IEMs, amongst them their former flagship Kaiser 10 (or K10). The K10 still is considered as one of the best in ear monitors available and enjoys legend status. What makes Noble so unique in my opinion is not only the incredible designs the Wizard creates but the fact that you have no less than four different options for their models: Universal, Acrylic CIEM, Silicone CIEM and Prestige CIEM. Most of them are manufactured in different laboratories, either in Asia or USA. The Prestige models are absolutely different to what any other manufacturer offers, those are made of solid materials like exotic woods and carbon glass or even feature small pinecones. Some models, like Sage, also make it to a Wizard universal, those feature a faceplate designed by Dr. John himself.
If you want to take a look at what Noble is capable of building see here: Noble Lookbook
Lately Noble had the guts to rework two of their most successful models – The Kaiser 10 and Savant. Both new models now feature custom built balanced armature drivers, so no more off the shelf BA's. We will take a closer look on both, but today we will see how Savant's successor performs – the Sage.
Technicals:
Not much about technicals can be found on Noble's website. Gladly Brannan, Noble's co-owner and Treasurer, supplied some information. The Noble Sage sports two proprietary balanced armature drivers per earpiece. One driver takes care of bass notes and the second is for mid/highs. Its impedance is less than 30 Ohms, and depends on the frequency it's measured at. Sensitive enough to be used with even smartphones, Sage is sure to tickle the most out of your source. Of course: the better the source, the better the sound with Noble's IEM, more on that later.
Package:
Sage came delivered in a simple cardboard outer housing which has the Noble logo printed on top. In that box was a more solid black cardboard box on which the word "NOBLE", their crown-logo and the word "Wizard" can be found on the upper part. The package contains the IEMs to which attached is a silver plated copper cable terminated to a 3.5mm stereo minijack. Noble supplies all of their in ear monitors with a Pelican 1010 case for transport and protection. Sage comes with no less than nine individual pairs of silicone and five pairs of foam eartips. What makes it stand out is how they are presented. Many manufacturers simply pack them in a plastic bag for you to fiddle them out, Noble on the other hand puts their eartips on a special metal, business card size like, eartip holder. A nice addition and detail about this package. You will also find a black velvet pouch for your new toys. The package is completed with two Noble amp straps, two white Noble crown stickers (I have one on my laptop already), a metal warranty card and an earwax removal and cleaning tool. Noble obviously did not save on accessories.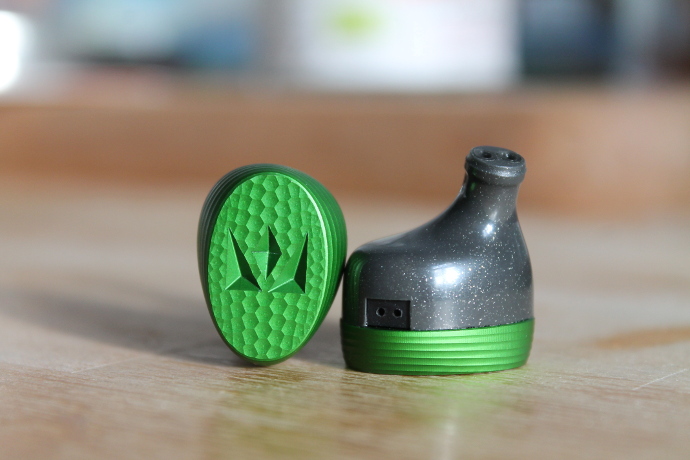 Build:
One thing that has cought my attention even before listening to the Noble Sage was its green aluminium faceplate. Noble says it's precision machined, a clear understatement in my opinion. This little piece is extremely detailed and the most beautiful I have seen, simply amazing. In the centre of each earpiece sits the Noble crown, CNC'd out to a three dimensional appearance. My heart jumps when I look at the faceplate and its geometric figures dancing in the light, I love it.
The bottom part of Sage's housing is injection molded ABS plastic and shows a "sparkly" design. Noble uses the industry standard 2-pin connection type for their IEMs, a very solid and reliable choice. This connection is very resistant to wear off and I never had one of these break, a thing I wish I could say about MMCX connections. They follow an ergonomic form and sit very comfortably in my ears. With the right selection of eartip they will rest in there without any wearing discomfort, even after hours. Isolation is as good as it gets with an universal IEM, a small portion of sound still comes in, depending on the volume level you will either hear it not at all, a bit or noticeably. That counts for any universal iem and is not bound to this specific model.
The Noble Sage is available in either standard universal or Wizard universal design, unfortunately there is no option to turn this one into a custom build.
Continue on the next page for Sound, Source Matching and Amplification.