Disclaimer: Oriveti supplied the New Primacy free of charge. The Oriveti New Primacy three drivers: dual balanced armatures, and an 8mm dynamic driver. It goes for 299$ USD. You can find out all about it here: ORIVETI New Primacy.
It's back to Oriveti here at Headfonia, this time, New Primacy is on the chopping block. Chopping because Oriveti grandfathered the original Primacy's iffy design bits to New Primacy. Like the original, however, New Primacy puts other earphones to the chopping block. It is an excellent value for the price, and in general a truly forward-looking design.
First thing's first: like Primacy before it, New Primacy is drop-dead sexy. Smooth, body-ergonomic black colour, black lines. Oriveti's branding is simple and effective, its typography tasteful. While it's just a paint job, New Primacy's L/R indicators are bright, legible, and well-placed for actual use.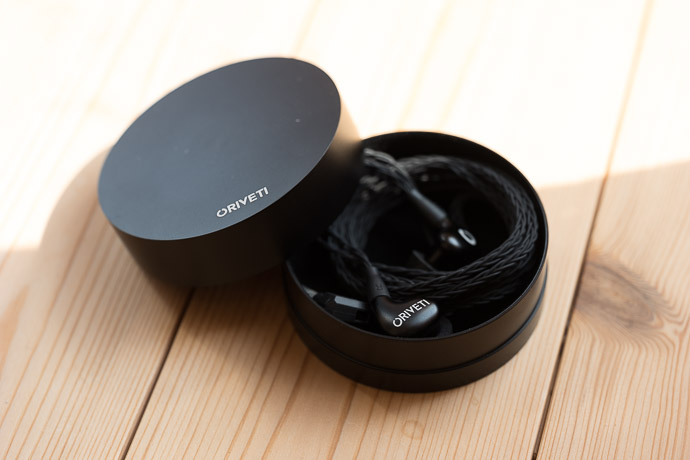 New Primacy comes with the same insane assortment of tips and accessories: an airline adapter, a 3,5mm – 6,3mm step-up adapter, ear hooks, a pressure-fitted metal carrying case and ten pair of ear tips, including Comply and dual flanges. This time, the fit kit is entirely black rather than a mix of white and black. Exciting? The ear hooks certainly are not for glasses wearers. Not that you have to install them. And for people that like to stuff their carrying pouches into their backpacks, Oriveti's pretty, sharp-eded and unsealable aluminium carry canister will be next to useless. It's the same useless canister that came with the original Primacy, so precisely made that its top hovers on a cushion of air for a few, amazing seconds, before whooshing down. So cool. And yet completely impractical.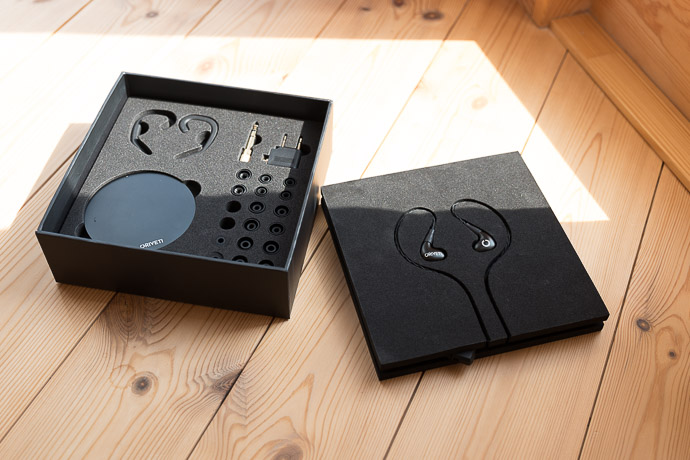 There's much talk, maybe too much talk, about the new cable which has three strands per channel for a total central stock of 6. It is made of the same cheap stuff as the old Primacy's, and about as good as Oriveti's Basic, or Nuforce's HEM (HEM2, HEM4, HEM6, HEM8) series. Good news: combining six strands forms a stronger aggregate cable than the thin thing that came before. Still, you might have a hard time garroting either Lieven or me without one, or both of us, getting away with our lives.
The same fit problems I had with the original persist. In particular, the Oriveti New Primacy's MMCX port is angled too obliquely, forcing its cables too far forward and up, when they should cling closer to the head. It's a damn shame, too; otherwise, both Primacys are as comfily shaped as earphones can be. If you're adventurous, you can dangle the cable from the ear rather than feeding it over the ear as clearly it was designed to be used.
Finally, assuming that you've got New Primacy plugged into the Comply tips, it isolates about as good as a shallow-fit custom earphone. Impressive.
Sound and more after the jump or the click HERE: