Disclaimer: The SMSL AD18 was sent to us by SMSL directly in exchange for our honest review. I'd also like to introduce you to NanoTechnos, a new member to the HFN family. Be gentle on him.
About SMSL
SMSL Audio or Shenszhen ShuangMuSanlin Electronics Co. LTD isn't a newcomer on the market and I'm sure many have you have heard about them and their products before. Founded in 2009, they are located in Shenzhen and produce DACs, headphone amplifiers and desktop amps like the AD18 I'm about to review.
With time, SMSL gained a solid reputation by producing affordable, yet real audiophile products. Their recent line-up even includes some "high-end" amplifiers like the SMSL A8 which is embedded with an AK4490 DAC and DSD512 support, plus 2x125W of power. All that for under 700€…
But, today, I'm reviewing the more simple SMSL AD18. Available for 7 time less, the amp is already in the hall of fame on most websites, so no need to say I was really curious to hear (and see) if the hype was justified.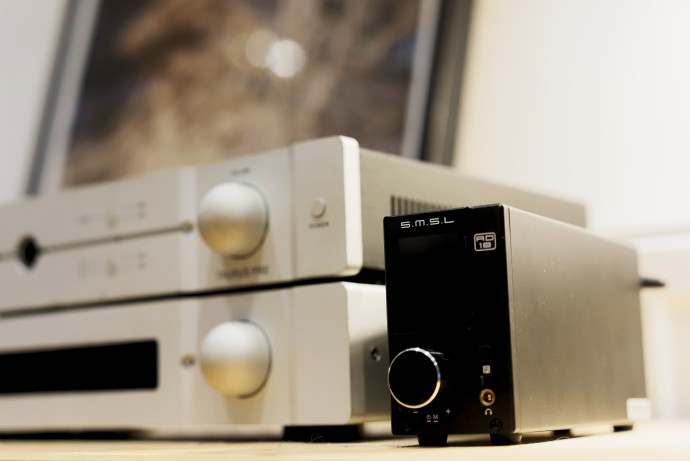 Presentation
The fist thing that surprises when you get the SMSL AD18, is how compact it is. I read the specifications before, as everyone who loathes at new gear to order, but never could I picture how small this amp was. And since SMSL use an external power supply (24V 4A), the AD18 is not only compact but also lightweight (500g). The amp itself is smaller and lighter than the power supply, so I was even more eager to test if it really packs as much power as stated by the brand.
Finishing is very good: the amp is housed in a black, sleek, aluminium case. Like modern DAPs, the case has been CNC'ed and not punched . You get soft edges and unlike the A&Ultima SP1000 you can't get cut by the wedges, safety first. Even the potentio meter has been worked out to get as smooth as the case, if that isn't nice I don't know what is anymore.
Price-wise the SMSL comes in at only $144.99 and it's available from Amazon.
Front and back Panel
The front panel of the SMSL AD18 is pretty simple. You get:
– a small LCD screen where all the information is displayed,
– a clickable potentio meter which helps you control the amp,
– a 3.5mm headphone jack output even if I would have preferred a 6.35mm for home headphones,
– and an IR port for the remote. Because yes, you get a remote with the AD18 ! (without batteries tough…)
The back panel is much more complete. You have from high to low :
– a 3.5mm jack input to connect a line out from a DAC or a DAP
– just right to it, a bluetooth antenna to connect your smartphone
– a micro-USB port to connect your computer
– a 3.5mm jack for coaxial input, this entry doubling a subwoofer output
– a toslink input, still dedicated to connect a DAC
– the power supply input
– and finally you have 4 speakers terminals, to connect 2 speakers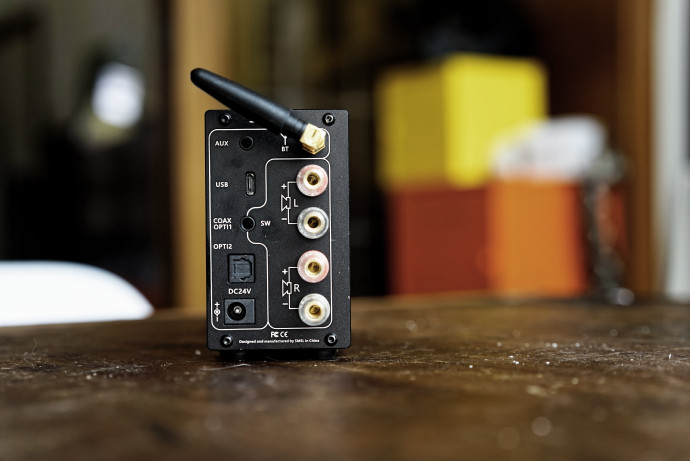 And last, but not least, you also have an NFC port embedded. Located on the top panel, you can connect your phone directly to the SMSL AD18, just by bringing the two near.
With all these inputs, the AD18 can virtually be connected to almost anything, too bad the digital input doesn't support more than 24bits /96khz.
Full digital amplification
The SMSL AD18 is a full digital amplifier, the exact opposite of an A-Class amplifier. This means that, from the input to the output, the signal stays digital, always.
This setup allows an ultra compact design without having to sacrifice the power output : at 4ohms loaded, the AD18 can push 2x70W or drive a Sennheiser HD800.
Of course, digital amps already existed for a long time, the famous D-Class or T-Class amp but where this amp usually kept an analog pre-amp, the SMSL even use a digital pre-amp after the DAC. I'll of course confront it to a more traditionnal A-Class amplifier + DAC, to see if there is a real difference.
Plugged in
Everything on this amp is controlled by the single potentio meter, pretty straightforward. Once you have plugged in the power supply, you just have to push the potentio meter and the screen will boot up. With a few pushes, you can switch between all the modes the SMSL AD18 offers :
– input selection, USB/Coax/Toslink/Aux/Bluetooth,
– Speakers or headphones, it's a shame the amp doesn't offer auto switch when you plug your headphone,
– Equalizer, 8 modes available but I didn't use any of them,
– Bass and High settings, you can add/lower the level of bass/highs to your test, +/-8dB are available,
– Color and dimmer, you can change the background color and dim the light if the screen is too bright for you. Spoiler alert, it will never be too bright, even with maximum set on
With the screen, you can get all the needed information with a quick glance, although some choices are a bit strange. For example, the volume is displayed in the top left corner, using small fonts, but the chosen input (USB for example) is taking all the center of the screen. On the top right you can see the type of signal you're listening, mostly PCM for me, but you can never know if you're listening to a 24 bits or 16bits. Again, it's a small detail and I'm sure there is a meaning behind it, but for me it doesn't seem logical.
The good news is, in real life usage, you don't give a point to all of that. You just crank up the volume, when your wife is trying to cover that awesome guitar solo with her voice, without checking what volume number is displayed.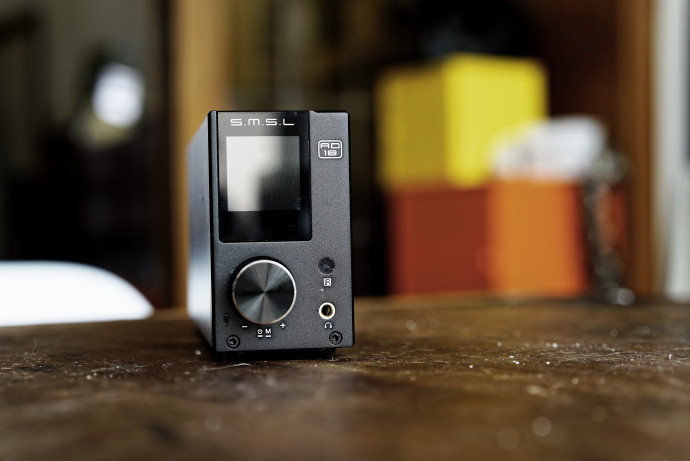 Bundle
The SMSL AD18 bundle is pretty basic, you get :
– the amplifier
– the power supply
– a remote controller
– a micro-USB cable
The remote controller is a nice surprise, if you plan to use the AD18 for home-theatre purpose or if you're simply to far, you can adjust the volume without hassle. It's all plastic and SMSL doesn't provide the batteries, but it's still a nice gesture when you take the price in count. The power supply is rated for 24V 4Ah, that makes a maximum power consumption of 50W, so the SMSL AD18 won't raise your electricity bill much, if not at all.
Bluetooth and NFC
Having an iPhone, I had to purchase an Android phone for the sake of this review. Yes, a 2018 smartphone from Apple is still not compatible with NFC (other than Apple Pay) whereas the most basic Android works like a charm. And yes I'm gonna keep my iPhone… NFC works pretty much as advertised, you activate the NFC on you phone, you put it on the top of the amp et voila ! The pairing is near instant, then you have to switch to the Bluetooth input on the AD18.
The amp is provided with a Bluetooth antenna, which seems to receive the signal pretty well. Even from upstairs I could hear the music playing without shuttering. There were no annoying de-connections but you can hear a real sound difference between Bluetooth and USB.
It uses Bluetooth 4.2 with apt-X support, so stick to MP3 320kbps or FLAC 16/44. Keep in mind that it's still inferior to standard wired solution, but it can be handy if you just want to use the amp for a party with friends.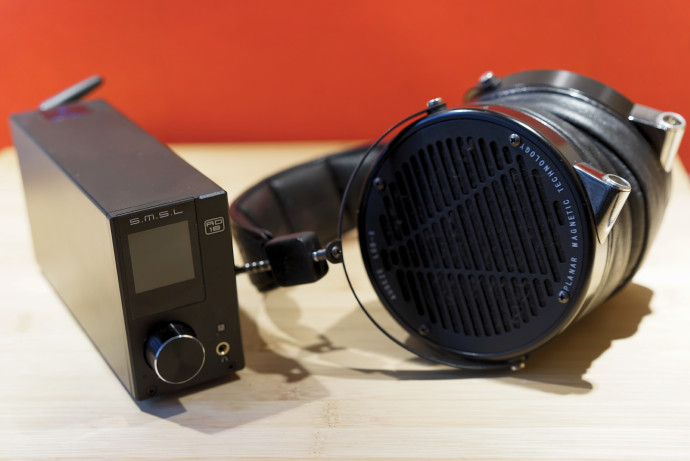 Specifications
For the nit-pickers and nerdy ones here, I'm giving the specs and technical sheets . For all the others, you can just go to the next page to see how the amp performs.
Digital inputs
The SMSL AD18 uses two different chips for SPDIF and USB inputs.
USB : TAS1020B from Texas instruments. The chip provides a full support to 24bit/96khz, anything over will be automatically down-sampled.
SPDIF : CS8422 from Cirrus Logic. This chip can decode files up to 24bit/192khz, but on the AD18 it's limited to 96khz max.
AUX : since the amp can only work with digital signals, even the aux input get an Analog/Digital converter : a CS5341 from Cirrus logic, then the CS8422 takes charge .
Amplifier
The amp has been designed with two separate circuits, one for the speakers and one for the headphone output. This is really impressive since most of the desktop amplifiers mainly use a stepped attenuator linked to the circuit for the headphone output.
For the headphone out, it uses a combination of MAX97220A from Maxim and a dual NE5532 from Texas Instruments. These Op-Amps have been seen in a lot of amps already, like Gustard or even the FiiO E12. Unfortunately, I have no experience with the Maxim amplifier, yet.
On paper it's supposed to deliver a constant 2Vrms @ 600ohms, if provided a 3.3V. This would mean the AD18 can drive big headphones at ease, so I'll have to confirm.
For the classical speakers output, a TAS5508C from Texas is used, both for DSP processing and pre-amp. A TAS5342A is then used as a power amplifier, this chip can deliver up to 2x100W at 4ohms and 2x65W at 8ohms, with enough power supply.
The PCB layout is pretty simple once bare, but SMSL is using a bunch of high quality capacitors so this design, if not discret, should last for long. Even at high volume, the only risk would be the failing of the power supply.
Full specs
Type : Full digital decoding amplifier
Input port : USB/AUX/3.5mm Coaxial and Optical 1/Bluetooth/Optical 2
Output Port : Amplifier output port/3.5mm Headphone port/Subwoofer
Output power : 80W x 2 @ 4ohms
SNR(Signal to Noise): 90dB
THD+N: 0.04%
Output consumption: 50W
Standby power:0.8w
Voltage: 24V
EQ adjustment: 7
Headphone output(32ohm): 53mW@THD=0.04%
USB sampling rate: 24bit 96kHz
Optical sampling rate:44.1kHz-192kHz
Coaxial sampling rate:44.1kHz-192kHz
Treble adjustment range: ±8db,Bass adjustment range:±8db
Net Weight: 572g
Gross Weight:1585g
Size: 172*51*85mm
The review continues on Page Two, after the click HERE or by using the jump below.