Today we're taking a look at the Rupert Neve Designs Fidelice Precision DAC, a $4,995 USD DAC, headphone amplifier, and preamplifier from US manufacturer Rupert Neve Designs. 
Note: Rupert Neve Designs kindly shared a review sample of the Fidelice Precision DAC with us for evaluation. Our thanks go out to them for their support, and we'll be sending it back their way post-review. 
Analogue legacy enters the 21st Century 
Readers not familiar with the name 'Rupert Neve' may want to take a quick peek at last week's article where we reviewed their Fidelice Precision Headphone Amplifier – a $1,195 USD all-analogue device. Rupert Neve Designs has rightly earned their reputation thanks to their legendary studio heritage and the famed analogue circuitry developed by Mr Neve himself, but when developing their new audiophile-oriented 'Fidelice' range of products they no doubt realised that digital audio now dominates when it comes to what listeners choose as their musical source of choice.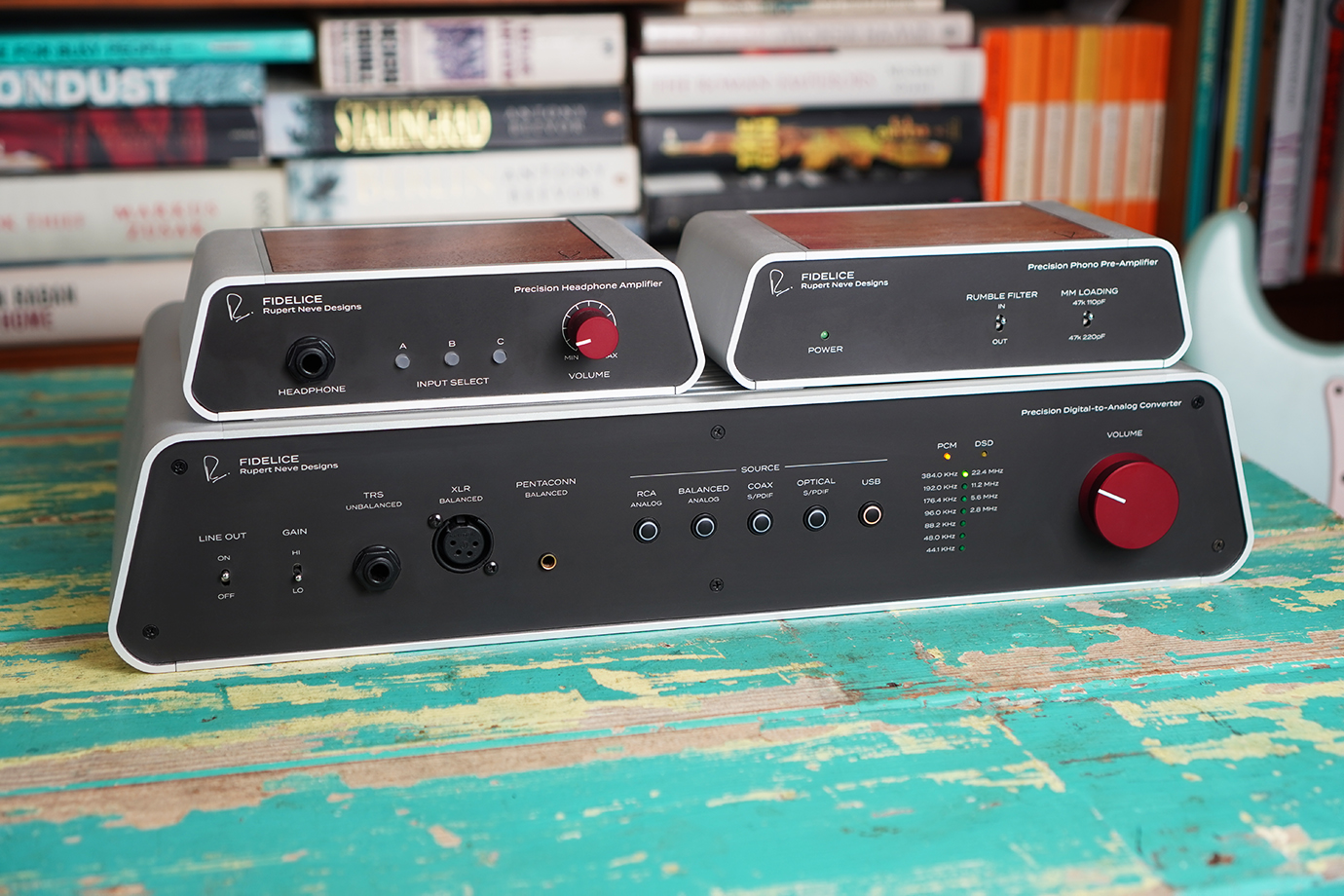 And while at a glance it may look like something designed with vinyl and reel-to-reel tape in mind, the decidedly Mid-Century-looking flagship of the Fidelice line has very much been developed to act as the digital centrepiece of the home audiophile's rig. The Fidelice Precision Digital-to-Analogue Converter, at $4,995 USD is very much aimed at the upper end of the market – for those who not only want uncompromising performance and a host of features but who also to add a dash of 'studio greatness' when it comes to listening at home. 
The Precision DAC has been pitched as a 'studio-quality control centre for your home', and Rupert Neve Designs has certainly packed this retro-looking monolith of a device with plenty of modern features to complement the all Class-A analogue circuitry that lies underneath the finned aluminium and wooden hood. 
The Precision DAC has been called a 'Digital-to-Analog Converter' first and foremost for a reason, and Rupert Neve Designs has chosen the respected AKM 4497 as the chipset to handle decoding duties for 1's and 0's. The Precision DAC will decode PCM files up to 32-bit 384kHz as well as up to DSD512 (22.4mHz), and will accept digital inputs via USB, coaxial and optical sources, meaning it'll happily pair with your Mac/PC, a digital source like a CD-player or streamer and your TV at the same time. Many top-of-the-line digital audiophile devices these days provide options like Bluetooth, streaming connectivity, companion apps, and MQA compatibility, but there's nothing of the sort to be found with the Precision DAC – it's quite the 'purist' piece of gear, favouring fidelity over convenience. Speaking of convenience, you won't find a remote in the box with the Precision DAC. The Precision DAC takes advantage of the AKM DAC's capabilities by providing a number of digital filter options, which are selectable via a series of small toggles on the back which need to be configured thusly:
It wouldn't be a Rupert Neve device if there wasn't a strong focus on analogue performance, and despite being called the 'Precision Digital-to-Analog Converter', this device is also able to play in the all-analogue domain. The Precision DAC features XLR and RCA inputs, as well as RCA and XLR pre-outs, which can be switched between 'fixed' when using the Precision DAC as a straight-up digital source, or 'variable' when using it as a digital/analogue preamplifier. Users can choose between +4dB or -10dB input level on the rear input levels to select the level of incoming gain based on their source of choice, something that is usually seen on studio gear – but that shouldn't be a surprise on a Rupert Neve device. 
And lastly, but more importantly for Headfonia readers, the Precision DAC features a 'reference headphone amp', taking the circuit design and performance of their Precision Headphone Amplifier up a gear in both power and features. The Precision DAC caters for balanced connections in the form of 4-pin XLR as well as 4.4mm Pentaconn connections, as well as a standard 6.3mm single-ended headphone jack. The Precision DAC can output up to a whole Watt of power (at 16 ohms) according to its comprehensive spec sheet (I'm not going to list them here, you'd better check them out on the website), which is available via all three connections. The addition of XLR inputs is a welcome addition for full-sized headphone listeners who are firmly looking to enjoy some stationary, dedicated listening time with a balanced connection. The Pentaconn connection is actually quite surprising to see on such a retro-looking device, but with more and more manufacturers adopting this standard the Precision DAC is nicely future-proofed in this regard. A two-level gain switch has also been included on the Precision DAC (high/low), with Rupert Neve claiming that it can drive 'the most difficult to power headphones'.
Design & form-factor
The Precision DAC looks like their Precision Headphone Amplifier on steroids, to put it simply. The Fidelice line's design language is on full display here, with a unique trapezoidal shape that deserves to be displayed on a tabletop or console rather than hidden away in an equipment rack. It's actually a rather large device at 45cm (W) x 9cm (H) x 24cm (D), and weighs in around the 5kg mark. You are certainly getting quite a lot of device for just under five grand, and it's quite the 'statement piece'. As for the aesthetics, I suspect it's going to be a 'love it' or 'hate it' question when it comes to taste. As someone who thoroughly enjoyed a bicycle architectural tour around Palm Springs, California a few years ago, and whose favourite TV show of all time is 'Mad Men', you can probably guess which camp I sit in – I love it.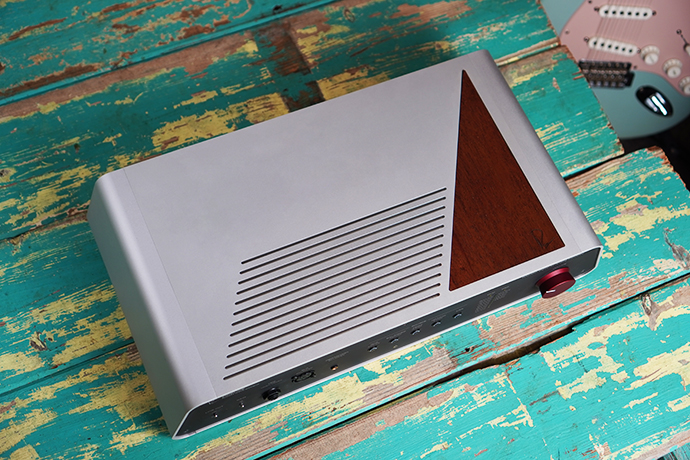 The Precision DAC is at once luxurious-looking thanks to its wooden inlay on the rood (bearing Rupert Neve's initials), but also somewhat spartan and minimalist – it feels rather 'studio' and rugged to the touch, with its solid aluminium casing and no-nonsense manual user interface. The fascias on the front and rear panels are made from the same 'chalkboard'-like matte black plastic, which does tend to pick up dust and fingerprints which are going to be unavoidable when interacting with a manual device like the Precision DAC. 
On the front of the device, we have line-out on/off and headphone high/low gain toggle switches on the left-hand side, next to the three headphone outputs. The listener can manually select between five available input options (RCA, XLR, coax, optical, USB) via orange backlit buttons, and true to its 'DAC' credentials, the Precision DAC tells the listener what PCM/or DSD signal is being processed via a series of corresponding green LEDs (I think this is pretty cool, actually). Lastly, we have a very nice matte red aluminium volume knob connected to an analogue potentiometer. It's both accurate to use, and great-feeling – which is lucky, as you're going to be using it a lot, as there's no remote here.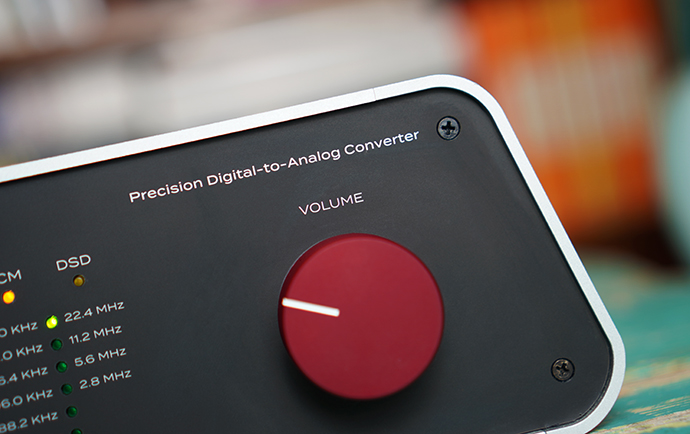 The rear of the Precision DAC is quite busy, as you'd expect such a featured digital and analogue device to be. We have XLR and RCA inputs and outputs, XLR input level and DAC fixed/variable toggle switched, optical/coaxial/USB digital inputs, DAC filter switches and a USB-micro input for device firmware updates. Unlike its smaller brother, the Precision DAC has an onboard power supply and accepts a standard IEC three-pin power cord.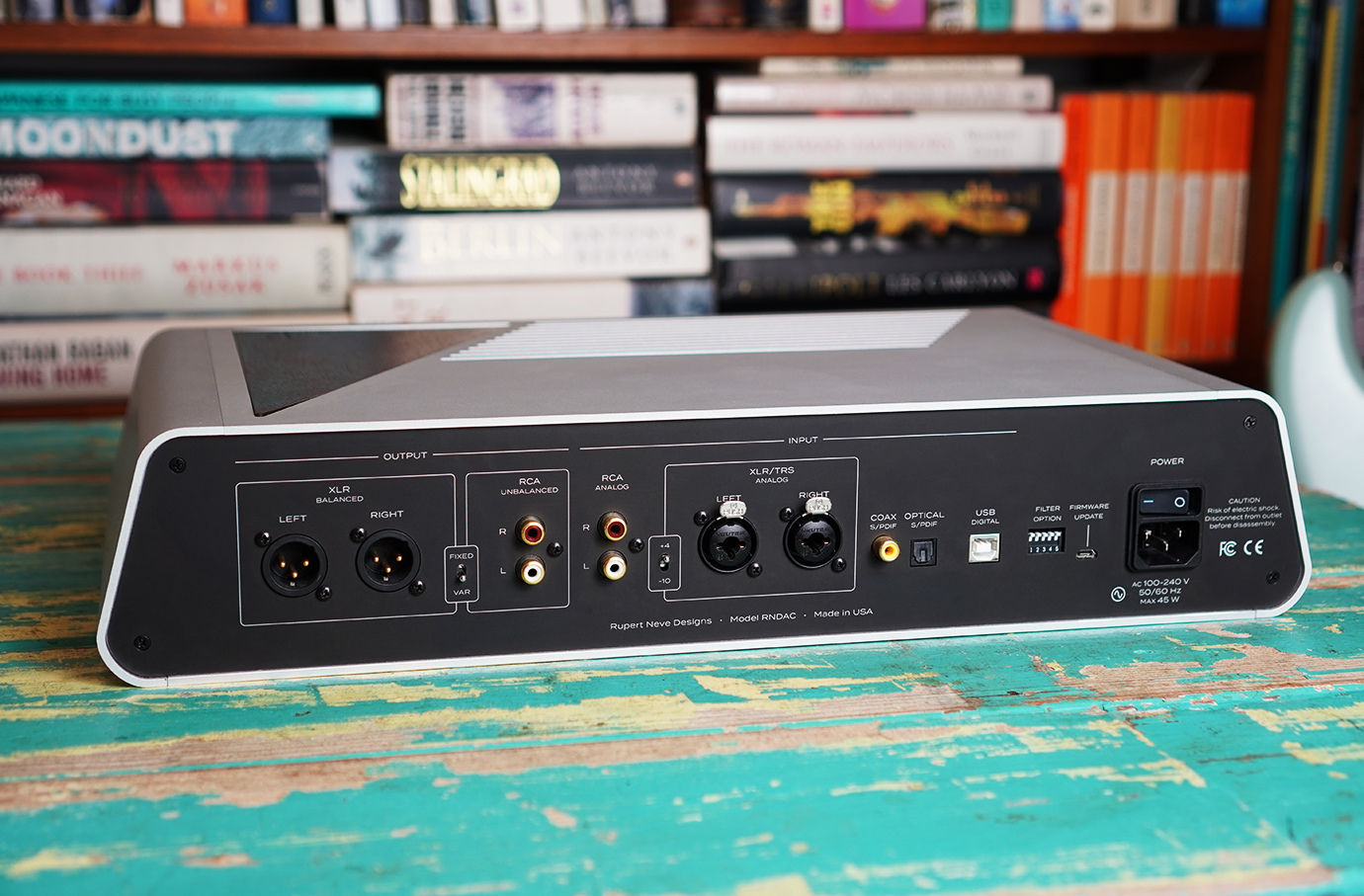 User experience
Despite the array of inputs, outputs and buttons, the Precision DAC is a fairly simple device to use. The device turns on via the rear-mounted (slightly annoying) power switch and treats you to a cascading light effect via the input + sample rate LED lights, which is kinda cute. I do most of my listening via a Macbook playing via Roon, which recognised the 'RNDAC' straight away and started streaming FLAC files without a hitch. Seeing as I was spending a bit of time with the Precision DAC, I also had it hooked up to my 4K Sony Bravia smart TV via optical, plus my NAD CD player via coaxial – all of. which played nicely with the Precision DAC, and were simply switched with a press of a button on the front.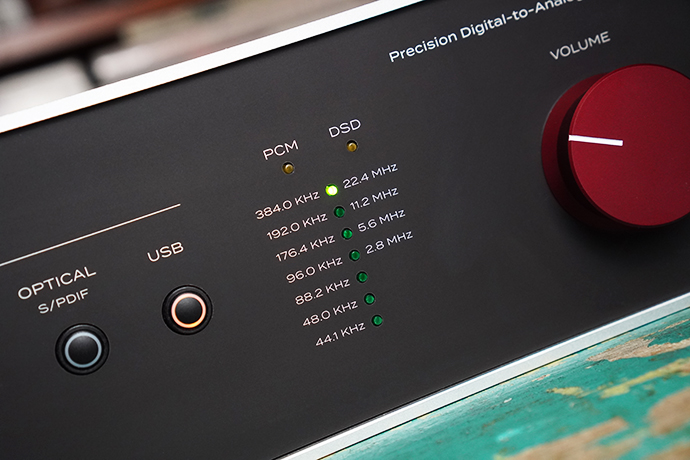 If you have headphones plugged in or a power amp/powered monitors downstream from the Precision DAC, you will experience a rather loud 'pop' when both powering the device on and off. It's a bit of a clunky experience, particularly on a device with this price tag, and to get around it you need to remember to unplug your headphones before switching them on/off. This was the same case with the Precision Headphone Amplifier and while I'm sure there's a solid engineering reason for not having a muting relay, it is a little annoying. 
Despite being a highly specced DAC, the Precision DAC is actually an excellent analogue device as well. Having both XLR and RCA inputs, its cable of bypassing the internal AK 4497 chip meaning you can add your upstream DAC or analogue source of choice, such as a turntable. If you're a card-carrying vinyl enthusiast (guilty), then naturally you're going to need to add a phono stage upstream of the Precision DAC, and Rupert Neve Designs has this covered in the form of the matching Fidelice Precision Phono Pre-Amplifier, which can be yours for an additional $1,195 USD, which Rupert Neve Designs was kind enough to send along to me to complete the Fidelice review bundle. You're going to need to be really into vinyl (or really into matching aesthetics) to drop that kinda coin on a phono preamp, but I'm glad I got to spend some time with the Precision Phono Pre-amplifier – it's absolutely terrific. It shares the same casing as the Precision Headphone amplifier and looks very cool indeed when parked on top, or next to the big-daddy Precision DAC. The Fidelice Phono preamp is a pretty basic unit (as most phono preamps are), with facilities for both moving magnet and moving coil turntables via RCA inputs on the rear, with RCA outputs that connect into the RCA inputs on the Precision DAC for an all-analogue, all Rupert Neve affair. The Phono preamp is again, an all Class-A design and has a passive RIAA filter embedded into the design. The user is able to select an 18dB octave/rumble filter via a front-mounted toggle which removes low-level artifacts below 11.4Hz, and listeners can also select between 47k/100pF and 47k/220pF capacitance to match with a wide range of MM cartridges. The Fidelice Phono preamp simply blew away the phono stage on my vintage NAD 3240pe receiver (which I had always felt was pretty great) when playing my Rega turntable with a Shure M91ED cartridge, and it made the phono stage in the Schiit Jotunheim 2 feel positively pedestrian by comparison. The Fidelice simply brought a level of dynamics, control and overall enjoyment to vinyl listening that I didn't know I'd been missing out on.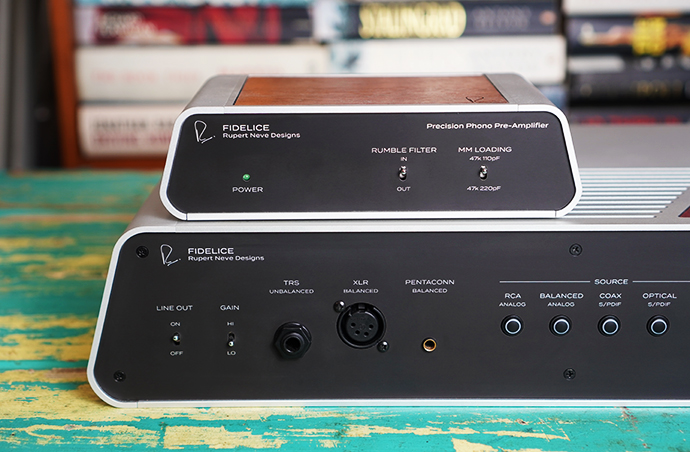 I can confirm wholeheartedly that the Precision DAC is also an excellent preamplifier when paired with a power amplifier and passive speakers, as well as with powered monitors. That famed Rupert Neve Class-A design makes for a truly organic and lifelike sound, with a terrific sense of image definition and engagement. 
While I quickly found that the Precision DAC can happily live at the heart of a home hifi/headphone listening setup, I also quickly found that it was lacking one key feature that truly stops it from becoming the principal source device in a home hifi set-up – a remote! This won't be too much of an issue for desktop-bound headphone listeners or old-school listeners who like to get 'hands-on' with their equipment, but if I'm shelling out five grand on DAC/preamp/headphone amplifier, you can sure bet that I'd want to use it as much as possible; and to have as convenient an experience as possible while doing so. 
The Precision DAC is a trifle more flexible than its smaller sibling when it comes to pairing with a wider range of headphones thanks to its three different connection options, around three times the available power, and a lower noise floor. While more sensitive IEMs did reveal a subtle noise floor, I was able to use the Drop + JVC HA-FWX1 without any trouble, and I found the Precision DAC to have a completely black background with more sensitive headphones like the Beyerdynamic T70p and Grado GH1. 
While I may have griped about the lack of a remote, fortunately, that striking red volume knob is a delight to use. It's precise, great-feeling, and has a properly visible white level indicator. I couldn't hear any perceptible channel imbalance whatsoever, even when listening at low levels with sensitive cans. 
Click over to page 2 to continue the review.