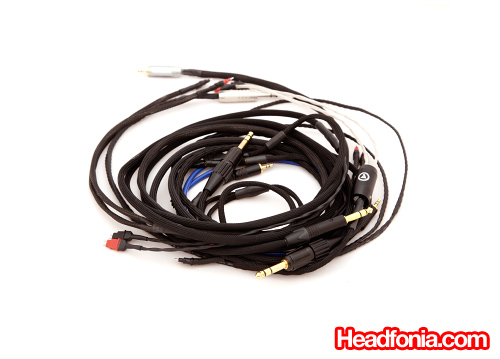 These are the cables that we were able to gather for the review:
– Kimber AGSS Silver/Jena DIY cable.
The Kimber AGSS and Jena Cable is probably the finest and the fanciest cable available for DIY work. The Kimber AGSS is a 19ga multistrand silver from Kimber that is intended for chassis wiring, where the Jena is a 18ga is a copper wire with all the technology mumbo-jumbo as promoted on Jena's website. The Kimber costs $29 per feet from Michael Percy DIY supplier, while the Jena costs $5 per feet. The silver AGSS is used for signal, and the copper Jena for ground. The cable is 5ft long and is terminated with an XLO 1/8″ jack. Cardas Eutetic solder was used on this cable.

– Moon Audio Blue Dragon DIY
The Moon Audio Blue Dragon is purchased as bare wire from Moon Audio for $8.50/foot. It is 4 feet long and it is terminated with Switchcraft 1/8″ jack. WBT Silver solder was used on this cable. It can be purchased from Moon Audio directly.

– APureSound
The APS V3 cable was purchased and assembled by Alex @ APuresound. It is 8 feet long and is terminated with a 1/4″ Neutrix jack. It can be purchased from APureSound directly.
– SAA Equinox
The Equinox cable started life as a longer cable, but was shortened and reterminated by its owner. It is 4 feet long and is terminated with a Furutech FP-704 1/4″ jack. Silver WBT was used for soldering. The Equinox Line is no longer offered by Stefan Audio Arts. I wrote to SAA about this, and he explained that the Equinox is now renamed to the E-Series cable. On top of the E-Series/Equinox line is the Endorphin and the Voice cable.
– Headphile Cable
Standard BlackSilver V2 Headphile cable for Sennheiser, 3 feet long terminated to Switchcraft 1/8″ jack.
– Double Helix Cable
This is the Cryo'd DHC Nucleotide custom copper wire, 5 feet long and terminated to a Furutech FP-704. You can purchase these directly from Double Helix.
– CAT6 DIY
The underdog of this battle is an AMP3 CAT6 Networking cable. The theory behind this is that CAT6 cable must be good enough to be able to sustain 1000MB/s data transfer over long distances. We'll see how the cheap ~10cts/foot cable performs against the big boys. The CAT6 cable takes the 8 cores of a standard CAT6 and splits them for both L&R channel to a 4 cores per channel configuration. The cable is reterminated with a 1/4″ Canare jack. Silver WBT was used for soldering.

– Sennheiser HD650 stock cable
$12 standard cable that comes with the HD650.
The comparison was done on a HD650 and HD25-1, amped with 3-channel Beta22, and the source is a CEC CD5300 CDP. The Hd25-1 is a professional monitoring headphone, and is actually more revealing than the HD650. For validity, we had a 3 person team listening to the cables on the same headphone set-up. The Beta22 had a parallel output of both 1/4″ and 1/8″ so either size can be accommodated without using adapters.