Today we review the Sivga Luan dynamic open-back headphone, which goes for $359 USD.
Disclaimer: The Sivga Luan was sent to me by Sivga Audio. Many thanks for the opportunity. This review reflects my honest opinion as always.
About Sivga Audio
Sivga Audio is a brand from Dongguan City in China, and it was established in 2016. Sivga is an all-inclusive enterprise that combines research and development, production, and customer service. Their main focus is on creating innovative and high-quality headphones.
Their team comprises professionals with prior experience in the audio industry based in China. They follow traditional craftsmanship and use only the best natural solid wood when making the housing for their products.
There are many reviews of Sivga Audio on popular sites like Head-Fi, Reddit, and Amazon. Their Phoenix model was the first product that gained popularity, and then other models came along.
I reviewed their SV023 headphone last year. You can check that out just above:

Luan
The Luan is a premium dynamic driver headphone. It has nickel coating technology in its diaphragm, which makes it lightweight, structurally rigid, and elastic. Its dome is made of macromolecular organic carbon fibre composite, which effectively reduces vibration and produces clear, non-harsh treble. The coil is made of copper-clad aluminium material, which results in a more natural and delicate sound transmission, all according to Sivga.
Here are the specifications:
Transducer Size: 50mm
Impedance: 38 Ohm
Sensitivity: 100dB
Weight: 354g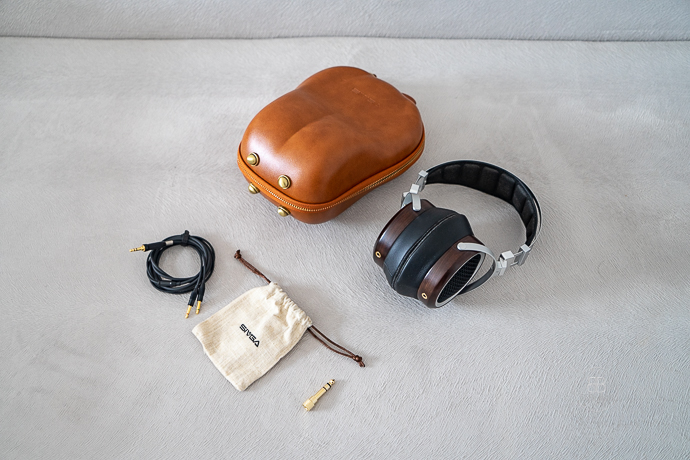 Package, Design, Build
The headphone comes in a sturdy cardboard box that includes a high-quality brown carrying bag. Inside, you'll find a carrying pouch, a cable adapter (4.4 to 3.5), and the stock cable. There are no other additional items. The carrying bag is made of genuine leather, and it's of excellent quality. Overall, it's pretty impressive.
In terms of appearance, the Luan is attractive, but not as striking as the Sendy Peacock (a sub-brand of Sivga). The genuine wood earcups, grill, and headband give it a luxurious look, which is very cool. It has an old-school vibe to it, but it all comes down to personal preference. Sivga/Sendy Audio has a unique design language, which is evident in the Luan as well.
The overall design is similar to the Apollo and the SV023, including the earcups, headband and other materials.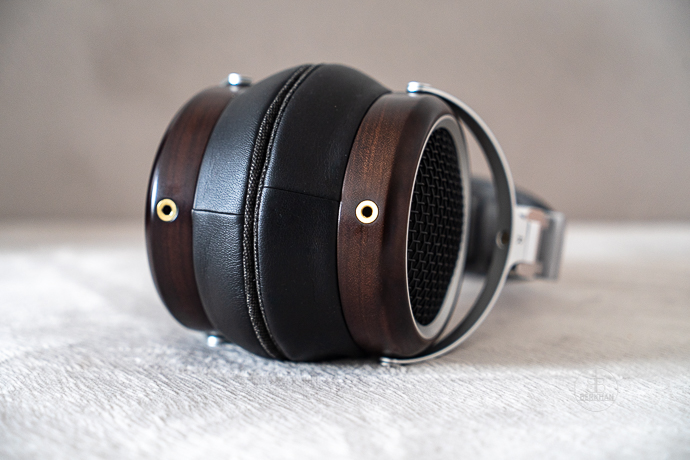 The build quality is exceptional. It appears that no corners were cut in its construction, as the headphone is impressively well-built. I observed no plastic components; instead, the headphone features either wood or aluminium material. The yokes and headband are both metal, while the ear cups are crafted from high-quality solid wood. Overall, the headphone boasts excellent quality.
Comfort
The weight is 354 grams, which is relatively low within the headphone market. The weight distribution is well-balanced due to the excellent headband design. Unlike other headphones, the size adjustment mechanism is unique. Instead of sliding the earcups, you slide the headband. Additionally, you can adjust the headband while wearing the headphones as it automatically adjusts when you put them on, making it user-friendly.
The earpads are made from goatskin and memory foam, providing a comfortable and ideal fit for your ears. The headphone's weight distribution and design contribute to a snug and comfortable fit on your head. Additionally, the clamping force is light, and the headband is well-made, ensuring an enjoyable listening experience without any discomfort.
Cable
The cable that comes with the Luan is a standard 3.5mm cable. The lack of any balanced cable in the box is something to criticize since some people prefer using the open-back headphones directly from DAPs or DAC/Amps, using the 4.4mm output for stronger power.
The headphone-ends of the cable are 3.5mm as well, so aftermarket cables are an option for sure. Of course, there's also a 6.3mm adapter for amplifiers.