In this review, we're taking a look at the SMSL D-6 Desktop DAC with Bluetooth. It's selling for $169 USD.
Disclaimer: ShenzhenAudio sent us the SMSL D-6 for this review, free of charge. As always, I am here to convey my honest experience with the product.
S.M.S.L
Honestly, if you don't know SMSL, you have to get acquainted as soon as possible because you're missing A LOT. They're a Chinese company that focuses on a wide range of devices, the most notable ones being DACs & AMPs. They are famous for their value-for-money-oriented products and that's the main reason I found them online about 5 years ago.
Their products are always well-built and they are quite picky when it comes to components. I have never used anything from them that was not a CNC machine milled. That is some commitment right there! SMSL (ShuangMuSanlin Electronics Co. LTD) was founded in 2009 in China's famous techno-city, Shenzhen. We have reviewed a lot of gear from them in the near past and none of them were even mediocre. I can honestly say that they are on a winning streak and I hope that they continue designing brilliant devices. Today we'll be reviewing one of their latest budget DACs, the D-6.
SMSL D-6 DAC
The D-6 is a very rich DAC in terms of the features it offers for its price. Like most other SMSL products, it features an aluminum chassis, a white-led display, and a physical volume wheel. The D-6 features AKM's AK4493S DACs in dual configuration. In addition, it has a second-generation XMOS chip and SMSL's propriety low-noise PSU under the hood. It also comes with BAL outputs and an LDAC-enabled Bluetooth module, which are rare features inside this particular price bracket. SMSL D-6's dedicated web page can be found here.It costs $169 USD from Shenzhen Audio.
Here are the highlights of the SMSL D-6 Desktop DAC.
AKM 4493S x2 (Dual Configuration)
2nd Generation XMOS USB Controller
Low Noise Switching Power Supply + CK-03 Clock Module
Bluetooth 5.1 + LDAC 24bit/96kHz, APTX/HD, SBC, AAC
Remote Control Support (Improved Remote!)
USB-C / Optical / Coax / RCA SE & 6.35MM TRS BAL
32bit-768kHz PCM & DSD512 Support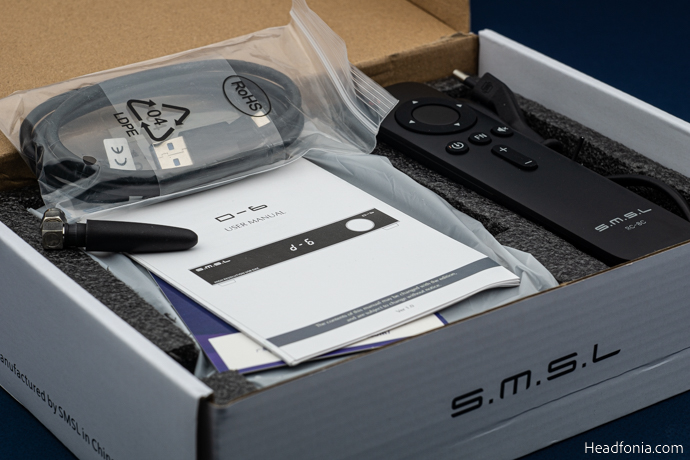 Packaging & Accessories
The D-6 comes in the simple packaging we are used to from budget SMSL products. Plain and straightforward, but it has everything but the interconnect cables to get you started using the DAC right away. The box includes a quality USB-A to USB-C data cable, a C8 power cable, a Bluetooth antenna extension, and lastly SMSL's new, improved remote controller. The new remote features a better range and a revised design compared to SMSL's more angular previous-gen remotes.
Design & Build Quality
I probably mentioned SMSL's emotional connection with aluminum and CNC machinery. SMSL has been making products with aluminum chassis for years with incredible consistency and they are very good at it. The D-6 is no exception. The DAC has an angular, CNC-machined chassis and it is very compact. Let's underline that it is only 150mm wide and you may encounter phones larger than this DAC. Its compact structure does not take up space on your desk. In fact, I think it may be the most compact option that offers LDAC support and balanced outputs among the DACs on the market right now.
The DAC is quite simple in layout. There is a display and a volume wheel on the front panel. The screen has a white led font and the backlighting is quite good. The product's display provides a variety of information, both during navigation and playback. During playback, the D-6 displays the sample rate and volume level of the track currently playing. As for the I/O, all input and output ports are located next to each other on the rear panel. It is very nice to see a superabundance of options here, especially in this price bracket.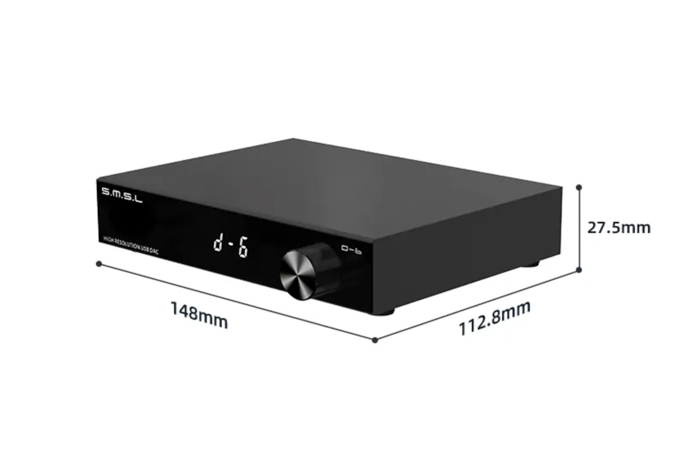 The D-6 has an SMPS power module inside the chassis so you don't have to worry about bulky adapters. The DAC is powered by an IEC8 cable, which is lightweight and flexible. The DAC itself is also lightweight and you can even use a good double-sided tape to stick it to the side of your speakers and control it wirelessly via LDAC & the remote.
Although I am not a big fan, balanced TRS sockets are slowly being adopted by the industry. Thanks to its much more compact structure compared to XLR, it allows manufacturers to save both cost and space. Especially far-eastern manufacturers are trying to avoid compatibility issues with the help of TRS to XLR interconnect cables, but we certainly need to wait for a little more for them to be standardized by the industry.
Although the DAC can be controlled with the volume wheel on the front panel, it is much easier to use the remote control to access the entire menu and navigate more easily. In the next section, I'll talk about the modes and the settings offered by the D-6.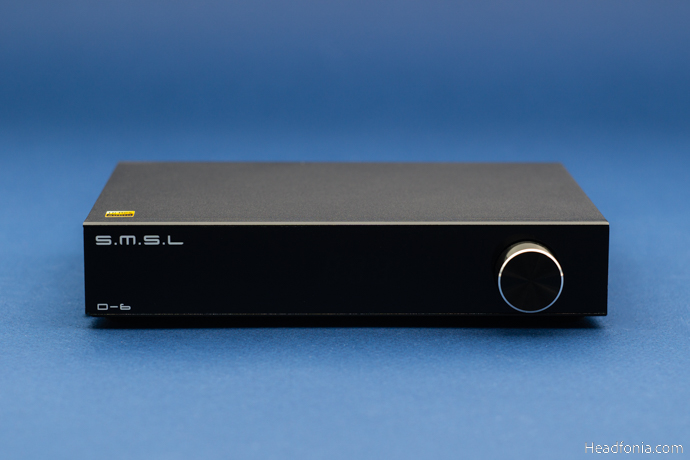 Bluetooth Capability
The D-6 features Qualcomm's premium-tier Bluetooth chipset, the QCC5125. It is an LDAC-compatible chip that offers BL5.1 connectivity along with several other popular codecs such as APTX-HD, SBC, and AAC. I especially love it when budget DACs feature full 24-96 LDAC support! The effective range of D-6 is quite good around 6 meters and switching to AptX boosts the range to 9 meters. It honestly surprised me with its good wireless implementation. We'll talk about the LDAC sound performance in the next chapter.
The review continues on Page Two, after the click HERE or by using the jump below.
Page 1: SMSL, SMSL D-6, Packaging & Accessories, Design & Build Quality, Bluetooth Capability
Page 2: Controls & UI, DAC Performance, Comparison, Last Words