In this article, we review the SMSL DO300EX DAC, PRE & AMP all-in-one device.
Disclaimer: Aoshida Audio sent us the SMSL DO300EX for this review, free of charge. We thank them for this opportunity. As always, I am here to convey my honest experience with the product.
S.M.S.L
Honestly, if you don't know SMSL, you have to get acquainted as soon as possible because you're missing A LOT. They're a Chinese company that focuses on a wide range of devices, the most notable ones being DACs & AMPs. They are famous for their value-for-money-oriented products, and that's the main reason I found them online about five years ago.
Their products are always well-built, and they are quite picky when it comes to components. I have never used anything from them that was not a CNC machine milled. That is some commitment right there! SMSL (ShuangMuSanlin Electronics Co. LTD) was founded in 2009 in China's famous techno-city, Shenzhen. We have reviewed a lot of gear from them in the near past and none of them were even mediocre. I can honestly say that they are on a winning streak, and I hope that they continue designing brilliant devices. Today we'll be reviewing one of their latest AIO devices, the DO300EX.
SMSL DO300EX – Desktop DAC, PRE & Headphone Amplifier with Bluetooth
SMSL DO300EX's dedicated web page can be found here. It costs $469 USD from Aoshida Audio.
The DO300EX is a high-fidelity DAC & AMP combo that can decode PCM up to 32bit-768kHz and DSD up to DSD512, natively thanks to latest generation XMOS XU316 USB Controller. It is powered by Asahi Kasei AKM's flagship DAC chip, the AK4499EX. Furthermore, the DO300EX fully supports the latest arsenal of wireless codecs, including Sony's 990 kbps top-tier codec, the LDAC. The unit features 5 inputs and 4 outputs, which is plenty. The DO300EX features remarkably high measurements on paper and offers a remote for easy navigation. Let's see how it performs together!
Technical highlights of the SMSL DO300EX Desktop DAC/AMP.
AKM4499EX Analog DAC + AK4191 Digital Data Converter
x5 OPA1612A – TPA6120A2 + SMPS PSU
XMOS XU316 3nd Gen USB Controller (DSD512, PCM 768kHz)
Qualcomm QCC5125 – Bluetooth 5.1
LDAC / AAC / SBC / APTX / APTX HD Codec Support
Remote Control Support, IPS Screen, Rich I/O
2W @16Ω | 1W @32Ω
222x39x207mm (WxHxD) – 1540g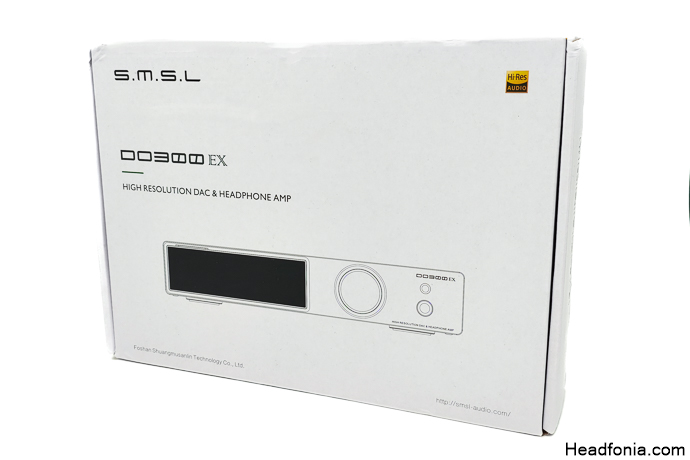 Packaging and Accessories
The DO300EX arrives in a white cardboard box with the device artwork and model name on the top cover. Upon unboxing the SMSL DO300EX, you are greeted by the device itself, securely nestled within a protective foam insert, ensuring it arrives in pristine condition. Accompanying the unit, you'll find a modest range of accessories.
The accessory range includes a remote control for convenient operation from a distance, a Bluetooth antenna to improve wireless connectivity range, a good-quality 1m USB-A to USB-C cable for immediate setup, and a thick AC power cable. You also get a warranty card and a manual in a nicely designed cardboard sleeve.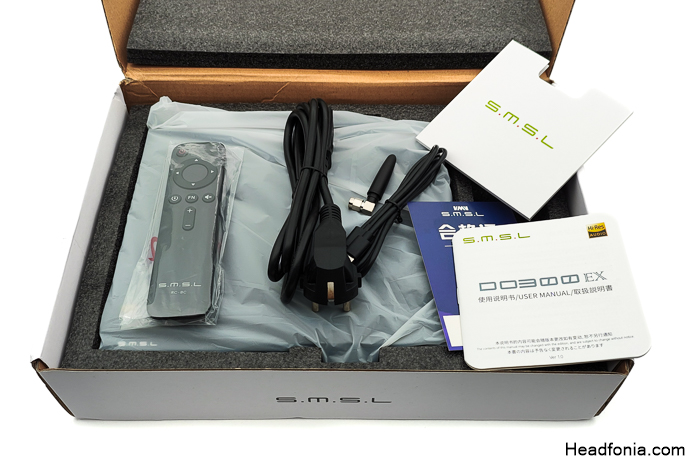 Design & Build Quality
The DO300EX balances a minimalist aesthetic with a robust build. Its chassis, finished in anodized matte black, is made of aluminum. The front panel is CNC-machined with precision. The volume knob, with its metallic finish, stands out as a centerpiece on the front panel along with the IPS screen. The volume pot's resistance is well-calibrated, offering accurate control.
The unit has a sturdy feel to it, but SMSL has opted for a thinner aluminum chassis on this unit in order to reduce the overall weight. The back of the DO300EX is neatly laid out, with each input and output neatly arranged side by side. Here's the complete list of I/O options from left to right as follows: balanced XLR outputs, unbalanced RCA outputs, balanced XLR inputs, coaxial and optical inputs, Bluetooth antenna socket, I2S connector, USB-C input, and IEC13 power socket. On the front panel, we see a 4.4mm HP output and a 6.3mm HP output for connecting your full-size cans & IEMs.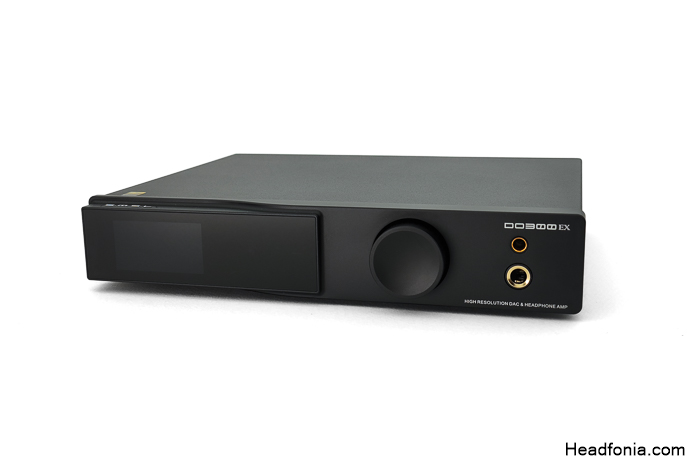 Unsurprisingly, SMSL has opted for a USB-C input rather than USB-A on this DAC. It is a trend we are seeing more and more of. The latest XMOS XU316 USB controller handles the USB input and has excellent decoding capabilities.
The IPS display is crisp and offers clear visibility of settings even from off-angles. The device menu font is easy on the eyes and features six brightness settings. Even the subtle, linelike status LED on the front panel refers to the DO300EX's design philosophy: functional simplicity.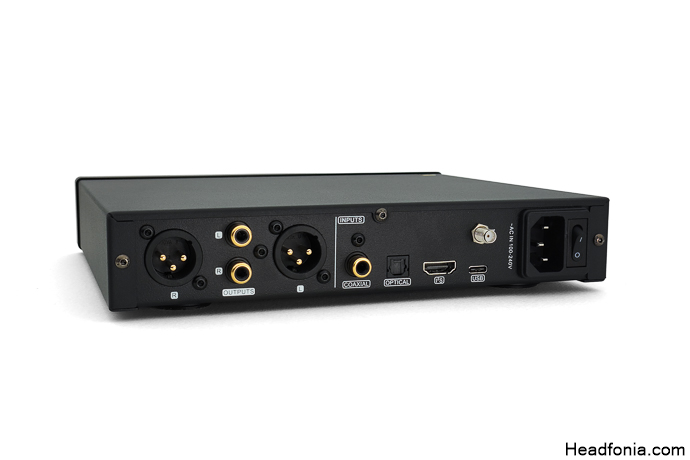 Controls & Features
SMSL's DO300EX is less dependent on the remote controller than previous SMSL units, thanks to the new intuitive control scheme that allows users to navigate a comprehensive menu system effortlessly. At the center of the front panel is the multi-functional knob, which, when rotated, adjusts the volume and, when pressed, grants access to the menu. Within the menu, users can explore settings such as input selection, PCM filter options, including sharp, slow, and super slow roll-offs, and DSD filter widths. Additional sound customization is provided through sound color profiles, offering subtle variations in tonality. The remote control mirrors these functions, offering the flexibility to switch between inputs, adjust volume, and toggle through the menu from the comfort of your listening position, especially if you use the device as a DAC or PREAMP with active monitors.
The SMSL DO300EX offers versatile functionality with its PRE and DAC modes, accessible via the front panel or remote control. In PRE mode, the unit acts as a preamplifier, allowing you to adjust the output volume when connected to a power amplifier or active speakers. For users who prefer a fixed output level, ideal when using an external amplifier with its own volume control, DAC mode can be engaged, bypassing internal volume adjustments for a cleaner signal.
Regarding output power, the SMSL DO300EX delivers above-average performance compared to its rivals. It is perfectly suitable for a wide range of headphones, including high-performance Planars. It offers an output of 2 watts into a 16-ohm load. I should also mention that there's no hiss from sensitive IEMs, leaving you alone with your music and the black background. The channel balance is also perfect throughout the audible range. In addition, the output impedance of the HP outputs is less than 0.1 Ω each, causing no issue to multi-BA-equipped IEMs.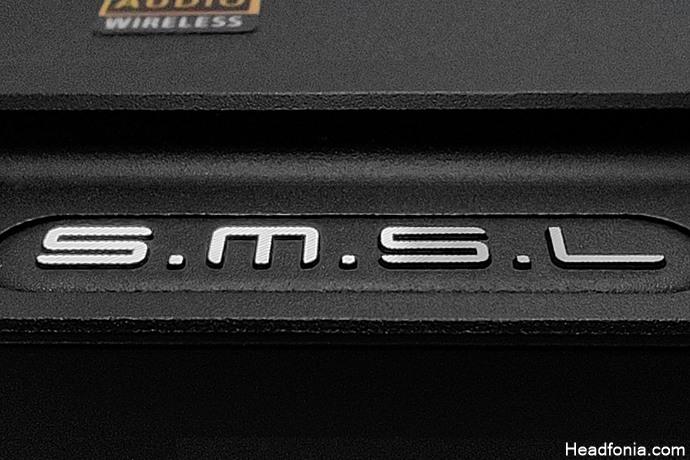 MQA & Bluetooth
The DO300 features the 3nd gen, latest, most up-to-date XMOS XU316 USB controller, fully supporting MQA. I'm not a big fan of it, but if you don't know what that is, here's the explanation. In a nutshell, products with a full MQA decoder, like the DO300EX, unfold the file to deliver the highest available rate for that specific recording for the user. You may want to try the popular streaming service Tidal, which supports MQA.
Wireless-wise, it does have access to the latest arsenal, such as the LDAC and AptX HD via Bluetooth 5.1, thanks to the premium-tier chipset Qualcomm QCC5125. I paired the DO300EX with my Android 13 phone. The process was quite straightforward and hassle-free. My phone detected the LDAC codec immediately and was ready to stream.
The article continues with the part on sound on the next page. Click here or use the buttons below.
Page 1: SMSL, D0300EX, Packaging & Accessories, Design & Build Quality, Features & Controls
Page 2: Sound & Performance, Technical Capability, Comparisons, Last Words