The SRD-4 that comes with it is fairly compact in size. At the moment I'm driving the SRD-4 out of a big Adcom Power Amp, simply because there are no other speaker amplifiers available at the moment. I know, talk about inefficiency. Still, the SRD-4 is fairly compact, and it sits very nicely next to the computer monitors. The SR-30 earspeaker unit actually looks fairly civilized, and unlike with the Lambda series, people in your office won't accuse you of being an headphone nerd. Actually the circular frame and the yellow reflection behind the grill sort of looks like a baby Omega 2 *grin*. Gosh, I think I'm having a new toy syndrome.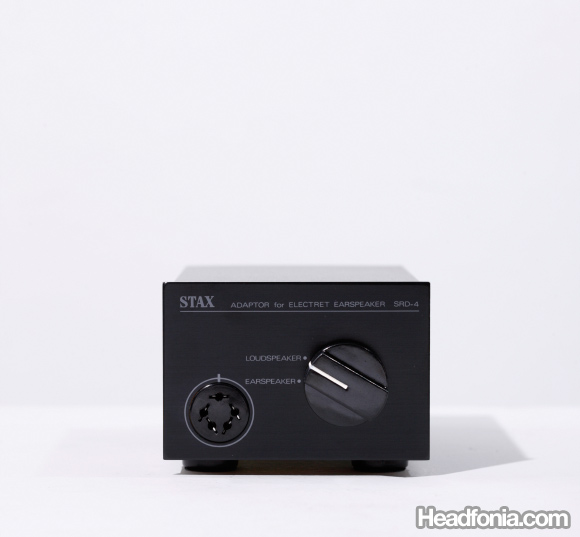 It has a modest sound that doesn't try too hard, which is hard to find for this kind of money. The sound signature is a bit warm with a good frequency balance. The speed is quite fast, faster than most dynamics, and that's good enough for me for most casual listening. There SR-30 also have plenty of low end and mid body. It's quite a great little performer.
At the moment I'm just enjoying the music out of the system.. I haven't set up a critical listening set up, but here's how I have things hooked up at the moment: (quite a crazy chain actually)
MacPro > Dr. DAC Prime via USB (for 192kHz upsampling and daisy chaining to another amp) > Grace m902 vias Coaxial (the Grace is used mainly for attenuating the signal to the Power Amp) > Adcom GFA-5802 > SRD-4 > SR-30 Earspeakers.
I think I'm very lucky to come across this NOS SR-34. It was from Kingsley in Singapore, and I had it for S$300 (roughly $214). The SR-34 system can be had cheaper, but counting in shipping from overseas, custom tax, and considering that this is a NOS package, I was happy to pay the price.