According to what's being said on the world wide web, the T70 is Beyerdynamic's replacement of the closed DT770 with Tesla technology ( fully metal sound transducers, …) and even a baby T1. Beyerdynamic on the other hand made it very clear it is not their goal to replace the DT770 in any way, this just is the next logic step for them having the Tesla Technology in house.
Two different versions of this headphone are available, the 32ohm T70 P(ortable) which has a shorter cable and the 250ohm version for use at home. The build quality of the closed T70 (each with a serial number inside the headband) is just what you're used to from Beyer and more. It has a three-layer paint job, a skin-friendly headband and ear pads made of micro velour. The pads are different from the velour pads of the DT-series but they actually give a very nice fit and seal, the gel that's inside really does its job. The drivers are closer to your ear and the driver cloth slightly touches your ears but not in a discomforting way at all.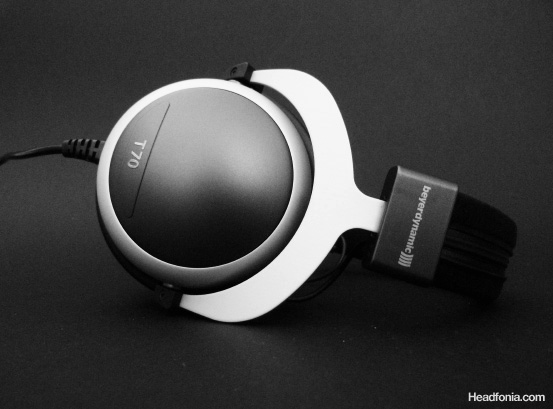 SOUND IMPRESSIONS
I had to get used to the specific sound of the T70 in the beginning but this is one of those headphones that grows on you the more you listen to it. Compared to an open headphone the soundstage isn't huge but for a closed headphone it's reasonably good. In exchange the well isolating T70 gives you a lovely balance and a very detailed sound while not being over analytical. The Beyer's home sound signature is present of course but it is in a non-fatiguing way. Very well layered and crystal-clear sounding is one way to describe it. Instrumental separation is great and it is an overall quality sound.
I can't deny, as said above, it is a brighter sounding headphone but I don't mean that in a bad way. I find the mids and the bass to be presented in a whole better way as say with a DT990. Bass quality with the T70 is excellent, it's very detailed and deep. Don't mistake this t70 for a basshead headphone, therefore it's missing some punch or "oompf". You should look at it as a headphone with bass quality and not quantity. The mids in my opinion could have been a little bit more present, but in all honestly they are very nice. The highs are still the T70's strongest point. Very clear, precise and detailed without ever sounding harsh. Eventually it all comes down to personal preference but overall it just sounds like "quality" to me.
My girlfriend likes me to use the T70 at all times because it isolates that well yet I prefer using it especially while listening to jazz, classical and vocally strong music like Melody Gardot, Nigel Kennedy and Lisa Ekdahl. I feel they are best for those musical styles but I also enjoyed the T70's very much while listening to Elvis Presley, Lykke Li, Bob Marley and popular music like LMFAO's "Sexy and I know it", Gotye's "Somebody that I used to know" and Rihanna's "Man Down". These aren't my favorite headphones for rock music though, the guitars just don't sound right to me. Big exception to that is the latest Primus album "Green Naugahyde"which absolutely rocks with the Beyer T70.
AMPLIFIER PAIRINGS
As I like a warmer kind of sound I prefered using the Beyerdynamic T70 with an OTL tube amp that just added that bit of warmth and bass. On the other side it sounds less warm of course with a solid state amplifier but it gets a bit faster. In general I think most fans of the brand will prefer listening to it on a solid state amplifier. Beyerdynamic itself claims the T70 proves its power when connected at home to a Hi-Fi system and I have to agree to that, it even sounds good straight out of my laptop but I do find the T70 to deliver so much more when using a dedicated headphone amplifier. And you don't even need a big expensive desktop amp, it sounded very nice as well on the smaller JustAudio AHA-120.
END WORDS
Overall Beyerdynamic made a very good closed headphone. It is very addictive and it definitely delivers an enjoyable sound (keep in mind the Beyerdynamic sound signature is still present). The T70 does like quality recordings and higher bitrate mp3's because it it isn't that forgiving. Of course there are other more fun sounding and more forgiving headphones on the market like the Audio-Technica M50 in example but they hardly are at the same sound level as the T70. The price however might be higher than you expect, not that the T70 isn't worth it but being priced at 449€ or $597.45  Excl. tax & shipping, they do are targeting the more audiophile crowd.
I'd like to thank Beyerdynamic Europe (Germany) for sending us a sample even when it was hard to keep up with production due to popular worldwide demand (they are all manufactured in Germany). All the technical data of the T70 can be found on Beyerdynamic's website where you can also purchase it directly from them. Oh, and they are not available in Manufaktur just yet…
Gear used: Beyerdynamic T70 & DT990, Audio-GD NF3, Violectric V100, JustAudio AHA-120, Lafigaro 339, Dell Laptop