Today we review the ThieAudio Prestige Flagship In-Ear Monitors, retailing for $1,299 USD.
Disclaimer: Linsoul sent us the ThieAudio Oracle MKII for this review, free of charge. As always, I am here to convey my honest experience with the product.
ThieAudio
ThieAudio is a company that specializes in the research & development of audiophile in-ear monitors as well as headphones. The brand was established in 2019 as a creative endeavor by Linsoul. According to their statement, their goal is to serve as a creative platform by bringing together the best teams of engineers to design & manufacture high-performance, high-end audiophile products. Their statement continues by saying that they hand-select the most innovative and renowned engineers in their respective fields to oversee product design, engineering, and manufacturing for each project. In a brief period of time, they managed to become a distinguished company that designs products for every price range on the market. Today, we are looking at their new flagship offering to the audiophile market, the Prestige.
You can find the rest of our ThieAudio reviews, here.
ThieAudio Prestige
The Prestige is ThieAudio's latest release. It is a tribrid in-ear monitor with 4 electrostatic + 2 mid/high BA + 2 low/mid BA + 10mm dynamic drivers.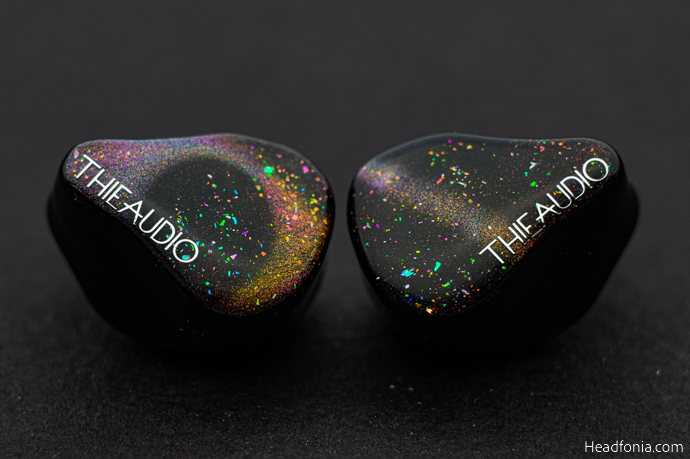 ThieAudio's engineering team explains that they have created a true 5-way crossover network with 11 independent passive components. This has been carefully tuned to deliver a natural and balanced sonic signature. They say that the Prestige's is the most advanced crossover they have ever developed. I've seen the logos of Estron's XT ESW internal wirings and Kyocera's AVX caps and diodes, components worthy of a flagship, and I appreciate when Far Eastern companies outsource to Denmark's Linum/Estron and Japan's Kyocera rather than sourcing domestically like they usually do. As for the price, the IEMs are available for $1,299 USD via Linsoul.
Specifications
Driver Configuration: 1DD + 4BA + 4EST & 5-way Crossover
Socket: 2-Pin, 0.78mm
Housing: Resin Body, Metal Nozzle, Bespoke Faceplate
Cable: 1.2m, 26 AWG 6N OCCSPC+GrapheneSPC Litz Cable with Modular 2.5/3.5/4.4mm Plugs
Impedance: 11Ω
Sensitivity: 95dB @1kHz
Packaging & Accessories
ThieAudio Prestige comes in an elegant and sturdy box with a lid featuring the artwork of the IEMs themselves. The black inner box features the ThieAudio logo on the top. The box is made of high-quality cardboard and has a magnetic closure that keeps the contents safe and adds to the premium feel of the packaging. Inside the box, you will find the Prestige IEMs, a detachable cable with a modular plug, a grey fabric hard case, a cleaning cloth, and six pairs of ear tips.
The Prestige earphones are nestled in a foam cutout, safe from damage during transportation. The Prestige pair looks quite prestigious with their bespoke, galaxy-themed handmade faceplates. The included litz cable is coiled neatly and secured with a Velcro tie, just under the IEMs, in a bigger compartment.
On the left side of the foam cutout, you'll find the fabric case, and inside lies the mentioned accessories. The cable is made of 22AWG 6N OCC Silver-Plated and Graphene Silver-Plated litz wires and comes with three modular plugs using a 4-pin connector as the interconnector. The accessories and the included cable are of high quality and the unboxing experience is great.
Design, Build & Fit
ThieAudio's Prestige has a sleek and aesthetically pleasing design that exudes sophistication. The shells are made of high-quality acrylic and feature a darker finish that lets little to no light inside the shell, making it hard to see the internals. The IEMs are ergonomically designed to fit comfortably in your ears and come with a selection of ear tips in different sizes to ensure a secure and comfortable fit. I'm not a big fan of foam tips, but I found both varieties of ear tips supplied with the Prestige to be comfortable to use, even during long listening sessions.
Each pair of faceplates are handcrafted by ThieAudio, with slight variations in appearance and finish. Speaking for my pair, I absolutely love it, as I am a big fan of the space, of the unknown! Overall, the design of the Prestige is visually striking and looks unique. As we have come to expect from Thieaudio, the quality, and workmanship is quite good. I didn't find any flaws in the parts that are difficult and tedious to make by hand, such as the joints that connect the nozzle to the shell, and the ventilation holes required by the dynamic driver. The handcrafted ThieAudio units we have reviewed before were also flawless in these areas, so we can say that ThieAudio has a very strict quality control phase and we appreciate their attention to detail.
The review continues on the next page. Click here or use the jump below.
Page 1: ThieAudio, The Prestige, Packaging & Accessories , Design, Build & Fit
Page 2: Sound, Low, Mid, High, Technical Capability, Comparisons, Last Words