Cable discussions are always a subject of interest to headphone enthusiasts. A while ago we did an aftermarket cable shootout for Sennheiser cables, and we find that cables tend to carry their own sound signature, and that their property can be used to fine tune the sound of your system. This time we find two different modifications of the Ultrasone HFI-780 headphone, and we seek out to find out the difference between them.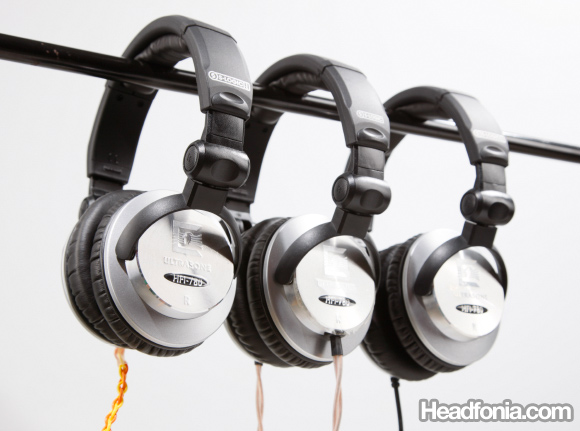 A stock Ultrasone HFI-780 is already a fine headphone by a lot of people's standard. But the question, as always, is how can I make it better? One of the headphone here is modded by ALO Audio, while the other is a DIY project. I'm going to start with the ALO modded HFI-780.
Ken at ALO took a perfectly fine Ultrasone HFI-780 headphone, and installed one of the boldest recabling job that I have ever seen. He uses an 18AWG pure copper Jena, two for every channel for a total of four 18AWG badass wires braided together. This particular recabling is 6 feet long, and is terminated into a 1/8″ Canare plug. The end result looks more like a speaker cable, and simply out of place for headphones. Surprisingly, the four 18AWG Jenas, turns out to be quite flexible for headphone duties. It obviously is not as flexible as any stock cables, but looking at the thickness of these wires, I'm very impressed that they can remain so flexible. The clear Polyethylene clear jacket that encapsulates each wire is very tough, and it means that you don't need any additional sleeving for protection, and so you can see directly into the beautiful copper wire. Even after having this headphone for one week in my possession, I still marvel at the bold and striking Jena copper wire. It's definitely a head turner.
The sound improvements of the ALO modded HFI-780 is a natural extension of the HFI-780 sound. It doesn't change the sound signature, but the ALO modifications improves on it. Most notable are improvements in soundstage, bass extension, better attack, and less smearing. The good thing about this kind of a modification is that if the HFI-780 fits your current music very well, then upgrading to the ALO will still give you the same sinergy to the music, but at an improved level of technicality. The ALO-780 also lessens the closed housing reverb that's quite prevalent on the stock HFI-780. Overall, this is my favorite version of the modded HFI-780.