In this article we review the Vision Ears Phönix IEM which is selling for 3,500 EUR/3,900 USD.
Disclaimer: Vision Ears kindly supplied the Phönix for this review. 
Vision Ears
For some time Vision Ears has been flying under the international radar, but in the recent past their popularity has been rising constantly.
Vision Ears is a Cologne (Germany) based company that focused on the pro-clientele for the most part of their history. But especially since the VE8 they have gained a lot of interest from the audiophile community. And since then it has only gotten upwards for them.
With the launch of the all-silver Erlkönig in 2018 they have made clear, that they are in the game for good. We will take a brief look at what products VE offers in just a bit.
Vision Ears is especially wide-spread in the German and European musician market. If you are fond of the EU music scene you'll spot known names like Fritz Kalkbrenner, Parov Stelar, Sido but also giants like Kraftwerk (yes, Kraftwerk!) or Blink 182.
Product Overview
Vision Ears splits their portfolio into two different lines, the VE Line and VE Premium Line. In the VE Line you'll find all of their custom in ear monitors from the VE2 up to the VE8. The number always indicates how many BA drivers VE is using for this specific set.
In the VE Premium Line you'll find all of their special monitors, like the Eve (a limited edition run per year), Elysium, EXT or Phönix.
We have covered a lot of VE's products in the past, and if you want to check out how they sound and fare up, you're best advised to do so here: www.headfonia.com/tag/vision-ears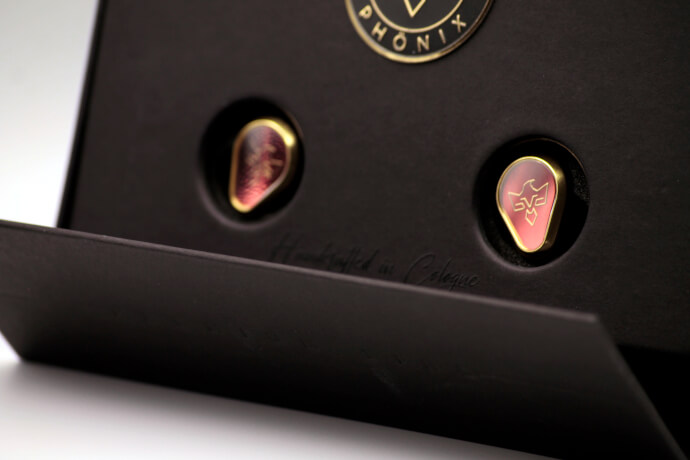 Phönix
The Phönix is more or less the direct successor to the aforementioned Erlkönig. In their launch video Amin Karimpour and Marcel Schönen told us, that it is built on the Erlkönig's setting 2. For those that don't know already, the Erlkönig came with a total of four different tuning options that could be changed via a rotary dial on the face-plate. Apparently setting 2 was the most popular and therefore VE chose to use it as their ground to develop its successor.
The Phönix only comes with a single tuning option, so there's no more user selection here. It uses a total of 13 balanced armature drivers, just like the Erlkönig. There's two dual (four in total) BA's for bass, two duals for mids, a set of two duals for treble and an extra single super highs driver. From what I know, the super treble driver is now a spout-less BA, which we have seen implemented in a couple of other products in the past.
There is no real technical data on VE's website for the Phönix, but I found general specifications on the packaging. The Phönix has a sensitivity of 125dB per mW. Yes, it is that sensitive! I tend to not go past setting 20 on my Lotoo PGT, which is lower than with any other monitor of mine. The rated resistance/impedance of the Phönix is 18 Ohms. It makes use of a passive five-way crossover, just as expected since it uses a five way split of the used monitors.
Phönix sells for 3,500 EUR direct to EU customers on Vision Ears' website. Customers outside of the European Union should check with their regional dealers.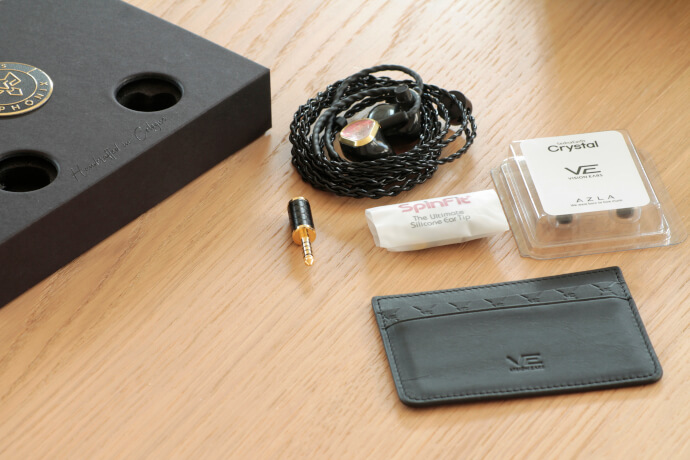 Package
I don't think I have ever seen anyone go as far with packaging as Vision Ears does. Their packaging is simply impeccable. It leaves absolutely nothing to desire to me.
The whole presentation is just so beautifully thought out and you can clearly see how much time went into it to make it flagship-worthy.
The package is separated into two sections. The top gives you all informational material, a thank you card, an instruction manual, extra meshes should the installed ones get dirty, a little booklet about the Phönix and a cleaning cloth. Then below the warranty card, which comes in a black leather credit-card holder, you'll find the leather carrying case.
The bottom part is where the good stuff is hiding though. Here you have two separate boxes again. The top one holds your new jewel-like IEMs and the supplied cable. A quick word about the cable. It's manufactured by HanSound Audio – a premium aftermarket cable manufacturer. VE's website tells us, that the cable is a 23AWG silver/gold alloy copper litz cable, very much like HanSound's Torfa. The cable itself comes with a pre-configured 2.5mm balanced termination. And if you look closely on the barrel, you'll see it has VE etched all over it. That's the kind of attention to detail that VE is famous for.
In the bottom box there's additional accessories for you. You'll get three sets of Azla Crystal tips as well as SpinFit silicone tips. On top of that, there's a 2.5mm to 4.4mm converter plug and a leather keychain as well.
Honestly, I don't know what else anyone could offer. You get everything. From a high quality carrying case, a superb cable and even a keychain and credit-card holder. All of which are in use from yours truly since day one.
There are absolutely no half measures when it comes to packaging. This is exemplary. Every other manufacturer should take notes here. VE sets the bar.
Jump to page two for Build Quality and Sound
Go to page three for Comparisons and Final Verdict