The way Ray describes the Dark Star on his website is pretty menacing:
In SE output it can easily swing close to 80 volts P-P., but the Dark Star Amp is a fully true balanced amp from input to output with quad independent gain stages and buffers. In balanced mode the voltage swing is double of that in SE. You can literary make your HE-6s sound like a speaker from a distant of 12 feet or more. There is no limit to how loud you can drive the hardest to drive headphone like the HE-6s.
But I was not convinced. On the contrary, those words have the opposite effect to me. Balanced: I very much prefer single ended. High power: low power is usually more refined. Prior to its arrival, I already have biases that seriously challenge the Dark Star's credibility. Even more, these are biases that I developed up over my time spent reviewing numerous amplifiers, so I was a solid believer in them.
Pre-Review Biases
Let's talk some more about the pre-review biases. The biggest bias that I have against the Ray Samuels Dark Star is my love for tube amplifiers. The last solid state headphone amplifier that I praised highly was AMB Labs' Beta22, but other than that I'm convinced that only tube amps deserve the high end status. The Beta22 was an amazing amplifier on certain aspects such as power output, soundstage width, detail, articulation, and bass performance. However, it also lacked certain factors like a good soundstage depth coherence, and ambiance, and as a whole, it just didn't sound so musical to me. Tube amps, on the other hand, tend to have a superior soundstage reproduction that thrives on recreating the ambiance on live music recordings, and most of them passes the musicality test with high numbers.
Another pre-review bias that I have was based on my impressions of previous high powered, balanced output amplifiers. I wrote on the Usual Suspects article that I wasn't such a big fan of the balanced SR-71B amplifier, especially when comparing it to the single ended SR-71A. Likewise on the case of the Beta22: everybody would say that the balanced model with up to 50Watts RMS into 8Ω is the ultimate solid state amplifier for headphones. What I found, however, is not so clear-cut. While balanced would offer a wider soundstage than single ended, things that really matter to me like soundstage depth, imaging, and center image actually suffers when compared to the same amplifier in single ended. Thing is, when you have four individual amplifiers to handle the balanced stereo signals (L-, L+, R-, R+), each having a complex, high parts-count discrete design, it would undoubtedly create tiny variations in voltages on the four boards which ultimately affect the stereo balance and the soundstage image. So in this case, I actually like the single ended Beta22 better than the 4-channel. Interestingly, as the Dark Star is based on chip amps, the variations on each of the balanced signal are quite minimal when compared to an all-discrete design, hence the Dark Star manages to suppress the variations in the four channel to create an ultimately more realistic picture of the soundstage. And this brings up the next point in our pre-review biases: the question of chip amps versus discrete amps.
Personally, I have no biases against chip amps. I know that some people, being convinced on the superiority of discrete design, may sneer at the thought of a $3,500 chip amp. These same people would feel that an amplifier's price should be somewhat related to the number of parts in the circuit. For instance, when I built my 4-channel Beta 22, the parts cost alone was roughly in the $1,000 mark. There were four amplifier modules, each containing somewhere around 30 transistors, and even more resistors, diodes and capacitors. But as it would turn out, these complex, lots-of-parts builds are not necessarily better than the minimalist amps, as the famous 9-parts per channel, 47Labs Gaincard amplifier has already proven.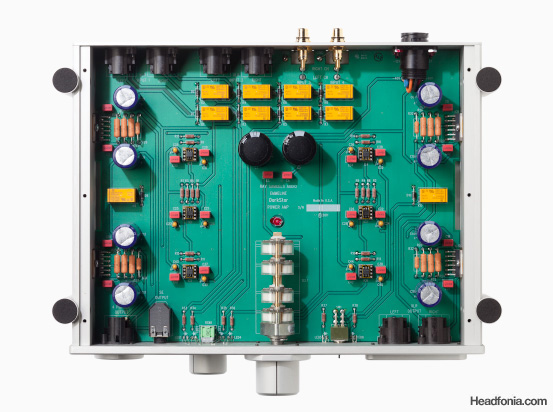 Continue to the next page…