In today's review, we check out the BQEYZ Spring 2. The latest IEM from the Chinese brand, selling for $169 USD.
Disclaimer: the BQEYZ Spring was sent to us, free of charge by HIFIGO in exchange for our honest opinion. You can find them on their website, or your nearest dealer, it's up to you.
About BQEYZ
Based in Guandong, China, BQEYZ is a new brand, producing IEM. They have already released a few budget-friendly models, but what made them famous in the audiophile community (apart from the strange name) was the Spring 1.

To be fair, I'm completely new to the brand, and just discovered them and their product range. So, the Spring 2 will be our first introduction to the world of BQEYZ, which stands for "Best Quality Earphone for You". Amen to that.
The Spring Series
Spring 1
Available for no more than $110, the Spring 1 is a hybrid IEM, combining 1 Dynamic Driver + 1 Balanced Driver + 1 Piezo Electric driver.
This driver, made of 7 layers of ceramic offers richer highs, without the harshness often found in Balanced unit. At least, that's the promise, and if that's not an IEM I had the chance to review it seems like BQEYZ delivered, as stated in various tests read across the web.
Spring 2
With the Spring 2, BQEYZ wanted to perfect its first model. Not only did they adjust the shell, for better comfort, they also upgraded the Piezo-Electric driver and chose a 9-Layers model, instead of a 7-layers one.
So, today we'll see if BQYEZ really gave us, the Best Quality Earphones.
Design & Build Quality
Shell
Aesthetically, the BQEYZ looks a lot like the BGVP.
The shell is made of two sides, made through CNC-milling then blend together. It doesn't give the premium feeling of FiiO's FH3 or Shanling ME500, but compared to BGVP IEM's, for me, both feel equally good.
If the whole shell is painted in matte black, the outer face displays a neat, red, bevel outlining the IEM. Just below the line, on each faceplate, you'll find the name of the brand, and model, laser-etched. There is a small carve, where those names nicely sit.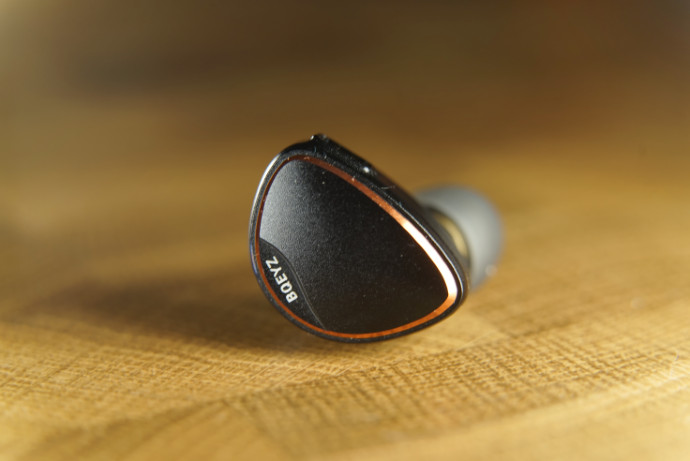 It's not a big IEM, mainly because the Spring 2 doesn't get the fancy semi-custom shape. This makes the IEM fairly simple in its design, with straight edges and three vents on each side. If you look closer, there is a very, very, discreet polygonal shape, one only seen under the grazing light. 
Classic design, but not amazing either. Especially if you check the like of FiiO, or even TinHifi.
Build quality
The BQEYZ Spring 2 build quality is pretty good, thanks to its aluminum case.
Compared to FiiO's latest IEM, it's hard to be impressed by the Spring 2. But, it would be unfair to belittle the brand work, as those will remain long-lasting models. The 5-axis machined shell can withstand harsh treatments and the anodized finish makes them pretty scratch-proof.
If BQEYZ provides a travel case, honestly, it won't be of much use. Moreover, the cable matches perfectly with the shell, providing the right balance of sturdiness, weight, and braiding. On this aspect, the Spring 2 is even better than the BGVP DMS and DMG, which had good, but not outstanding cables.
Good, but not amazing. So let's move on and check what's in the box.
Bundle and Comfort
Inside the box
The BQEYZ Spring 2 comes in a small blue box. Obviously, the IEM doesn't get a comprehensive bundle, but I won't complain much, as the asking price remains quite acceptable.
In the box, you get :
the BQEYZ Spring 2
one 2.5mm/3.5mm/4.4mm cable
a travel case
6 pairs of silicone tips + foam
Additional accessories
To fix that, you can purchase a few accessories, but bear in mind that BQEYZ doesn't use MMCX but the "old" 2-pin system.
You can order the Spring 2 with a 3.5mm, 2.5mm or 4.4mm. A good option for those who stick with one setup only. For all the others, you can either buy an adapter, like the one from DD-Hifi. 
Or, you can up your game and get a premium/high tier cable, from an aftermarket brand. Just remember to get a 2 pin one, and not MMCX.
Comfort
Overall, comfort is correct, but clearly not as good as the FiiO FH3 we recently reviewed.
If build quality is excellent, the IEM didn't adopt a semi-CIEM shape like most of its competitors. This makes the BYQEZ a bit awkward, as they don't follow the inner ear and just "push" onto it.
Thankfully, the bundled cable looks and feels much more adequate. The braiding is superb and copper accents give a cool vibe to the whole ordeal. The Y-Splitter and 4.4mm plug also give a robust feeling, thanks to their extra-thickness and clean build.
So yeah, there are nicer options than the Spring 2 in this regard.
Isolation
With an aluminum case and multiple vents, the BQEYZ Spring 2 isn't the best noise blocker.
I used them a few times, for my weekly commute, but I would definitely not recommend them for this kind of use.
On the other hand, in a quiet or moderately noisy environment, it's mostly adequate. Just think of it as a semi-open IEM, with a closed-back design.
So, time to check the specs!
The article continues on Page Two, after the click here