The Brise Audio Asuha Ref.2 is a $1000 high-end upgrade IEM cable from Japanese Brise Audio.
Disclaimer: I received the Brise Audio Asuha Ref.2 as a review sample free of charge. I tested the cable mainly with the PEARS SH-3 and M-Fidelity SA50 CIEMs, along with the Lime Ears Pneuma universal IEM.
Intro
The popularity of IEM cables has increased a lot. People already realized a long time ago that those cables make a difference. Although I still come across people who say cables don't change anything, it seems most of them know that they actually do. In my opinion, cables do affect the sound quality, but of course, that doesn't mean the sound will always be better. It's all about synergy.
It's also quite important to have an ergonomic and durable cable. Since the market has shifted its focus to portable audio in the last couple of years, people demand long-lasting and flexible cables. Let's see how this Japanese offering performs for all of those points and most importantly, in sound.
About Brise Audio
Brise Audio is a high-end cable manufacturer from Gunma, Japan. It is a renowned brand in the Japanese market but not very famous in the other markets yet. However, they're trying to make some ground especially in the portable field, where boutique audio cables are quite important. I reviewed the YATONO Rh2+ model recently as below, and it won an award for the best accessory for 2020. In 2019, the STR7-Ref had won the same award from me.
When they started back in 2015, the company's initial target wasn't the portable market however, it instead was home audio solutions in Japan. After 1-2 years, they decided to enter the portable audio field. Yet I'm sure that they often use their knowledge from home audio for their portable solutions.
The company's CEO is Naoki Okada, who I personally met in CanJam London 2019. He's a very nice man to share opinions with, and he really wants to showcase how his cables perform with good IEMs. I personally think he did just that and I hope he will be around in future shows if this pandemic will be over of course.
Overall, Brise Audio's cable range can be a bit confusing for the ones who are strangers to this brand. For that, Brise Audio has an informative page about their cables and the differences for you to help selecting your cable; HERE. It explains their ranges and greades perfectly so everything becomes clearer.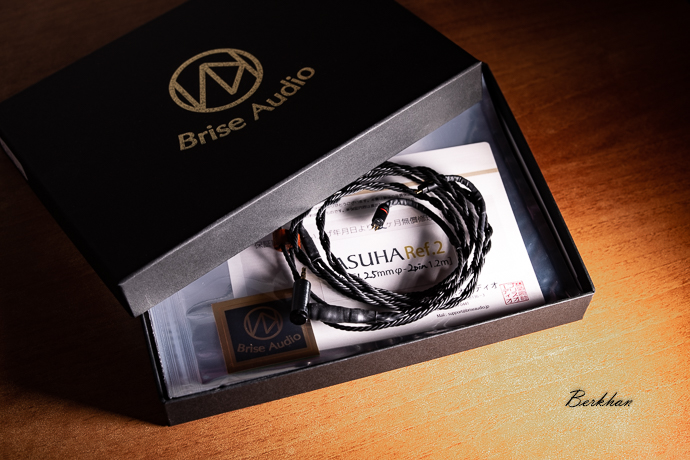 About ASUHA Ref.2
This cable is the flagship-grade of the ASUHA series. Once again, Brise Audio has a no-compromise approach here but with better ergonomics. The ASUHA range represents an 8-wire structure with mobility. Normally, 8-wire cables are not ideal accessories when it comes to portability and handling. However, Brise Audio has managed to create this cable with great ergonomics and lightness. As a result, you have a very ideal portable 8-wire cable without any discomfort or weight.
If you've checked my previous two reviews of Brise Audio cables, you would know that they only use OFC material. They think that the silver material doesn't quite give what they require so they ended up with copper instead. The important thing for Brise Audio is not building the cable with unique materials from space. The important thing here instead is the correlation and harmony between the materials with the insulation design, together with high-quality plugs and soldering.
ASUHA Ref.2 is developed using the know-how from the flagship Yatono series. The Ref.2 variant uses improved shielding compared to the standard Ref versions. Also the best part about this model that it utilizes Pentaconn OFC plated plugs. In my case, it's a 2.5mm plug. Brise Audio takes things very seriously. Their solutions also show that they indeed derived some experience from their home audio appliances.
Build Quality & Ergonomics
The Brise Audio STR7-Ref was one of the best cables I've ever seen in terms of build. Yatono Rh2+ was no different as well. Once again, the craftsmanship is incredibly good with the ASUHA Ref.2 model. I think Okada-san gives big importance to the build quality considering their design choices and attention to detail.
My sample is terminated with a 2.5mm OFC plated Pentaconn BAL jack and 2-pin connectors. I really like the 4.4mm connection for its sturdiness but I no longer have the Sony WM1A. The jack is L-type and it's very durable with a very professional look. There are some low profile solutions with smaller jacks in the market, but as I said, Brise Audio does not accept any compromise in their design. However, it's smaller than the one with the Yatono Rh2+ so it's not a big deal for me.
The 2-pin connectors are more rounded than some other cables and they have blue & red markings for left & right, together with Brise Audio logos. They look pretty nice and complementary to the rest of the design and they also feel rock solid to me. In the Yatono model, they have a gray painting to reflect that particular series but in this one, it's full black.
One thing I really like about Brise Audio cable is the memory wire area. The memory wire is short with a good balance between flexibility and stiffness. Also, the material on the memory wire is soft, so it doesn't bother your ear with its presence, even with long listening periods. This is critical for my experience with aftermarket cables.
Another exceptional detail for the memory wire is that Brise Audio uses a slim titanium rib for bending the memory part around the ear. Also, the tips of that titanium rib are twisted to prevent any tearing problems with the wire (which happens with some stock or aftermarket cables), and also for the users' health. The attention to detail here is astounding.
The overall strength and flexibility of the cable are really good. This isn't the most flexible cable you would see, because of the no-compromise approach, but judging the materials and considering the fact that this actually is an 8-wire cable,  this level of flexibility is actually a success. Looks-wise I think Brise Audio cables look quite charismatic and more serious than most. It particularly looks great with Custom IEMs in my opinion. One particular detail I liked is the cable slider which is made from genuine wood. It's such a great and classy touch to this full black design.
The review continues on PAGE 2 by clicking here using the page numbers below