Today we're taking an in-depth look at the all-new Conductor 3, the latest flagship DAC/headphone amplifier/pre-amplifier from Burson Audio. They've squeezed-in dual top-of-the-line ES9038Q2M DAC chips, a range of digital and analogue connectivity options (plus aptX HD Bluetooth), and 7.5W of Class-A power into a $1,744 standalone desktop package. Does it sound as impressive in real life as it does on paper? Read on, and let's take a look.
[responsivevoice_button]
The Conductor 3 was loaned to Headfonia for this review by local Australian Burson Audio distributor Busisoft AV. Many thanks for the opportunity.
Introduction
Ok, so let me get this out of the way upfront – I've been really looking forward to this review, for a few reasons. 
Firstly, Burson Audio products have always had a real 'halo' appeal in my books. Whenever I've come across Burson Gear, whether it be online, in stores, or at industry meets, I always came away with the feeling that their design-language managed to perfectly mash-together a sense of power and finesse. Couple this superb design with top-tier engineering and the regard of personal audio enthusiasts, and you can understand why Burson Audio has always been on the top of my "to own" list. 
There's also only a handful of top-tier audiophile manufacturers here in my native Australia, and Burson Audio just so happens to hail from Melbourne, Victoria. So when we heard that Burson had announced the launch of the newest iteration of their flagship DAC/amp series, you can understand why I was only too happy to play a 'home game' for the Headfonia and take one for the team (sorry guys!). You can check out some of our previous Burson Audio reviews here. 
And lastly, I was champing at the bit because the Conductor 3 has to be one of the most awesomely-specced pieces of gear on the planet at the moment – this thing is an absolute beast.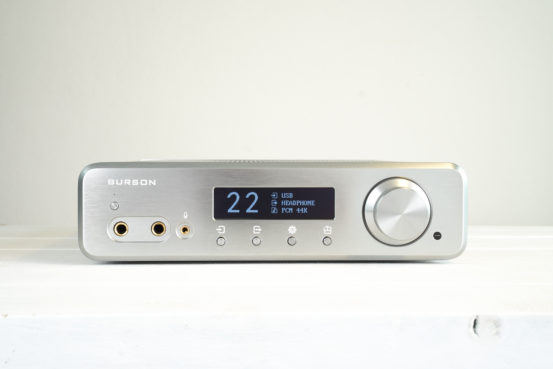 What's the pitch? 
According to Burson, it took them 3 years to perfect the Conductor 3 as they set themselves the benchmark of creating "The 'Best DAC/amp/preamp of its time". While they call the Conductor 3 a 'DAC/amp/preamp', this is a bit of a misnomer really and sells the Conductor 3 short in my opinion. What Burson have gone and created is an entire standalone 'desktop control unit', capable of providing both the brains and brawn of a personal audio system…for noticeably less than $2K. 
The Conductor 3 unit featured in this review is currently available for $1,744, while the top-of-the-line Conductor 3X comes in at $2,144 ($300 buys you fully-balanced XLR connectivity versus the single-ended inputs/outputs and dual 6.3mm headphone out on the standard Conductor 3). 
So what's under the hood? 
Twin ES9038Q2M DAC chips capable of playing-back up to DSD512 and 38bit/786khz
7.5W of Class-A headphone-driving power to twin 6.3mm headphone outs
USB/optical/coaxial digital inputs, plus two RCA line-level inputs
Fixed line-out and variable pre-amp out 
Rollable Op-amps 
Bluetooth 5.0 connectivity (with the ability to use the hi-res aptx HD codec
A range of digital filter options 
Remote
And even a microphone input!
One thing you notice very quickly with the Conductor 3 is that you inevitably need to resort to superlatives when it comes to describing it – and we haven't even gotten past the introduction yet. You can wade through the manufacturer's specs over here if you're interested. 
So I've mentioned 'brains' and 'brawn' so far, but I'm sure you can already tell that the Conductor 3 has the competition licked in one other area: beauty.
Head over to page 2 to read more about the Conductor 3's build and form-factor.